Chosen by Monk

As the rays of light at the end of the dark tunnel that has been the past 18 months of isolation and generally being shit upon from great heights grow brighter by the day, and life starts to return to some sense of normality, a healthy slew of new music, perhaps more than at any other time in ÜR's history, continues to ping itself our way, and especially in the continuing tsunami of submissions we receive for our coveted 'Video Of The Week' award… Yes, as we've said on multiple occasions, one constant throughout the vagaries of inconsistent and often hard to stomach lockdowns is the amazing level of adaptive creativity that bands and video directors the length and breadth of the Überverse have continued to show, often in the most adverse of circumstances.
After viewing all of the entries – and, yes, we do watch every one of the 100-plus submissions we receive every week – at the end of the day (or night, depending on where you are in the Überverse), there could be only one winner… And this week, for the second time this year, it comes from Australian heavy psych fusionists Twelve Foot Ninja, with their imaginative and mysterious clip for 'Over And Out', the third single to be lifted from their forthcoming new album, 'Vengeance', which also sees a guest appearance from Jinjer frontwoman Tatiana Shmayluk:
'Vengeance' will be released on 15 October. You can get your copy HERE.
Twelve Foot Ninja are due to tour the ÜK and Ireland next March: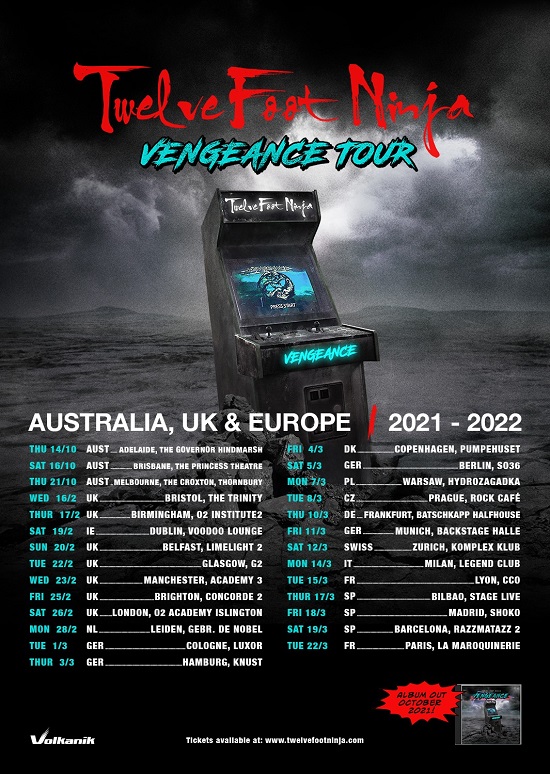 All written content © Über Rock. Not to be reproduced in part or in whole without the express written permission of Über Rock.