By Jase Walker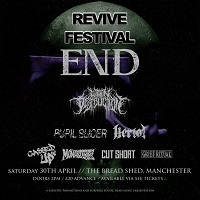 Continuing the busy bank holiday weekend for me, I've been invited down to Revive Fest to check out its absolutely bloody stacked lineup! The amount of stuff on today represents some the heaviest stuff on the circuit right now.
First on today is Grief Ritual who were sound checking as we walked in and good god, this upcoming set is going to be LOUD.  The singer is bloody terrifying, skulking around the stage staring at the audience looking like he's ready to grab one of them but will settle for screaming at them instead. These guys are all about those chunky rhythms, and the early doors crowd are digging it too so we're off to a good start here!
Next up is Cut Short who I actually got to see not so long ago supporting The Human Veil at Satan's Hollow. The literal moment they start we've got arms swinging all over the place, probably need to keep on eye on the crowd so I don't end up on the receiving end of it. Seeing these guys on a bigger stage than Satan's, they sound so much better! Jumping effortlessly between thumping, brutal verses and uplifting choruses, a proper class act. For just the second act on today, they'll have blown the cobwebs off for anyone just arriving!
Third on today is Monasteries, with a weird "Stoke on Trent" jingle which gets some laughs before kicking off with some filthy riffage and the two steppers get right on it – hell no am I going near that pit though, Christ. Is this hardcore, deathcore, blackened hardcore? No idea but this is terrifying and going hard. The singer's gutturals sound like a draining bathtub (this is a compliment by the way), he keeps asking the crowd to come in but those hardcore dancers are making it clear that the pit is definitely *theirs*.  Keeping in with the weirdness, we get a random Alex Jones drum and bass remix between songs. What a bizarre act.
Next on is Gassed Up. I've heard about these a fair amount through friends and the like and comparisons with Knocked Loose. Admittedly I didn't expect it to have a solid feel of Rage Against The Machine in there too, but a bit more Grime styled. I'm actually digging this quite a bit more than I thought I would! The amount of two-steppers in the audience is growing steadily and Gassed Up are thriving off it! I've had a couple of close calls with being slammed into but on the whole, great set, maybe I'll properly get into hardcore yet?
We're now onto Heriot, one of my main draws for today, hot off the back of their album release show. I got to see these supporting Rolo Tomassi a short while back and they're bloody terrifying and today's show is no different.  Seeing this lot tear it up again is great, the screamed vocals come through loud and clear and their crushing guitar sounds fill the room augmented by the thunderous rhythm section. The venue is getting pretty damn packed now too and everyone is banging their heads along to Heriot's thunder. If you're at Download, Bloodstock, or any festival they're at, seriously, don't miss them.
We're now down to the final three bands. It's time for Pupil Slicer, another fantastically noisy treat that I caught supporting Rolo Tomassi as well. Discordant guitar mixed with plenty of screaming in this mathy treat, the centre of the pit already cleared and ready for people to get their feet stomping across it. Chugs interspersed with high pitch guitar screaming across the set, if you like your stuff like Frontierer, Car Bomb or The Number Twelve Looks Like You, you owe to yourself to check these out.  Every single song is a full-on assault on your ears, there's seldom any chance for a breather with Pupil Slicer, they're here to fuck your shit up and they're doing just that. As their set draws to a close, I'm reminded why they really caught me by surprise the first time and I hope I get to see them a bunch more in future (not least at TechFest at the end of next month)!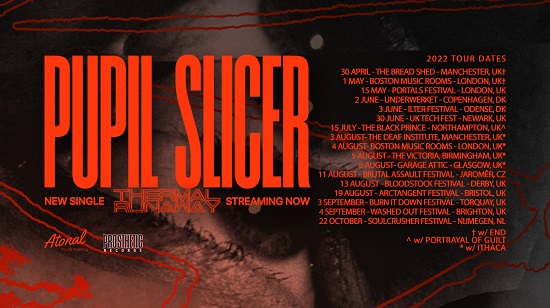 The penultimate band of today, a band who I've missed chances to see before, Within Destruction! Getting to see the bangers from 'Yokai' as well as their latest, 'Nightmare', is something I've been waiting all day for!  Opening with 'Yomi', I'm sold on that riff and the singer's vocals… Damn! I mean they really are kicking out the foulest, most filthy gutturals right here.
This whole set has just mainly been me going "Oh my god…" at how they just relentlessly keep smashing through insanely fast blast beats and vocals that sound like two boulders smashing into each other at speed. Another 'Yokai' banger in the form of "Hate Me", there's no stopping this moving train, you're getting blast beats and you're *going to like it*. My main song of the night finally hits, 'No Way Out' and the scream of 'Sugoiii' and absolute gravel of noise afterwards, what a bloody show!
And finally, the headliners, END, take the stage and rudely interrupt my singalong of 'Summer of 69', but oh well. Despite the day being long, the crowd of two steppers are straight back in the pit flipping around more than your average ninja at this point. Already commanding the biggest pit of the day barely past the start of the set, I'm concerned about whether I'll be able to even get some of my rubbish phone photos.
The energy these guys are putting out is insane. It sounds fantastic too: the guitars, crushing, the bass, thunderous, the drums piercing every corner of the room and dead centre are the angriest uncleans you've ever heard.  There's no letting up with the pit for these guys, it's just stuffed with people slamming into each other, others being launched over the barriers, swinging each other around – legitimately terrifying!
This whole show is frantic, angry, and above all, intense. I think the last time I saw a crowd going this level of apeshit was probably Counterparts who wrecked Rebellion some years back. At risk of repeating myself, there's just no breaks here other than the odd breather between songs, it's going at 110 per cent and the crowd is giving back every drop of that energy in spades. The amount of legs I've seen in the air in 30 minutes is already past the point of keeping count and I don't doubt there's going to be some people waking up with some nasty bruises but they're clearly lost in the moment and it takes a solid band to do that to people.
Revive Fest has been a massive treat. I've been pleasantly surprised by some of the other acts today. Absolutely fantastic. Suppose I'll relive some of this at Outbreak festival in a couple of months!
All content © Über Rock. Not to be reproduced in part or in whole without the express written permission of Über Rock.