By Jase Walker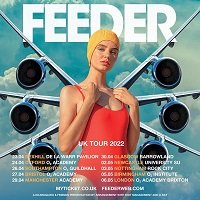 A warm start to the first May bank holiday weekend sees me returning back to the massive Manchester Academy 1, one of the premier gig venues in this city – and it's going to be another nostalgia trip for me!
Back in the early days of getting into rock, Feeder were a mainstay of my MP3 player, and I can't wait to see them live again for the first time in nearly a decade. For the support tonight is Dea Matrona, not a band I'm familiar with but this is why I'm always down for seeing support acts!
A bit later than noted on the stage times, Dea Matrona kick us off with feminine energy-laced '60s/ '70s rock and roll, and it sounds bloody great. The three-piece fill the room with blues riffs mixed with some punk for good measure, this is off to a cracking start. These remind me a *lot* of Jet: slick playing and hedonistic vibes, I'm really digging this!
With the harmonised vocals between the bassist and guitarist (they actually swap round as they go through the set), along with the bluesy sound, Fleetwood Mac definitely seems like a big influence for them, and they're using that to cracking effect. Oh man, out of nowhere they smash into a cover of 'Crossroad's by Cream! What a song!  I was also genuinely hoping we'd get some slide guitar action too and they've delivered it!
What a bloody superb support act, brilliant show!
Not keen on interrupting the crowd singing Fleetwood Mac's 'Go Your Own Way', the stage darkens soon after and a chorus of voices chanting "Feeder"fills the room. I don't remember this many people being in the band and their bass player is rocking one hell of a slick look.  Even from the start of the set, it's clear that anyone saying the Feeder don't go as hard as they used to is completely wrong.
The whole live show so far has been great, the sound mix is fantastic even for my position off to the far right near the front, the stage lighting is dynamic and thoughtfully set up for each song but it's not overly intense – hell I'm even able to get some decent phone photos! A sleeper hit of 'Feeling A Moment' is met with a chorus of voices that almost overpowers the band.
The title track of their latest album 'Torpedo' strays a fine line between the Brit rock type stuff they're known for and a riff that is just straight up metal, and it's going down surprisingly well!  A more ballady number in the form of 'Just the way i'm feeling', a bit of a painful and melancholy one given their history but an amazing song all the same.
Following that up with 'Fear of Flying', the audience is going bloody wild, the entire centre is a sea of waving arms and nodding heads bouncing up and down, while shouting 'Ah, oh! Ah, oh!' along with the chorus, I love an active crowd!  This set is really going the distance here though, starting at 9pm and blasting straight past 10pm, Feeder are here to make sure everyone gets their fix and then some!
At the 'end' of the set, they're trying (badly) to hide that they'll be back to play their biggest bangers, 'Just a Day' and 'Buck Rodgers' – and here we go, 'Buck Rodgers' sends everyone in the audience into a frenzy!  Arguably 'Just a Day' gets an even bigger response from the crowd, Academy 1 is a sea of movement and smiling faces, what an amazing show, Feeder have absolutely smashed it.
Guess you think it's funny now? I certainly do!
The tour continues at Newcastle University SU tonight (Monday 2 May), Rock City in Nottingham tomorrow (Tuesday 3 May) and Birmingham's O2 Institute on Thursday (5 May), finishing at the O2 Academy Brixton on Friday (6 May). They also play the Stadiwm Eirias Stadium in Colwyn Bay, with Noel Gallagher's High Flying Birds, on Saturday 18 June and the Limelight in Belfast on Friday 24 June.
All content © Über Rock. Not to be reproduced in part or in whole without the express written permission of Über Rock.