By Monk
So, what to do in Belfast on a surprisingly dank and dreary Saturday evening? Sit in the house, shivering due to having to turn the heating off after another massive hike in gas prices and watch Ronnie O'Sullivan predictably decimate John Higgins in the snooker, or head out into the mizzle and chill for a dose of serious hardcore action? Yep, I know which one got my choice, so it was off to one of my traditional haunts for the last night of Sheffield steelers Malevolence's trio of Irish headline shows… But would Belfast beat them down the way our own Giants had done to their ice hockey team, or would there be a whiff of revenge in the air? There was only one way to find out, wasn't there?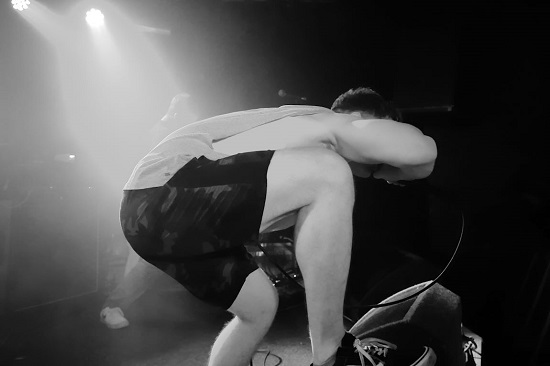 Setting the mood, we have openers Bailer and their brand of energetic hardcore. They immediately open up the floor, with plenty of pointy elbow movement and flailing shave heads right from the offset as the comparatively small crowd of early arrivals go absolutely apeshit. Midway through their set, there's a somewhat surprising change in direction, with the introduction of a skate punk feel into their overall sound. However, despite a bit too much faffing about between songs, this does nothing to stymie their momentum as they once again prove that they are most definitely, and defiantly, a band who leave everything – and I mean EVERYthing – on the stage.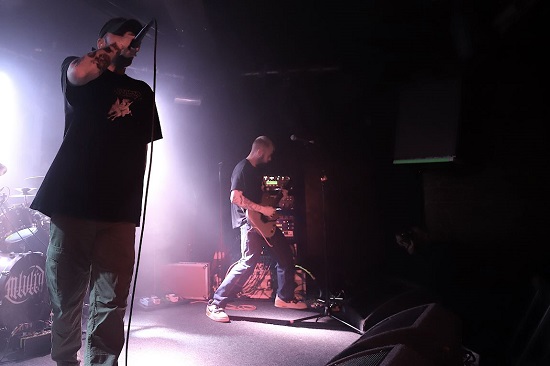 For some strange reason, whoever is in charge of such things thinks it's a great idea to play '80s power ballads between the sets, much to the amusement of the slowly growing crowd, many of whom are nevertheless evoking in their inner teenager and singing along. Soon enough, thankfully, it's time to get down to the serious business of the evening and throw it down with main support Guilt Trip and their acerbic, acidic brand of old-school hardcore.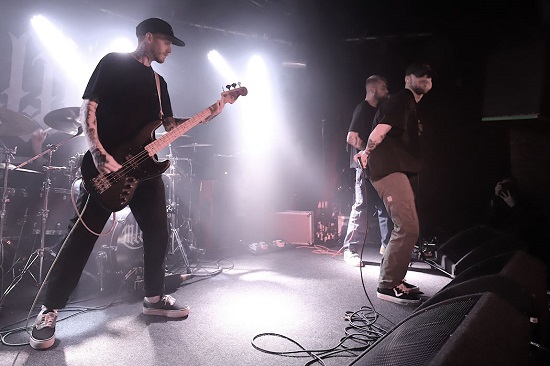 But, there seems to be something seriously wrong – and it is nothing to do with what the band are laying down on the stage, because, once again, they are leaving it all there. However, there seems to more action at the bar than on the floor, with only a handful of peeps giving it large down the front, and each song being greeted with what can only be described as polite applause. The bais nevertheless beat it down and show that this is how to do hardcore… with attitude, commitment and energy…
Guilt Trip play the Sophie Lancaster Stage at Bloodstock on Sunday 14 August.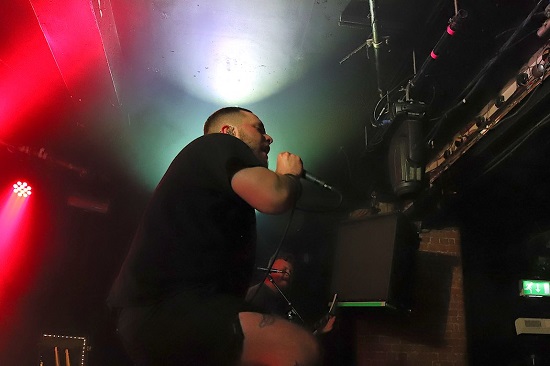 Thankfully, the Eighties power ballads have disappeared, to be replaced with something a bit more fitting for what is about to come… and that is an air-raid siren that sounds the warning for a descent into headbanging oblivion… but, then, for some strange reason, the journey doesn't quite get underway, at least as far as the crowd is concerned, as there are large gaps on the floor and, apart from the handful of diehards right in front of the barrier, most of the audience seem content to stand around, their arms folded, gabbling to each other and only paying nodding cognisance to the totally me(n)tal breakdown being laid out on the stage in front of them.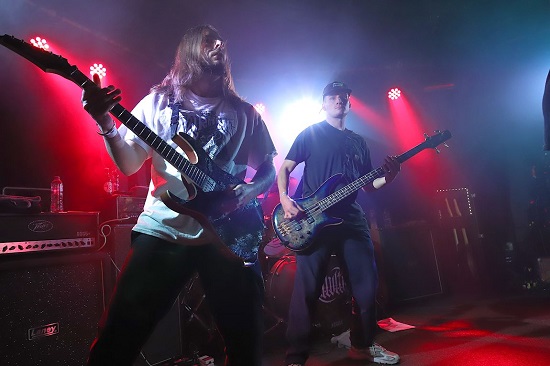 Nevertheless, the five guys on the stage are absolutely owning it, proving they are kings of their domain as they deliver sonic and visual beatdown after sonic and visual beatdown with the efficiency and venom of a cornered heavyweight champion. This is nu-core at its best, delivered by the best. It's energetic, unnerving, intense, hypnotic and unbalancing, performed with the precision and passion of true road warriors and believers in the cause they propound. Yes, this is a lesson in malevolence (sic) \m/ Ironically, however, my personal set highlight is the slower, broodier 'The Other Side', which is just massive in its impact: much kudos to the sound guy for drawing out every nuance of this and every other song in the set. Awesome job all round \m/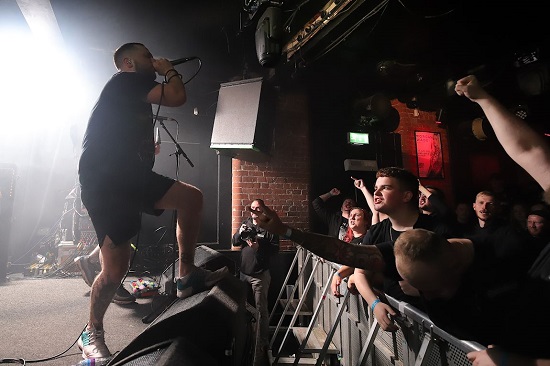 www.facebook.com/MalevolenceRiff