By Monk and The Dark Queen
It's been a long time since your ÜRHQ team have been able to get out and experience back-to-back gigs on consecutive evenings, but here we finally are, back in our favourite haunt and plunging out of the sunlight of the first day in May and into the darkness within for another session of mad, hedonistic riffage and general rock 'n' roll madness… so, let it begin…
Opening proceedings on this, the second of two stand-alone headline shows on these shores by Swedish fuzzers Truckfighters, are local space rockers (or should that be rockets?) Psychedelanaut. And these guys definitely aren't fucking about, as they deliver riff-heavy grooves with fucktons of bottom end, their dense throbbing bass lines beautifully counterpointed by sharp, snapping percussion.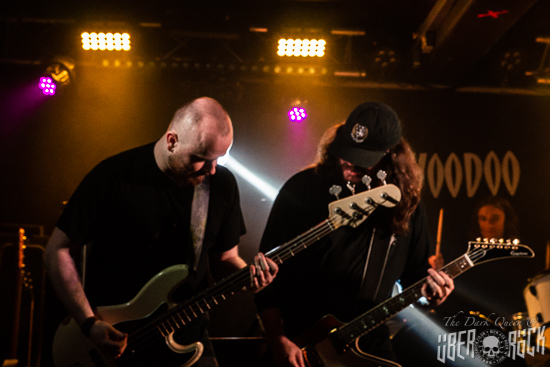 Like so many bands, the quartet have used the lockdowns of the past two years to write new material, and '12 Thousand Tonnes' is a prime exemplar, hitting just like its title and flooring you faster than a Tyson Fury right hand. Their deep, dense sound is driven by taut melodies overtopped with stunning three-part vocal harmonies which help add real texture to the material being delivered. It's a combination of old-school Sabbath mixed with stoner/grunge-tinged modern death/doom and a shit load of singalong potential, resulting in an impressively tight set which leaves the crowd baying for more… well, you'll have to wait until next time, guys and gals, as that's yer lot for tonight… and it also is as far as bassist Ryan is concerned, as hours later he announced his departure from the band… Fare thee well, sirrah \m/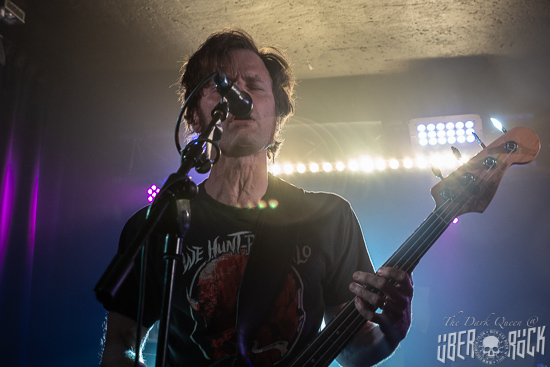 The expectation levels were definitely building as we waited for the return of our headliners to this particular corner of the Überverse – and it was great so see that return met by what seemed to be a virtually sold out crowd, with very little wriggle room left in the main body of the room. We knew were going to be in for a fuzzilicious treat, and so it proved to be as they soon bathe us in big, thick stoner grooves.
Their sound is huge in every respect, accentuated by another massively sympathetic mix which gives loads of bounce and verve to the onstage antics of the band, who produce more energy than I thought possible to fit onto this tiny stage: in fact, if we were able to capture that energy and bottle it, the guys probably could have paid the electricity bills of everyone present for at least the next three months! Their big, hypnotic, psych-fuelled grooves are powered by rampaging riffs that strike with the force of a herd of charging buffalo, and underpinned by rapid-fire, staccato bass and drum lines that perfectly complement, and counterpoint, the sheer power washing over us.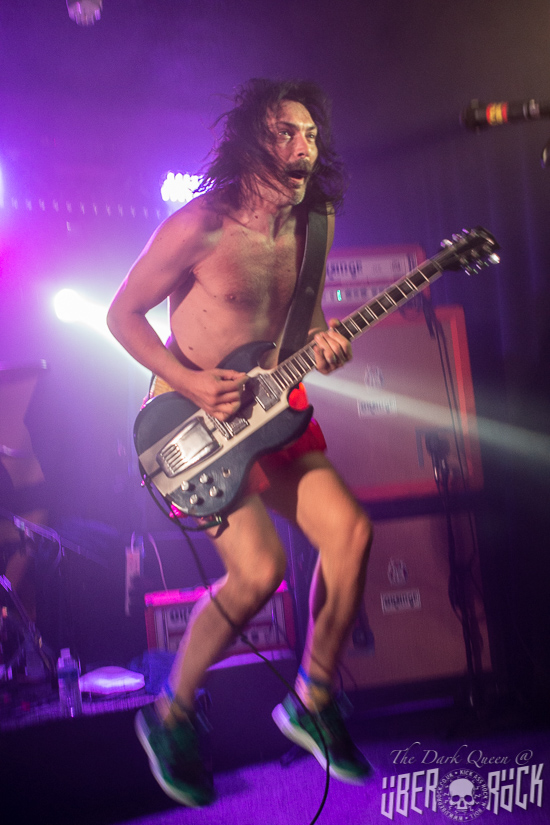 Not for the first time this weekend, this is a band who leave everything on the stage, taking no prisoners and asking no quarter as they blast through 75 minutes of big riffs and anthemic floor-fillers. It's great to see such a healthy turnout, especially on a Sunday evening (although it being a bank holiday weekend definitely helped in that regard), and the hugely appreciative crowd are amply rewarded by a well-deserved three-song encore, which was preceded by one of the very rare occasions on which I've seen a band actually leave the Voodoo stage and return to their dressing room, albeit briefly.
Two great sets, both of which provided just the sort worthy break from the daily grind that we all need now and again… can you get this sort of medication on prescription?
PHOTO CREDIT: All photos © The Dark Queen/Über Rock. You can view our full gallery of photographs HERE.
All content © Über Rock. Not to be reproduced in part or in whole without the express written permission of Über Rock.