By Jase Walker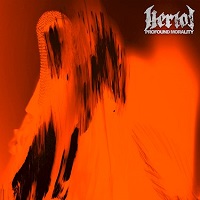 Heriot have been causing quite a bit of stir over the last couple of years, I had the privilege to interview them prior to their support slot for Rolo Tomassi at Manchester's Club Academy a while back and have been waiting patiently for their forthcoming debut EP since being blown away by their terrifying performance. So, with a slew of upcoming shows at some of the ÜK's biggest festivals, they couldn't have timed the release of this EP better!
The four-piece band featuring Debbie Gough (guitar/vocals), Jake Packer (bass/vocals), Erhan Alman (guitar), and Julian Gage (drums) put out a hell of a live performance that night and now I'm about to finally get to grips with a nice chunk of their music in one sitting with 'Profound Morality'… so let's get down to it eh?
The lead single for this EP is a combination track, 'Near Vision/Enter The Flesh', with a gritty, bright red laden video that suits the track perfectly, cutting between Debbie and Jake's screams and guttural vocals and face-meltingly heavy riffs, with a small ambient section bridging the two tracks together. Tension builds and the loud, discordant drop thrusts you immediately back in the middle of it, not letting up, just preparing you for the next frantic headbanging sesh and seeing this live really is something else.
Time to get my teeth into the rest of the EP has to offer…
Most of the tracks, barring the finale title track of 'Profound Morality' and 'Coalescence', clock in at under three minutes and based on what I know of them already, it'll feel like you'll get a lot more "song" than you think.
'Abaddon' serves as the intro and good god, that bass tone is absolute filth, sounding like two boulders being ground together, lovely stuff – not much more to say here as it's essentially an instrumental intro. 'Coalescence' wastes zero time going straight for the throat, all those fat, chunky and distorted guitars going right at it with Debbie's screaming coming right over the top before relenting into a dreamy passage but reminding you that the terror's only round the corner with the distorted bass drone and right before you know it, everything's back at 110 per cent and battering your ears again. I remember telling them that I thought what I heard from them so far was fucking terrifying which got a bit of a rise out them and it was most definitely a compliment and 'Coalescence' shows off exactly why: it's just bloody frightening.
'Carmine (Fills the Hollow)', despite being one of the shorter tracks, is every bit as chunky and thunderous as the rest which does leave me with a bit of thirst for more but 'Near Vision' fills that gap nicely working well together, with a good flow from one into the other. 'Mutagen' again fills out your ears with the dreamier passages with Debbie's voice going back and forth between ethereal wailing and more sultry moments against a backdrop of slow, almost glitchy drum samples.
Moving into the last two songs of the EP, 'Abattoir' serves as another instrumental track for the album that sounds inspired by older noise bands and maybe a bit of NIN, a constant pulse fills out the track with various distorted noises interspersed along with it.
The jewel in the crown for me is their title track, 'Profound Morality' which has more influences in the mix that you can shake a stick at – there's loads of bits in here ranging from old school goth, death, even a bit of old school hardcore in there for good measure. By the mid-point Heriot's signature growling distorted guitars take over briefly before dropping back to drums and accompanying slow drumming and some good old fashioned deathy vocals. The swell of this track towards its terrifying crescendo wraps up their debut EP in style and honestly, I don't think I could have wanted any more from the first round of this.
I'll be seeing these a few more times this year hopefully, they're going to be bloody busy!
'Profound Morality' is released on Friday (29 April). You can get your copy HERE.
Heriot play a number of headline EP launch shows this coming weekend, and then have a series of festival appearances over the summer: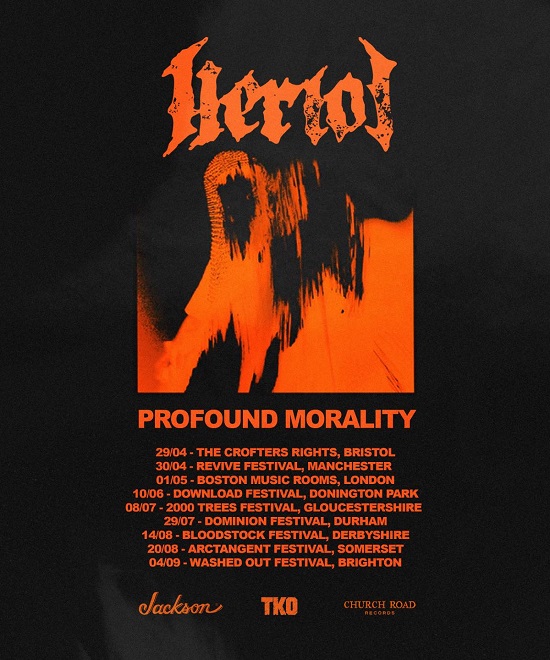 All content © Über Rock. Not to be reproduced in part or in whole without the express written permission of Über Rock.