By Jase Walker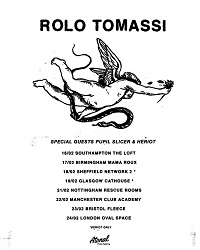 Despite storms battering the ÜK these past few weeks, Rolo Tomassi and their supports, Pupil Slicer and Heriot have made it to almost the end of their run in one piece. As a result, back in the dark underground venue of Manchester's Club Academy, we're about to get our ears blasted and faces melted to three acts of frantic, loud and above all, heavy shit.
Rolo Tomassi are pretty much part of the furniture of the ÜK's mathcore scene now and with this tour in support of their latest album, 'Where Myth Becomes Memory', and two strong supports, I don't doubt for a second that I'll be leaving this show with a (musical) concussion.
After a lovely chat with the Heriot crew (see below), they're first up to a steadily increasing crowd, great seeing people getting down from doors! Right from the get-go, the formally quiet and polite group that I chatted to earlier are all but gone, replaced with a cacophony of screams, grinding riffs and thunderous low end. It's not hard to figure out why these are supporting Rolo Tomassi and previously Svalbard with the noise they're kicking out.
With what comes off as a solid grounding in hardcore, there's more in the mix of influences that peep through, ranging from death metal to old school thrash. Heriot have some legitimately filthy uncleans, both singers managing to keep this up even so far through the tour is hard work but they've still put on a hell of a set so I'll be looking forward to seeing these again (hopefully at 2000Trees!) as well as that EP!
A brief break and Pupil Slicer are up with their unique brand of Blackened, Mathy, Frenetic noise with more blast beats than you can shake a stick at. Pupil Slicer are another great example of why I love Math Core, because noise is a note too right? It's every bit as much of a technical showcase of playing weird time signatures as it is a raw, angry headbang fest.
By now the room's getting pretty packed, people are trying to find the right rhythm to headbang with, but Pupil Slicer are keeping them guessing with the next phrase. Above all though, this is some heavy, discordant shit with some proper meaty breakdowns. It does seem that, so far, the supports seem to be playing to audiences that are new to them on the whole but they're clearly into it, supporting someone like Rolo Tomassi is clearly a great slot for them.
Both supports have done a fantastic job of warming the crowd up for Rolo Tomassi, both solid live performances and no doubt they'll be back again – don't be strangers!
Bang on half past nine, it's time for Rolo Tomassi. I've been waiting for a chance to hear the new album stuff live and with a backdrop of some incredibly flashy strobes, and a rapturous applause from the crowd, it's kicking off! Eva's signature uncleans right at the forefront of the thunderous music.
'Where Myth Becomes Memory' seems to carry a bit more of an emphasis of dreamy, melodic passages compared to previous releases and it translates fantastically well to a live show and the crowd is absolutely lapping it up, less of a pit and more of a sea of waving arms and screaming faces.
Admittedly the set is actually pretty varied as far as their discography goes, but this only goes to show off that Rolo Tomassi are very much not a one trick pony mathcore band; in fact, labelling them as such really undersells the fact that they jump between jazz and prog passages that would even purists gurn in appreciation.
With the show they're putting on, they're really showing off why they've been doing this so long: it's because they're fantastic at what they do, the live show, the strength of the music and it all adds up to one amazing performance that's professionally slick as it is raw. Rolo Tomassi never fails to put on a top-class performance, until next time.
Three smashing acts, one fantastic night. Won't see a line-up like this again in a while!
All content © Über Rock. Not to be reproduced in part or in whole without the express written permission of Über Rock.