By Monk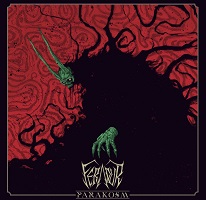 Many of us have heard of "small man syndrome", and I'm sure we all know someone who suffers from it (personally, I could name half a dozen), but is there such a thing as "small country syndrome"? Well, if there is, then, stepping outside of our home territory of Norn Iron for the time being, the tiny land-locked principality of Luxembourg must be a prime exemplar of the condition, seeming as it does to punch well above its weight, especially when it comes to the number of native bands ploughing their furrow at the more extreme end of the metal spectrum.
Earlier this year, progressive tech metallers Scarred proved that the third album indeed is a charm with their highly impressive self-titled full-length oeuvre earning them a coveted 'Uber Rock Introduces…' feature, while melodic death metallers Miles Of Perdition also made a declarative return after a seven-year hiatus with their ÜR-approved second outing. Now, the arguable leaders of the state's metal scene are back on the attack with a brand new five-track EP packed to every last groove with melodeath majesty.
Described as "an aftershock" to their previous, second full-length, release 'Legion', 'Parakosm' is made up for five carefully crafted and superbly executed tracks which work on every level, from their combination of brutality and technicality, aggression and melody, compassion and that ever pervasive sense that, any second, they're going to unleash something that it is going to rip your skull off and send it spinning, out of control, into another dimension: and, believe me, they come about as close to doing that as it is physically possible to achieve.
An added bonus is that Feradur are not afraid not fuck with the basic melodeath formula, and integrate other related generic formulae into their overall equation, such as the doomy undertones on both 'Midas (Materia Prima)' and the slow burning 'Crest Of Betrayal', the neo-thrash fury of 'Tetsuo' and the primordial grunt of the absolutely huge 'Host Of The Nightmare', which closes out this brief sampler in epic style.
As mentioned above, 'Parakosm' is a beautifully crafted EP, with the craftsmanship imbued in it adding to the power and impact, both of which are substantial, of the final product. A definite, and defiant, bar raiser, especially in terms of the European melodic DM scene.
'Parakosm' is out now. You can get your copy HERE.
All content © Über Rock. Not to be reproduced in part or in whole without the express written permission of Über Rock.