By John Bedard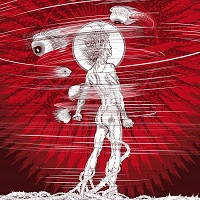 'Legion' is a very enjoyable album. I would say it leans more toward the death metal side than melodic. It is heavy and aggressive. A very enjoyable listen with a passionate delivery and definite musical talent. Time and care were definitely taken in the making of this album and it definitely shows in the production value and overall experience.
While the whole album is very good, there are a few songs that stand out as something really special. 'Omen Of Incompleteness' particularly comes to mind. It opens with a very nice acoustic opening that is a pleasure to hear and the placement on the album puts it toward the middle adding in a welcome variety to the listening experience. 'Fake Creator' is another one that stands out with them really stepping up the pace and adding a whole new depth of aggression to the whole experience. Everyone should hear this song at least once. Even if death metal or melodic death is not your style this song defiantly deserves consideration, as it is truly something special.
Like I said at the beginning, the album does lean toward death metal more than melodic, especially at the beginning. The further you get on the album the more melodic it gets. I would have liked to hear more melodic elements throughout the album. I think that a better balance though out would have made a more complete experience. At the end of the album there is a short instrumental piece called 'Into Stygian Depths'. It is a truly beautiful piece and I would have liked to see more of that influence spread on the album to add variety and give the album some more evolution from start to finish.
If you are a fan of death metal this is one I would definitely give a listen to. It is aggressive, passionate and a joy to listen to. All the tracks are good and worth your time but some stand out as definite greats. I don't think that anyone will be disappointed with this album and I look forward to more from Feradur.
'Legion' is released on 22 June. You can get your copy HERE.
www.facebook.com/FeradurMetal/
All content © Über Rock. Not to be reproduced in part or in whole without the express written permission of Über Rock.