By DJ Monk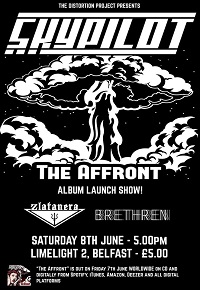 On the face of it, staging your album launch gig on the same day as the majority of Belfast's metal fans seem to have decamped some 100 miles or so to watch some outfit called Metallica play in a field in the arse end of nowhere may not seem to be the best of timings. However, a number of factors always come into play when planning anything, such as the availability of band members, other tour commitments and the release date of the album… and so Skypilot found themselves with something of a fait accompli. But, as a certain playwright wrote several hundred years ago, all's well that ends well and, at the end of the evening, there was a decent crowd present to watch the trio officially send their excellent new 'The Affront' out into the big bad world… but we'll come to that anon.
First up we had Glasgow power trio Brethren, who had also supported tonight's headliners in their home city just a few weeks previously. I'd like what I had heard of them online – and was not disappointed by this first live encounter. They deliver dense, sludge-encrusted doom with a thick, bottom-ended sound, topped off by dark, growly vocals, which in turn are underpinned by precise percussion and huge bass grooves. With seering guitar interjections cutting through the inherent pathos, and psychedelic elements attempting briefly to lighten the mood, it's an excellent opening set which really sets the tone for the rest of the evening.
Next up are local heroes Zlatenera, making one of their calculated rare forays into the live arena. These guys have taken on a new sonic patina since they changed vocalists last year: yes, they still deliver dense grooves packed with dark melodies, but the arrival of Aaron Orr up front has brought them a new NOLA-esque, swampy vibe at which they only hinted before. They also have developed a more aggressive edge to their sound, while at the same time possessing a more relaxed approach to its delivery, as exemplified on 'Bad Case Of The Devil', which bears little resemblance to its previous incarnation (and in a good way). Sometimes it pays for a band not to play live too often, and Zlatanera are proof of this, as it helps to raise the level of expectation when they do so – and that was definitely fulfilled tonight. Job done – and it's a good 'un lads \m/
"Ladies and gentlemen, and people who may have missed their bus to Slane, we are Skypilot," proclaims frontman Dave with the humour for which he is known, always having a nice one-liner to lighten the mood at the start of a show. As intimated above, despite the counter attraction down the road, a decent crowd of around 100 people have gathered in front of the stage before the trio take to it, which is testament to the loyalty that had remained behind in Belfast.
Over the next 50 minutes, the trio demonstrate how much 'The Affront' captures the vibrancy of their live shows; at the same time, they breathe even more life and vitality into the songs – after all, they are designed to be played in this environment! Up front, Dave and Gareth may not move about too much, but they are clearly enjoying themselves as they let the music do their talking for them – and, boy, does it scream loud and proud… And speaking of loud, Gareth's bass is so fucking heavy that it shakes the beermat off the top of my beer cup when I have to nip to the loo midway through '5 Movements'…
All in all, another thoroughly enjoyable afternoon of metal, and no better way to spend a Saturday evening… well, certainly beats standing in a field squinting to see a bunch of miniscule figures in the far distance any day of the week!
'The Affront' is out now. You can get your copy HERE.
Skypilot play Mosh Against Cancer at The Arches in Coventry on Friday 27 June, Y Lew Coch in Machynlleth on Saturday 28 June and then support Hundred Year Old Man at Voodoo on Friday 2 August. They have also been confirmed to play the Jagermeister Stage at Bloodstock on Friday 9 August.
All content © Über Rock. Not to be reproduced in part or in whole without the express written permission of Über Rock.