By DJ Monk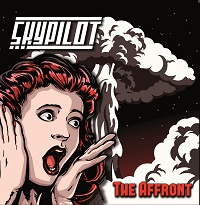 Hailing from the otherwise quiet village of Doagh, nestled in the hills somewhere north of Belfast, Skypilot having been plying their brand of desert rock for some 16 or so years now and will be familiar to regular ÜR readers as they have featured in these pages several times. It is perhaps surprising to know that this is only their second album (although they have released four EPs as well over the years). What is not surprising, however, is that many of the tunes on here will be familiar to the band's followers, as the likes of 'M.O.A.S.T', lead single 'Superdupernaut', 'Nacho' and 'Letters To Jemima' have been staples of their live set for some considerable time.
One thing that strikes you right away about 'The Affront' is the freshness and vitality of the sound, something which can be attributed to the fact that it was recorded more or less live, over the course of just two weekends, with minimal overdubs. This approach to the recording process was deliberate, as the trio were seeking to capture, as much as they could, their sound as it comes across live: and, in that, they certainly have succeeded, as 'The Affront' is an album that breathes deeply and does not come across as over-worked. Similarly, and not surprisingly given both the band's experience and the heritage of the songs referenced above, it is also taut and concise, with not a wasted second or extraneous element to detract from its overall effect.
If you like your metal with a heavy stoner vibe, with plenty of grit, groove and grunt, then 'The Affront' will be right up your back alley, as it delivers all of these elements in shovels encrusted with more grime and muck than Belfast's River Lagan. Infectious melodies bounce playfully from the speakers, thick riffs punch and cavort in equal measure, beams of laser light cascading in and out of darkness while rumbling bass lines and precise percussion drive the songs forward with the clarity and focus of Jonathan Rea with the chequered flag in his sights. For all its density, however, 'The Affront' is brought to life with a deft production, which accentuates the depth and warmth of both the material and the performances, immersing you in the the aural experience and producing along the way the sense of being part of something darkly beautiful and sensuous. And, as I said above, the album's standout quality is its vibrancy and sense of liveliness, which exude from every groove.
And any band that follows a song called 'Nacho' with something as apposite as 'The Beautiful Cheese' has to be on to a winning formula anyways!
'The Affront' is released on Friday (7 June). You can get your copy HERE.
Skypilot hold an album launch show in Belfast's Limelight 2 on Saturday (8 June). Support will come from Zlatanera and Brethren. They then play Mosh Against Cancer at The Arches in Coventry on Friday 27 June, Y Lew Coch in Machynlleth on Saturday 28 June and then return to Belfast to support Hundred Year Old Man at Voodoo on Friday 2 August.