By DJ Monk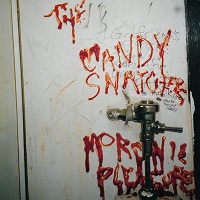 Originally planned as the band's second album, the recently unearthed 'Moronic Pleasures' is an example of musical archaeology at its finest. Originally recorded in two sessions, the original tapes have lain gathering dust for a little more than 20 years – although many of the songs ended up, in re-recorded versions, on what ultimately proved to be the band's sophomore offering, 'Human Zoo'. Two decades later, an old friend of the band, Jake Starr, set about tracking down the long-lost original sessions and subsequently getting the 19 songs remixed and remastered for modern consumption. It was no easy task, as there were bits missing, with a good old-fashioned cassette tape being used to fill in the gaps on 'Ass Casserole', for example.
Much of the content of 'Moronic Pleasures' will be familiar to those who possess what became 'Human Zoo', as 12 of the 19 tracks are replicated on both albums, while several others were rewritten or otherwise modified. But that does not in any way denigrate the validity of this unearthed gem, as it captures an important aspect of the band's development and captures the pure raw power of what were largely live recording sessions.
According to engineer Paul Johnson, The Candy Snatchers basically walked into the studio with a setlist and blasted through the songs in the order they were written down, with the late Matt Odietus then returning to overdub some rhythm guitar and solos before vocalist Larry May did the same with his lyrics. This approach is easily heard on the album, with the modern-day remastering doing nothing to impact on the raw energy of the original recordings: the sense of urgency is fully retained, as is that of the adrenalin and sweat which undoubtedly oozed from their bodies when they had finished these anarchic sessions.
One important thing about 'Moronic Pleasures' is that it stands the test of time. The energy which it captures is eternal, and the intensity of the performances transcends the intervening years. The raw vibrancy of the sound is perfectly retained, and you can just feel the sense of enjoyment which obviously permeated the original recording sessions two decades ago. The result is an essential purchase for all lovers of pure, visceral garage punk.
'Moronic Pleasures' is out now. You can get your copy HERE.
www.facebook.com/thecandysnatchers/
All content © Über Rock. Not to be reproduced in part or in whole without the express written permission of Über Rock.