By DJ Monk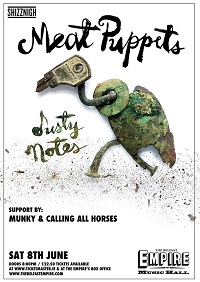 One advantage of Belfast is that it is a relatively small city, and easily traversable, if you plan your route in advance – something which proved to be something of a boon on this particular evening, with two gigs running (virtually anyway) back to back within a half a mile or so of each other. So, it was relatively easy to leave one as soon as the last note died in the speakers and make it to the other in good enough time to grab a beverage before the main attraction started…
Due to an overlap in timings and despite making the couple of hundred yards between venues in possibly Usain Bolt-defying time, I'm too late to catch local openers Calling All Horses, making it up the steps and into the converted church just as main support Munky are, by my best reckoning, halfway through their first song. Now, I had been truly intrigued to find out what this Dublin were all about, as they use the names of the Teletubbies as their stage names, describe their sound as "grungy-disco" and cite their interests as including "vomiting on strangers and hugging their mothers". In light of the former assertion, I took refuge in the furthermost recesses of the venue's balcony to witness the possible ensuing carnage…
Well, there was no projectile vomiting. And not a lot of hugging either. What there we got was a soul-funk infused groove with rocky guitar, very much in the vein of fellow countrymen Oddsocks but without the cheekiness of the Sligo lads. About two-thirds of the way through their set they try to start a singalong to the chorus "we don't want to fight about it, we just want to get fucked", but it doesn't quite work, as the audience reaction is somewhat reserved, staid even. Nevertheless, ten out of the ten to the band for doing their best: they do possess some nice grooves and I did find my feet tapping along in between sips of my room temperature bottle of cider…
It's always a complaint about headline bands keeping audiences waiting, but tonight's main attractions are obviously keen to get on with the show as Meat Puppets take to the stage a full ten minutes ahead of their advertised time (I wonder how many people rushed back in from ill-judged smoke breaks?). To be honest, they get things off to a slightly slow start, so laidback they're almost horizontal for their first two songs – but, maybe they're just luring us in gently? And, so, it proves to be, as they quickly pick up the pace and the party starts to swing, quite literally, with a few couples starting to burl around the cramped space reserved for the dancefloor.
The feeling very much evoked is that of sitting in on a family barbecue come jam session. The lengthy instrumental interludes sound like Hank and his Shadows sitting in with the Surfaris, before Tom Petty wanders onto the lot and introduces his mate Neil to the party. There is a latent energy which belies the laconic nature of the band's stage mannerisms as they deliver their blue-collar urban hillbilly sound with taut aplomb, the morbidity of the ballads mixing with the joyous celebration of the more upbeat moments.
The audience are obviously huge devotees, with even those on the balcony banging their fists on the tables and singing themselves hoarse as the band weave patterns of light and shade around this historic venue and enthral their faithful with an enervating and sublimely saturating set.
Meat Puppets play Norwich Arts Centre on Wednesday 19 June and ULU on Thursday 20 June.
All content © Über Rock. Not to be reproduced in part or in whole without the express written permission of Über Rock.