By Monk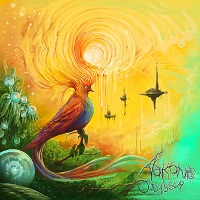 Having released three albums which have shown them constantly evolving and embracing progression, it could be argued that Swedish progressive stoners Vokonis have defiantly upped the ante with this fourth full-length release. How so, I hear you ask? Well, they only went and recruited one of the most respected multi-instrumentalists in the whole of Scandinavia, never mind just Sweden, to help them take things to the next level. Yes, we're talking about the one and only Per Wiberg, best known for his work with behemoths like Opeth, Spiritual Beggars and Kamchatka, and, most recently, a man carving an impressive path for himself as a solo artist.
And it could equally be argued that the involvement of Wiberg in this latest evolution of the band's sound makes the sort of logic of which Spock would be proud, as it sees Vokonis travel further down the road that has taken them away from their denser, doomier roots down a more progressive rock route – the sort of path taken by Opeth when they emerged from the darkness of their black metal background towards a more prog-centric musical journey. Not that that's to say they have forsaken any of their heaviness, as nothing could be further from the truth: there is more than enough dankness and doominess here to keep the entire Scandinavian archipelago, and most of the known Überverse, covered in a layer of impenetrable darkness from now till the next millennium… At the same time, however, there are strategically interjected deft, fragile touches that send sharp shafts of light through the heaviness, illuminating the darkest recesses of the gloom with clarity and precision.
'Odyssey' is an album that very much lives up to its title, representing the journey of a band ever keen to develop and keep moving forward, pushing the boundaries of the genre in which they first made their mark, staying true to the basic ethics of same but not being afraid to experiment and extrapolate different sounds in order to broaden their horizons – and, simultaneously, those of the listener. It is a journey on which I would thoroughly recommend you consider joining them…
'Odyssey' is out now. You can get your copy HERE.
www.facebook.com/OfficialVokonis
All content © Über Rock. Not to be reproduced in part or in whole without the express written permission of Über Rock.