By Monk
Four years after their last release, Luxembourg progressive/tech metallers Scarred last month returned to the fray with their third, self-titled album, their first to feature new vocalist Yann Dalscheid. Although the album somehow slipped under our radar in reviewing terms, we thought we'd make up for that criminal oversight by catching up with drummer Laurent Kessel to chat about the band, the album, the challenges of the year-long pandemic and breaking out of the tiny landlocked principality in which they are based.
First of all, however, this feature being called 'Über Rock Introduces…' we asked him to start at the beginning and, erm, introduce the band…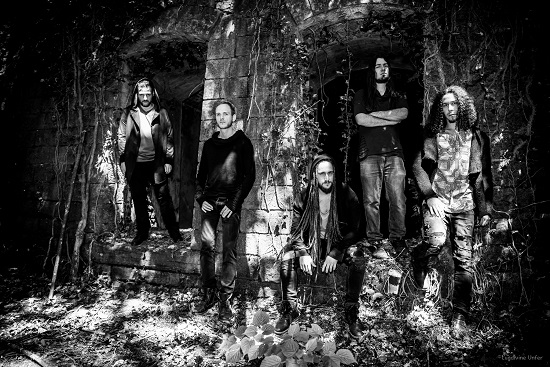 There are five members in Scarred, namely Yann, as you mentioned, on vocals, Diogo Bastos and Vincent Wilquin on guitars, Bertrand Pinna on bass guitar and me.
People love to pigeonhole bands, so how would you describe your sound?
That's a tough one because we don't like to limit ourselves to a particular genre, which sometimes confuses people. As you will hear on our new album, we like to explore many different soundscapes, which has awarded us pretty much every label you can think of: death, technical, modern, thrash, groove, black… so I guess that means we do progressive metal! The songs may sound very different from each other, but they all have a common backbone made of heavy and groovy riffs which are our trademark.
What are your collective and individual influences, and how have you moulded these into the band's own sound?
We all like bands like Gojira, Devin Townsend or Meshuggah to name just a few, but individually we listen to very different genres. Vincent is more into technical stuff (Obscura, Caligulas Horse…), Bertrand likes it heavy (Korn, Sepultura…) but will occasionally listen to hip-hop, Yann is a lot into atmospheric stuff (Mastodon, Lantlos, Tool..), Diogo is originally rooted in black metal but listens to all kinds of stuff from metal to electronic music and everything in between (as long as it's good), while I am at the moment mostly influenced by the classics (Pink Floyd, Queen…) and the '90s (Alice in Chains, Korn…). Of course, none of us is limited to the genres or bands listed above; we're all pretty open-minded when it comes to music.
You've just released your new album. Why did you decide to make it self-titled?
'Scarred' is by far our most personal album so far. It basically tells the story of the transformation we have gone through as a band and as individuals since the release of our last album, 'Gaia-Medea'. Those years have been rather complicated for some of us and have left a lot of… well… scars! There were many times where we weren't sure that we were going to make it through, but writing these songs allowed us to stay the course and work out our issues. This record really means a lot to us, so naming it 'Scarred' was pretty much an evidence.
Are there any particular subjects/themes which you address?
Like I mentioned above, 'Scarred' tells the story of a transformation, with every song corresponding to a chapter of our own story over the last four years. It deals with separation, dissolution, anger, chaos, egoism, the jump into the unknown, errancy, excess, karma, solitude, depression, contemplation, duality and rebirth…. among other things. The story we are telling may be personal to us but is ultimately universal and relatable.
We find ourselves in very trying times, so I'm wondering how difficult it was to record against the backdrop of the pandemic? And how did you adapt to having to do so in the light of all the restrictions?
Actually, the recording process was already finished before the pandemic hit. The album release was delayed because of it, but the work was already done. We have recorded a couple of other tracks during the pandemic though: a cover of 'Enjoy' by Björk and an acoustic version of 'Psychogenesis' from the 'Gaia-Medea' album (which you can find on our YouTube).
We adapted to the circumstances by working each in our home studio and sending files to one another or by wearing masks and keeping our distances whenever the presence of two people was required in studio.
This is your first album with Yann. Has his arrival changed the dynamic of the band and your sound in any way, and if so how? Has he brought anything to the band that maybe wasn't there before?
Yes, a lot of things have changed since Yann arrived, which is exactly what we had in mind when we asked him to join the band. Yann breathes music and art in general, and his addition has revitalised the band's creativity musically. His range has allowed us to explore many new genres of music outside the death metal niche that were previously not accessible to us, which is one of the main reasons why our new album is so diverse. It's the first time we have songs that have an almost pop rock vibe, clean vocals on certain parts, choruses with multiple harmonies… We can pretty much take our music wherever we want now!
Obviously, the pandemic has also changed the way in which bands are able to promote themselves, especially live. How important is social media to you in terms of interacting with fans and promoting yourself to new ones? And are there any particular channels which you find more beneficial than others?
In this day and age, social media are of course paramount, even more so since the pandemic hit, which is why we are dedicating more time than ever to interacting with our fans, mostly via Facebook and Instagram. We've always put the emphasis on playing live in the past, but since that is not possible right now, we've created a lot of video content that we will release on these platforms and YouTube over the next few months to still get our new music out there and attract new fans. Let's switch back to the music itself. Can you tell us a wee bit more about the songs on the album?
We talked above about recording against the backdrop of the pandemic. Can you tell us a bit about your songwriting processes? What comes first: lyrics, melodies, riffs? Do you write separately and then pull it all together, or do you jam stuff out and see what works?
So far, we had been more of a jamming band, but for this album the circumstances steered us towards a more studio-based approach. Music generally comes first, with Diogo providing a base of riffs or song parts that we work on together according to the mood of the moment. We definitely don't try to force things but rather let the music take us where it wants to go. If we get stuck, we'll just start working on a different song or take it to the rehearsal room to see what comes naturally. The lyrics generally come after the music but will sometimes lead us to rewrite some parts or rearrange the song.
Obviously, as we mentioned, it's impossible for bands to get out there and perform their songs live? Have you any plans for any 'virtual' gigs to promote the album?
We have participated in some filmed projects that will be released soon and are planning to do more, but, unfortunately, I am not allowed to spill the beans just yet! As for live streaming, it's not something we have done so far, but it is not out of the realm of possibilities if the current situation drags on.
When gigs are possible again, who would you like to go out on the road with? What would be your ideal tour (and you can count both 'big name' and independent acts)?
Gojira, Devin Townsend, Meshuggah and Scarred. That would be a nice one!
On a related subject, if you could have someone guest on your next single/album, who would it be and why?
Devin Townsend. His voice is just incredible and would fit in nicely with our music. The guest appearance he did on Gojira's 'Of Blood And Salt' is epic! Plus, he's a hilarious guy who doesn't take himself too seriously while also being supremely professional, so we could probably learn a thing or two while having fun with the experience.
Final couple of questions. Like Northern Ireland, where Über Röck is based, Luxembourg is a small country, but it seems to have a very active heavy metal scene: unlike Northern Ireland however, you are landlocked, and are surrounded by some very big countries. Outside of Luxembourg, where do you see as your biggest, and most receptive, markets?
So far it definitely has been France and Western Europe in general (Belgium, Netherlands, Germany, UK…). I think that North and South America could also be very receptive to our music. We would definitely love to tour there!
Finally, what other Luxembourg bands would you recommend Über Röck's readers check out?
Kitshickers, Abstract Rapture, Cosmogon, Desdemonia and Heartbeat Parade.
'Scarred' is out now. You can get your copy HERE.
All written content © Über Rock. Not to be reproduced in part or in whole without the express written permission of Über Rock.