Words by Rich Hobson. Photos by Emily Coulter.
We hit the final day of Bloodstock 2019 assured that we have seen some of the brightest up-and-coming talent in the metal world right now in the form of both Sabaton and Parkway Drive. That in mind, it's time to celebrate some legends in their own right as we hit the classically powered Sunday to see what delights Bloodstock holds in store…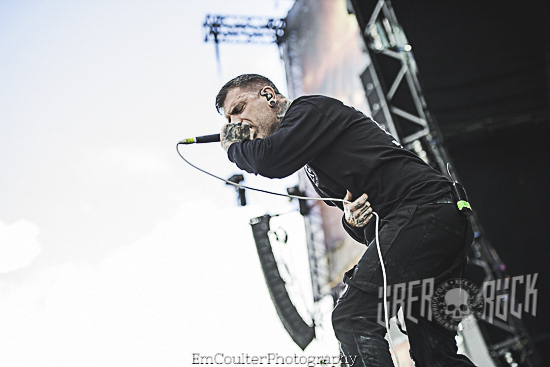 Playing bright and early, All Hail The Yeti have no business being as energetic as they are. Plying metalcore with an almost sludgy sense of low-end, AHTY feel more like Korn than their usual obvious 36 Crazyfists or Killswitch Engage comparisons would suggest. The Californians are around to blow away the cobwebs as they blast through a fun set, saving some of their best songs for towards the end of the set in the utterly enormous 'Burn the Witch' and 'Mister Murder'.
The proclamation that Fallen Temple are 'bringing the 70s back on steroids' feels about right, the bands high octane rock n roll grooves a welcome change of pace from the tech inflected metal on the other two stages. Sort-of stoner, sort-of heavy metal, Fallen Temple are just great fun through and through, letting their riffs soar to get the blood pumping once again.
Sticking with those stoner-inflected rock n roll grooves, its over to the Sophie Lancaster tent to partake in the incredible good times on offer from Witch Tripper. Imagine Hermano going to an AC/DC gig and you've got pretty close to the vibe WitchTripper evoke, the big guitar energy of the band feeling like it would be perfectly suited to a sunny day and a cold pint. Well, one out of two ain't bad.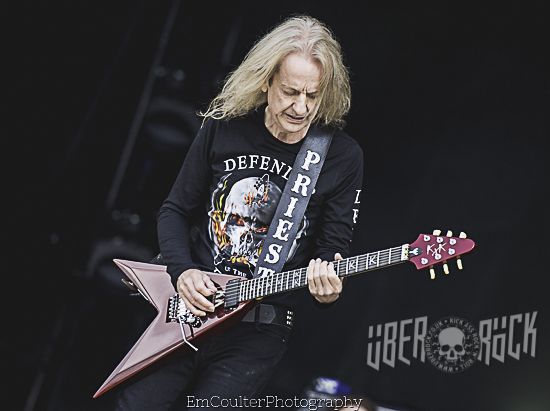 Over on main stage, Ross The Boss is flying the flag for true metal. From the second he gets onstage, Ross is shrieking with the best of them, putting on the full histrionics to let loose his pipes on Manowar's 'Blood of the Kings'. Considering the patchy track record that band currently have with festivals, its good to see someone upholding their legacy with gusto, even if it is a bit too theatrical for yours truly. The ensuing set sees a number of Manowar classics covered, but the truly special moment comes when Ross is joined by heavy metal legend KK Downing. Starting with a rendition of Judas Priest's cover of 'The Green Manalishi (With The Two Prong Crown)', the next few songs are choice cuts from the Priest discography that go down a storm, showing that even though Priest headlined just last year the appetite for them hasn't died down a bit. Ross's take on Halford's vocals stamps his own identity on it too, making this a truly unique experience of one metal icon paying homage to another.
The change of pace that signals Soilwork's 'Arrival' is enough to induce whiplash, lunging headlong into the grand-scale melodic death metal the band helped to popularise some 20-odd years ago. The band's latest records feels like a purer strain of melodic death metal than we've heard in bands of their ilk for a very long time, many simply becoming absorbed as an extra arm of the metalcore movement. Not quite so for Soilwork, whose new record bares all the hallmarks of the Gothenburg sound – though admittedly older songs like 'Nerve' and 'Stabbing The Drama' have a distinct metalcore twang that could easily see them listed alongside the likes of Trivium, Killswitch etc. Not that there's anything wrong with that of course – massive songs are massive songs, ultimately.
The sound in the tent for Wheel is absolutely perfect, communicating their high-minded prog stylings with crystal clarity. Opening the set with a nine minute epic as an unknown band is something of a gambit, but for Wheel it's one that pays off well, showing just what this band are capable of and how adept they are at getting there. This is a band that sounds far too large for a tent, and yet the idea of seeing them in a space that isn't so enclosed feels basically alien, particularly if it were to rob them of the dichotomy they create between inherently intimate melodies and crowd-slaying choruses, a la Tool.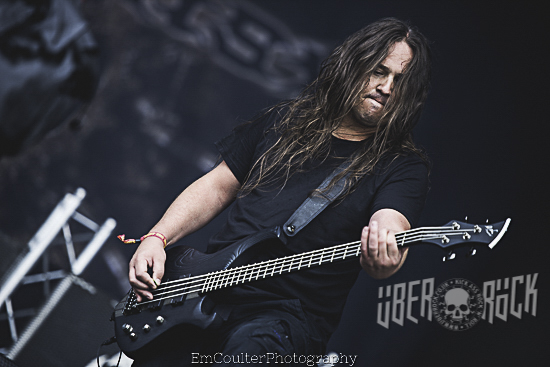 Talking of massive, you'd struggle to find a death metal band that sounds bigger or better than Hypocrisy. Opening on 'Fractured Millennium', the band go big on the heaviest aspects of their back catalogue for the Bloodstock set, wisely staying away from the more heard areas of melodic death metal. The result is a set that feels like an all-conquering force, taking the band and putting them at the very top of their game to completely defeat all challengers.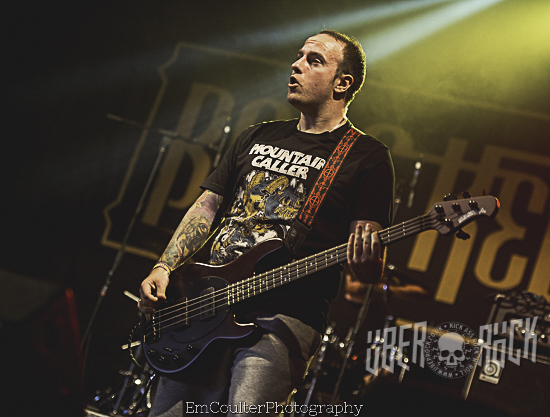 Nobody sounds quite like Boss Keloid. Part-Primus, part-Melvins and a whole bunch of ingredients that can't be easily identified, Boss Keloid are one of the UK's finest stoner bands, if not outright the genre's strangest. In the Sophie Lancaster tent they sound utterly sublime, each instrumental flourish and intoned vocal melody soaring straight into the grey matter of every member of the audience. You can't help but love an absolute oddity like this and Boss Keloid turn that otherness into a vital part of their makeup, juxtaposing dainty instrumentals and almost dancing guitar-lines with fire and fury on the choruses as the band let rip with pure aural gold.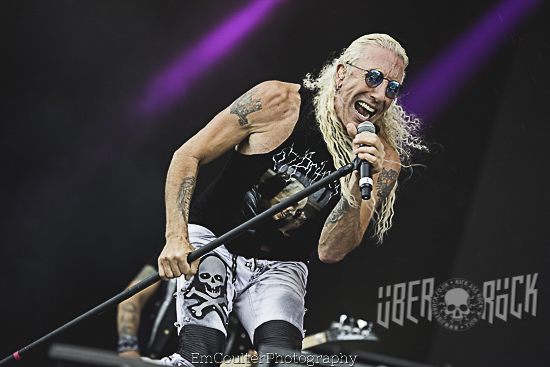 It has only been a few years since Dee Snider was over here headlining Bloodstock in a farewell performance with Twisted Sister. Clearly getting an appetite for the festival, Snider is back today to claim his space as one of metal's most ardent supporters, so much so that he has a song literally titled 'For The Love of Metal'. Even if you think you're not a fan of Snider's music (and I didn't!) his enormous personality is an instant-winner, between-songs patter switching between fun, agitating (in the best possible way) and sincerely grateful. Chuck in the absolutely massive selection of tunes he brings from his Twisted Sister days ('I Wanna Rock', 'You Can't Stop Rock N Roll', 'Burn In Hell' – the latter dedicated to Dimmu Borgir who covered the song previously) and there's no doubt in anybody's mind that Snider belongs at Bloodstock and the crowd belongs to him. Chatter of the show being 'special, for reasons that will later become apparent' feels a bit ominous, but the party for Dee Snider is so massive its not hard to imagine what it was like seeing him headline a few years back.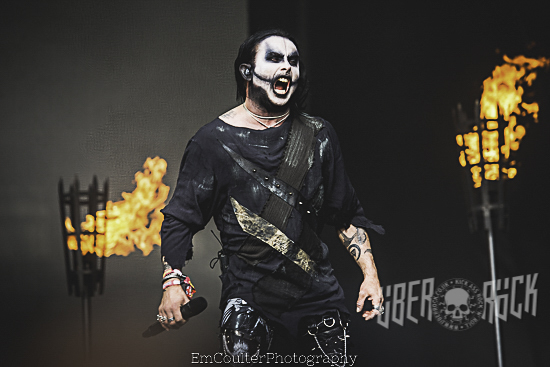 Cradle of Filth just have no luck with Bloodstock. Ten years ago the band's set was cut short when an enormous gobstopper hit guitarist Paul Allender, seeing him rushed to hospital. And yesterday the wind conditions got so bad that the main stage was cut completely for Cradle's set, shifting them to Sunday. But, here they are – determined and ready to make up for lost time. Reaching right back in their discography, Cradle go for a set which is mostly culled from earlier releases, which in a way makes sense as the band are currently working towards 'Cruelty and the Beast' anniversary shows. They also make full use of the expanded stage set-up, their pyro blasting out from across the stage and even Scorpions' catwalk as the band pull out all the stops to show just how they rose through the ranks of UK extreme metal.
Considering the sheer amount of melodic death metal types on at Bloodstock 2019, you can't help but feel Bloodred Hourglass would have benefitted by being placed alongside giants of the genre like Children of Bodom or Soilwork. Tackling the genre with a sense of scale and grand execution which evokes the genre's watershed moments, this band feel like the kind of fresh infusion of purist ideology that the genre needs – MDM's own Power Trip, if you will.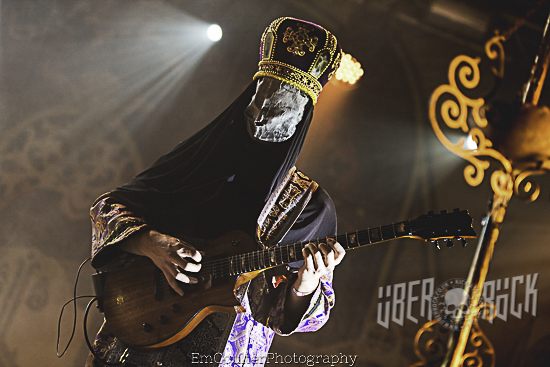 Back in June, we weren't impressed by Batushka. A hotly-tipped band on everybody's lips, the band's take on theatrical black metal tropes fell completely flat when having to compete with the blaring drum n bass of Die Antwoord at Download . It probably didn't help that they spent a majority of the set lighting candles either, mind. At Bloodstock they are completely reinvented – sure, the chiming bell intro tape still doesn't quite work (this time contending with the dodgems stand across the way from the tent), but once the set gets going its finally apparent why so many are buying into their mystique. Their take on black metal has a mournful, mystical bent which, combined with the quasi-religious iconography of the band, makes for an excellent set-up, letting loose some primo atmospheric black metal vibes that don't feel a million miles away from the Icelandic scene.
Even from Scorpions' intro tape, it becomes apparent they are used to working on a scale completely removed from everybody else. The ground literally rumbles as the band take to the stage, and the roar of excitement when Klaus Meine, Rufolf Schenker, Matthias Jabs, Pawel Maciwoda and Mikkey Dee take to the stage is something else. Opening on newer tune 'Out with a Bang', Scorpions start as they mean to go on – with massive choruses, guitarists dashing across the stage as they let rip solos left, right and centre. And then they break out the big guns – 'Make It Real' is absolutely monolithic, the crowd roaring along like the past 30 years haven't happened; Scorpions are still one of rock's titans, for sure.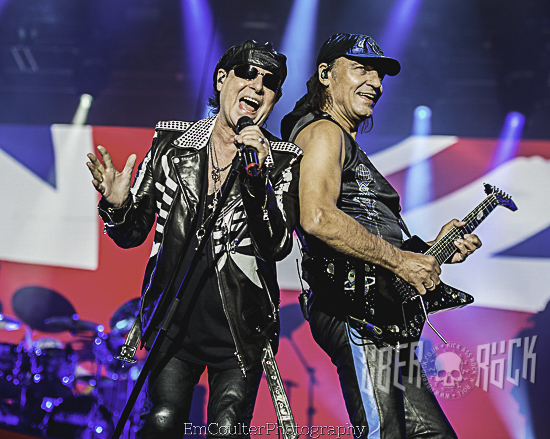 Tonight, Scorpions can do no wrong onstage, where all sins can be forgiven with the right application of anthemic songs. Even the band's reggae-ish 'Is There Anybody There?' sounds right given the circumstances, which is absolutely wild when comparing it to pretty much every other song the band have ever done. Still, its not long before the band are firing off again – 'The Zoo' is absolutely enormous, as is the epic medley of 'Top of the Bill/Steamrock Fever/Speedy's Coming/Catch Your Train' that really allows the guitarists to let rip. For his own part, Klaus Meine is reserved in performance, letting his enormous voice do all the gymnastics. It works well, and reminisces between songs create a communal sense of enjoyment that helps to make the show feel extra special.
There are of course a few major standout moments. The entire band coming out onto the catwalk for an acoustic rendition of 'Send Me An Angel' is sublime and a little surreal, particularly when they wheel out a mini drumkit so that Mikkey can join in the fun. Similarly, Klaus points out that Bloodstock marks almost 30 years to the day since the band played Moscow Peace Music Festival (a pivotal point in their career), adding an extra layer of importance to the excellent 'Winds of Change'. The embodiment of rock excess – albeit excesses measured within a degree of professionalism, we'll have no Motley Crue here thank you – Scorpions switch between enormous power ballads and rock anthems throughout the set, the dazzling laser show and roaring solos making this feel like a proper world-beating, stadium-crushing rock show. It doesn't quite excuse the 10 minute plus drum solo – we'll never quite get our heads around that – but it does almost make you yearn for the days where rock bands truly could conquer the planet. Judging from the reception Scorpions receive at Bloodstock 2019, it definitely feels like they are conquerors once more.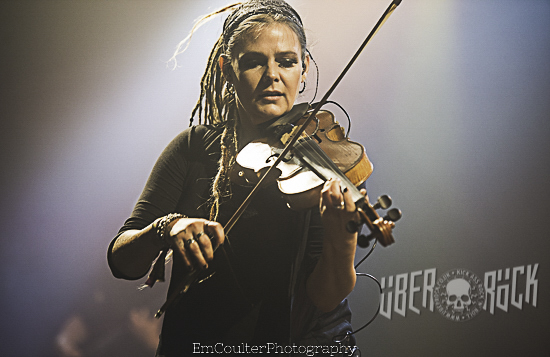 The final band of the weekend are still setting up as Scorpions close. Quite literally playing pied piper to the audience, the tent is positively rammed by the time Eluveitie actually start. Offering up a more Celtic take on folk metal than can be found elsewhere on the continent, Eluveitie's set is a reminder to the fact that in its early days, Bloodstock was the only festival that would truly support acts like Eluveitie, Korpiklaani or Turisas. The enormous crowd waste no time in getting stuck in, headbanging, singing and dancing to the best of their ability as the band blast through an epic set which combines a strong number of tunes from the band's brilliant new album 'Ategnatos' with choice older cuts. A grand and fittingly cinematic way to close out Bloodstock 2019, Eluveitie aren't quite like any other band on the line-up, their dainty folk rhythms colliding head-on with vicious blasts of metal to truly represent the marriage between genres.
In one of its most divisive years yet, Bloodstock still proves itself to be the choice festival for representing and championing modern heavy metal of all shapes and sizes. Approaching its 20th birthday next year, we can surely expect special things from next year's line-up, safe in the knowledge that no matter who gets booked the festival still retains one of the friendliest and most easy-going natures of any festival doing the rounds right now. But then, that's heavy metal for you.
PHOTO CREDIT: All photos © Emily Coulter/Über Rock. You can view our full gallery of photographs HERE.
With the first acts, including Vio-lence, Sacred Reich, Skindred and The Black Dahlia Murder, already confirmed, early bird tickets for the 20th anniversary edition of Bloodstock, which takes place over the weekend of 6 – 9 August 2020, are available HERE.
All content © Über Rock. Not to be reproduced in part or in whole without the express written permission of Über Rock.