By Rich Hobson
If the Friday of Download 2019 was all about celebrating the grand old names of rock, Saturday is an infusion of fresh blood that could yet completely change the game. Don't believe us? First up on main stage Saturday morning are heavy metal Maori maestros Alien Weaponry, all the way from New Zealand. Playing to a massive crowd – particularly for a Saturday morning that will likely hold more than a few hangovers – the band don't waste time in letting their highly unique fusion of groove, thrash and heavy metal take the lead in shaking away any remaining cobwebs from the night before. Alien Weaponry seriously are a treasure of modern metal, not least for the band's conscientious approach to celebrating Maori culture, but in the way they seamlessly exhibit the genre's most treasured attributes and pump new blood into the scene. Download might be a year too late to give the band their UK festival debut (that honour goes to Bloodstock, just up the road), but they certainly give the band a warm welcome as they set out some seismic movements in 'Kai Tangata', 'Ahi Ka' and the stomp-inducing 'Ru Ana Te Wheuna'. It doesn't matter that 90% of the audience don't know what they're singing when it comes across this righteous.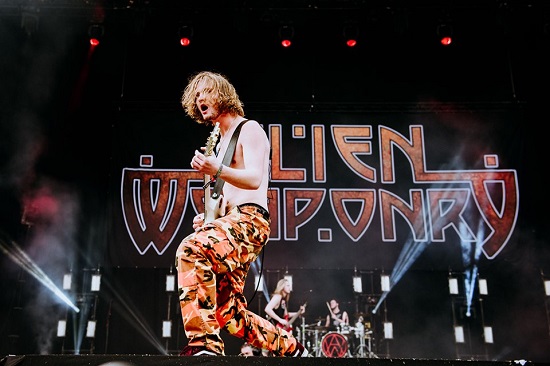 Sticking around on main offers up a very different – and, if we're being honest a little out of place – slice of rock pie from Scandinavian rockers Royal Republic. Rob Zombie's largely flaccid opening yesterday has us a little worried about the other repeat bookings on the bill of Download 2019 who played just two years ago, but such worries are totally unfounded so far as Royal Republic go. A band so at home with their stagecraft that they've hit a point where even their biggest comparisons (The Hives) can scarcely match them in performance stakes, Royal Republic naturally take to the main stage like a duck to water, delivering anthemic rock tunes that have a distinctly disco edge. Even amidst a sea of metal bookings on the main stage, Royal Republic make themselves right at home by offering up a straight-ahead raging cover of Metallica's 'Battery' and the promise if they get booked again they'll come back around with a cover of 'Hammer Smashed Face'. Whether or not it's a faithful cover or one they cook up themselves remains to be seen, but you can bet we'll be there to revel in the mastery either way.
It's hard to justify leaving the main stage Saturday, such is the supreme quality of the stacked line-up on offer. Still, there's just enough time to squeeze in something very special in the form of Nepalese metalheads Underside up on Dogtooth in between Royal Republic and Power Trip. Unlike some of the other global metal offerings at Download 2019 (and there are a fair few), Underside largely trade in straight-ahead metal with a modern edge, their sound evoking everything from Helmet or Deftones-style alt metal to more straight-ahead raging in a metalcore/nu metal vein. That doesn't stop them from indulging in a little theatre though; joined by a dancing masked demon onstage, the band put on a display that isn't soon forgot – not a small feat when playing alongside the likes of Amon Amarth, Behemoth and Tool. Sound gremlins in the tent put a gap in the band's set that feels heavily unjust (after all, the set is barely a few songs long to start with), but they take to the situation with aplomb, showing off the determination and vision that has made them beloved in the metal scene thus far.
From one rising star to another, back on main stage Texan thrashers Power Trip are getting their moment in the sun (figuratively speaking, at least). Already earmarked as the great hope of modern thrash, Power Trip already proved their prowess last year on the stunning Metal Hammer-sponsored tour of the UK but seeing them pull a big crowd offers a magic of its very own. Not afraid to deliver the goods, the band don't fuck around – 'Executioner's Tax' appears just two songs into the set, setting out the stall for snarliest sing-alongs of the weekend early on. What Power Trip do may not be as innovative as a Deafheaven or Zeal and Ardour, nor have the benefits of decades of fandom to draw from, but the second you hear the band let loose on a track like 'Firing Squad' you just have to bow down and recognise; this is a band that could so easily conquer the metal world, given the right chance. And it all starts here, with the chant of 'Swing of the Axe!'.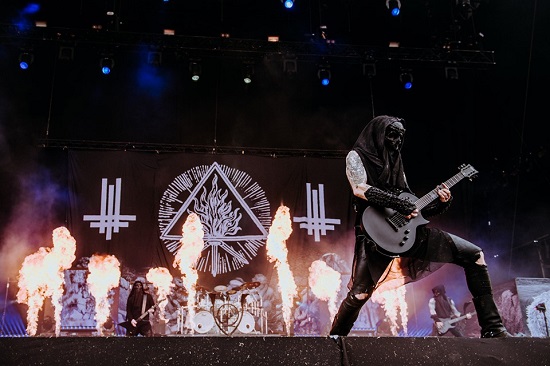 Next up on main are extreme metal darlings Behemoth. Coming fresh from a well-loved tour of their own and a heavy amount of press interest in how they could match the genre-watermark that was 'The Satanist' (the answer, 'I Loved You at Your Darkest' offered a shift in tone which allowed the band to continue to reinvent upon what they had created before), Behemoth are here to own the crowd body and soul, and judging from the blasts of hellfire, have made all the right pacts to achieve it. Our first full taste of pyro for the weekend, Behemoth's set is incendiary in more ways than one, perfectly accentuating the imperious tone of the music. It might be personal prejudice (always was more of a thrash fan than black metal), but Behemoth don't quite feel like the all-conquering force their stageshow and press presence suggests they should be, and while the show is doubtlessly enjoyable, there's a niggling feeling that something truly epic is waiting in the wings (Bloodstock headline appearance? Let's not rule it out…).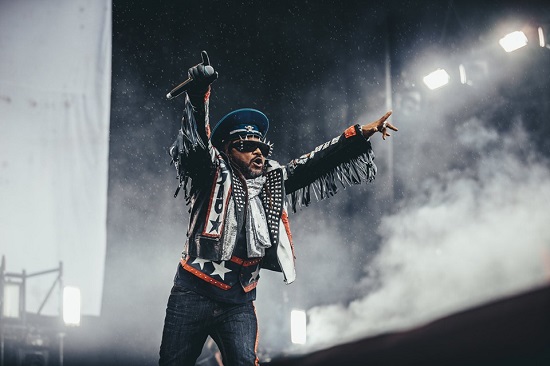 Skindred play so many gigs so often that they may as well be the UK's house band. But hey, we're absolutely fine with that, as all that practice has turned the band into an unstoppable party machine, sure to get whole crowds grinning ear to ear in no time. Even as the rain begins to fall and their set gets underway, Skindred keep the party going good and loud with 'Sound the Siren' signalling the start of one of the weekend's most reliably brilliant sets. These days it feels like guest appearances are thin on the ground, but Skindred aren't ones to let the crowd down and manage to pull on Reef's Gary Stringer for the massive rock vibes of 'Machine', before later sticking in a very special cover of The Prodigy's 'Out of Space' in tribute to the much-missed Keith Flinn. Chuck in some massive sing-alongs and crowd participation parts for 'That's My Jam', and a field full of swinging shirts for 'Warning' and you just have to face the facts; Skindred deliver time and again.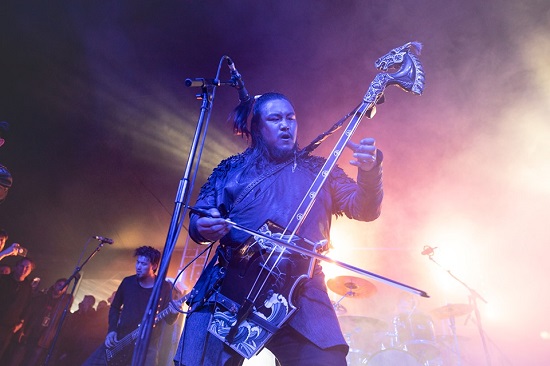 Sticking around for the Newport helicopter turns out to be a wee mistake, as back up on Dogtooth the amassed crowd is somehow even bigger than the previous night for the UK festival debut of Mongolian folk metal troupe The HU. Looking like they are laying siege to the tent, its 20 deep outside just to get in, which doesn't stop the crowds massively enjoying the music filtering through. There's nothing on the line-up quite like this (closest we get is Alien Weaponry), but that uniqueness clearly translates to massive success as rock fans eagerly crowd around to hear the band make some magic. Shrewd positioning (and a wonderful older lady opening up a part of the tent that doesn't usually get touched) gets us in, and once inside we can truly appreciate just how momentous this feels. After all, how often do you see a band make a debut to a sold-out tent, much less one who don't even have an EP's worth of songs online yet. Chants of "HU! HU! HU!" dog the band throughout the set and we wouldn't dream of missing a second, even though that means we miss the first few songs for Trivium's triumphant main stage appearance at Download. The HU are something else entirely, and need to make it back over soon, if only to satisfy the braying masses who chant from miles outside the tent.
With Trivium already well underway on main, we decide to head over to second and try something very different in the guise of Three Days Grace. Radio rock is a big change in pace for the way the day has unfolded, but Three Days Grace are masters of this craft. Massive choruses are in no short supply where the band are concerned and while bands of their ilk can so often feel very identikit, when you let the songs do all the talking there's no denying Three Days Grace have some absolute bangers in their closet. Its that exact thing that leads to an ensuant series of songs that make you go "oh man! THIS one! I haven't heard this in years!" as the band pull out 'Home', 'Pain', 'I Hate Everything About You' and 'Animal I Have Become'. Sometimes this is exactly what festivals are for – pleasant surprises and the opportunity to sing along to songs that connect to a specific part of your past, or just those that provide a great dose of fun.
Changing gears again, back in the Dogtooth Stage the mysterious Batushka are setting up. And setting up. And setting up… Yup, their set time starts and a faint bell begins to chime as the band light candles. It's ominous and heavily reminiscent to how Ghost's sets would start on the 'Meliora' cycle, but lasts far too long for a 35 minute set. To make matters worse, down on main stage Die Antwoord are setting up, meaning booming drum and bass permeates the tent far more than the intro tape of the band onstage. By the time the band actually do get going the blast of black metal fury is refreshing and blistering at once, combating the still booming sound bleeding in from outside with a howling energy of its own. Its too little too late for the most part though; people have been trickling out as the set goes on, and the theatrics really start to wear when two songs in the band set back to lighting candles before the finale, eating even more into their set time and marking an enormous amount of wasted potential.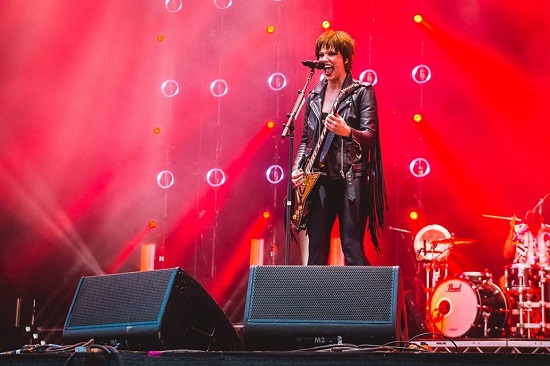 Saturday night second stage headliners Halestorm haven't wasted a drop of their potential over the years, steadily building their stock to the point where they have legitimately become one of rock's newest shining stars. Pulling an enormous crowd Halestorm come on like an all-conquering force, letting loose from both barrels. On their heavier songs Halestorm have an incendiary edge which is untouchable for pretty much all of the modern rock alumni, going harder and with vigour than you'll find anywhere else. Hell, even up against some of rock's most legendary names (including quite possibly the most legendary living guitarist in rock music), Lzzy Hale and co just have an air of undefeatable power to them that makes them pretty much unassailable, not hurt in the least by the fact that Lzzy herself lets loose some ripping solos that are certifiably better than anybody else at the festival.
That said, they still haven't managed to circumvent the problem that so many modern rock bands face in writing ballads that don't feel a bit… wet, especially when put against the pure fire of the straight-ahead rockers. While Halestorm have mastered the art of creating anthems, the anthemic quality of ballads has waned heavily over the past few decades and even Halestorm can't fully combat that, their own ballads feeling more like screeching halts in the set than soaring emotional highs. The drum solo also feels like a trope that desperately needs to die, something that even the use of Big Sticks can't quite combat. These are all niggling issues though – Halestorm's set is nothing short of a massive success, a pay-off for the faith UK rock fans have put in the band, and for their own ambitions in taking a shot at becoming rock royalty. With an arena tour set for later this year, it feels fair to say Halestorm have well and truly arrived as a force to be reckoned with. They also honour the age-old Download tradition of bringing out a special guest – Lovebites Asami coming on to duet the awesome (and appropriately titled) 'Love Bites (And So Do I)' which feels like a special moment in the set, adding that extra sparkle to an already gleaming crowning achievement.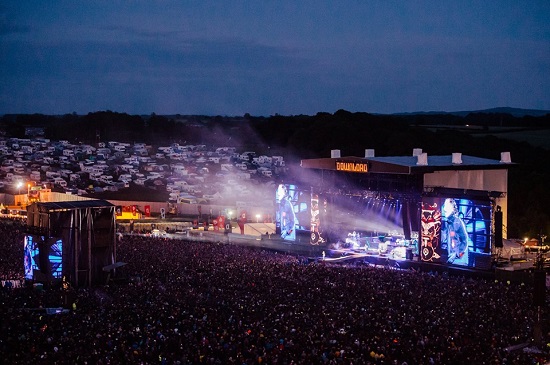 Returning to Download Festival a decade since they first took the leg-up to headliner position (and having become one of Download's most frequent returning headliners since), Slipknot are undoubtedly the big draw of the Saturday this year. Never mind that nobody plays against them (truly, who would want to at this point?); Slipknot are back with an adjusted line-up, a new record on the horizon and some of the fiercest songs that they have put out to date, making this a hotly anticipated comeback from modern metal's biggest entity. "HERE WE GO AGAIN MOTHERFUCKERRRS" signals the start of the mayhem to come, Corey Taylor snarling like a caged beast run rampant as the band launch into an utterly devastating run-through of 'People = Shit', blowing the doors clean off and reaffirming why Slipknot are the best in the business.
Sounding utterly manic, the band fly through the songs at a pace which leaves the crowd breathless, seemingly playing at double time just to make sure that everybody knows there's no fucking with Slipknot when they're on their A-game. '(Sic)' follows and now we're talking a one-two punch that would make Mike Tyson look like a pacifist in comparison, the brutality and energy buzzing from the stage keeping eyes firmly glued forward. Though known somewhat for their insane stageshow antics, the festival setting doesn't do a great deal for being able to fully absorb the many bells and whistles of what is happening on-stage, nor what each member does throughout the set for that matter. That doesn't mean this is a subdued, low-key affair though; no, there's still gouts of flame and lasers flying about like a Star Wars shootout gone Tarantino, with everything from flaming baseball bats to members crawling around the floor like wretches ensuring that the circus is most definitely in town.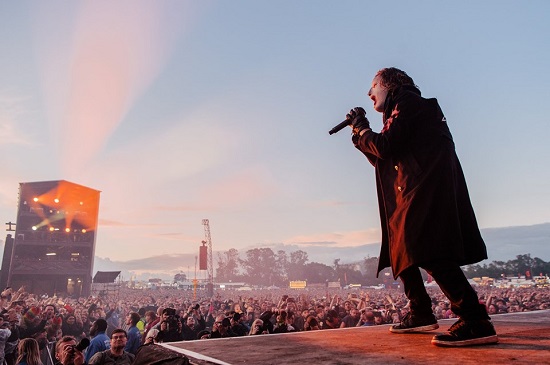 Where Slipknot surpass many of their metallic contemporaries is in their ability to craft anthems out of even the most vitriolic and maladjusted sentiments (as we mentioned, they opened with 'People = Shit' for Chrissake), tens of thousands raising their horns to the sky and roaring along as the band belt out 'Before I Forget', 'The Heretic Anthem', 'Psychosocial' and 'The Devil in I' all back to back. Fuck. Drawing out material from across their career, the band balance the old school and new release brilliantly, even finding time to slip in creepy ballad 'Vermillion' to show that just because a song is softer, doesn't mean it has to be needlessly sentimental. Closing out the main part of their set with new single 'All out Life' (bafflingly excluded from the album, whose title 'We Are Not Your Kind' comes directly from the chorus – no, we can't figure that one out either) and 'Duality', Slipknot pull out all the stops to make sure that every single face in the audience is grinning ear to ear.
It's a short and sweet encore that closes out the Saturday, 'Spit it Out' adding that last bit of venom before 'Surfacing' screeches out a hundred times faster than it even does on record, a howling triumph that shows the band haven't lost sight of the fact this year marks 20 years since the release of their game-changing self-titled debut. With the main stage largely stacked to reflect the metallic headliners, Slipknot's return to Download most definitely makes the case for it being a metal festival first and foremost, even if bookings like Def Leppard, Guns 'N Roses and even something like Die Antwoord would make you think its boundaries lie further out. No, 2019 is most definitely the metal year; massive crowds seem to adorn every single heavy band on the bill, and I can't remember the last time a headliner felt so vital or universally loved, suggesting that when it comes to blowing the doors off only the very heaviest will do. It might not be the perfect antidote to the mud and the rain, but it definitely makes it all worth it, every time.
PHOTO CREDIT: Photos courtesy of facebook.com/downloadfest/
Highlights of Download 2019 will be broadcast on Sky Arts next Saturday (6 July) and Sunday (7 July), from 9pm each evening.
Tickets for Download 2020, which takes place over the weekend of 12 – 14 June, are on sale NOW.
All content © Über Rock. Not to be reproduced in part or in whole without the express written permission of Über Rock.