By DJ Monk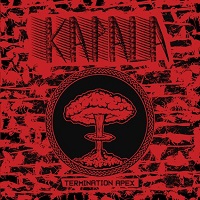 Despite all the criticisms levelled at it, one thing that Download recently demonstrated is the truly global appeal of metal, with acts from the likes of Nepal, Mongolia and even Iran taking front and centre stage ad turning in captivating performances (well, according to our man who was there). One region which has been at the forefront of promulgating the darker end of the extreme metal sound has been the Indian sub-continent, from where bands have been slowly emerging into the light of global recognition, and now seem to be doing so at an increasing pace. The latest to grab the attention, in the most ball-gripping of manners, is Kapala.
The band crawled from the black holes of Kolkata (sic) two years ago, with their uncompromising debut, 'Infest Cesspool', and intense and inhumane blast of pure noise which delivered shock and awe more effectively than the US military could ever dream of doing. Now, they have unleased – and that is not a word I use lightly – their second EP: four tracks (plus an intro and an outro) which lay waste to everything in their path with their devastating mix of grindcore, goregrind and nearly every other version of "grind" that you care to mention: in fact, it grinds harder than Gordon Ramsey does my gears.
Across its 26 minutes, 'Termination Apex' is a lesson in brutality, in intensity and in sheer unmitigated noise. The mangled production matches that of the instruments, which are stripped back to their pure essence to deliver maximum impact – and when that comes it's like all the world's nuclear missiles simultaneously landing in your living room. It's sick as fuck and a very worthy addition to the global grind canon. Prepare for annihilation.
'Termination Apex' is out now. You can get your copy HERE.
All content © Über Rock. Not to be reproduced in part or in whole without the express written permission of Über Rock.