By DJ Monk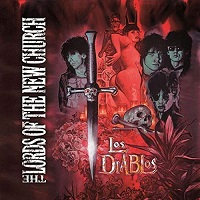 Last month, after a protracted period of closure, we temporarily re-opened the Dead-End Drive-In for a special screening of the new documentary about the life, and still mysterious death, of Stiv Bators. Now, hot on the heels of that release comes this long-lost recording session from The Lords Of The New Church, being issued for the first time on vinyl by those lovely folks at Easy Action Records.
'Los Diablos' is a Spanish TV session recorded in 1984, prior to the release of the band's third, and ultimately final, studio album 'The Method To Our Madness' – although this performance draws exclusively on their first two albums. As such, it is a reflection of The Lords at the height of their creative powers, when they seemed to have the world, quite justifiably, at their feet.
While sounding suitably dated – it is 35 years old after all – the recording nevertheless captures the band's energy and verve, and shows how well they could record, and perform, power pop songs which eschewed the sugar coating of the modern pop punk movement which sought to emulate The Lords and their contemporaries, but instead possessed an underlying darkness and sense of danger – sort of like a nuclear bomb steadily ticking down to zero while the disposal guy tries to figure out which circuit to break 'cos Bators has rewired it to match the insanity going on in his brain.
As would be expected for a recording of this nature, all of the "big hits" are here: from opener 'New Church' and 'Open Your Eyes' (a song surprisingly ahead of its time when you consider its lyrical content) to 'Dance With Me' (the latter two are actually taken from a separate recording the previous year), which are sprinkled liberally throughout the set.
In these days of calculated retrospection, with so many bands expending far too much energy trying to recapture the sounds of the past, it is fantastic to remember how fresh and vibrant it all actually sounded first time around, and how uncalculated it all actually was, with no thought to doing anything than playing good old-fashioned punk 'n' roll for the sake of the shits and giggles. 'Los Diablos' is just such a pertinent reminder and should be essential listening not only for old-school LOTNC fans but, even more so, for any modern-day aficionado of the genre.
'Los Diablos' is out now. You can get your copy HERE.
www.facebook.com/Lords-of-the-New-Church
All content © Über Rock. Not to be reproduced in part or in whole without the express written permission of Über Rock.