By Rich Hobson
It couldn't last, could it? A couple years' worth of glorious weather might have been just enough to dry out the memories of the disastrous weather at Download 2016 (and, further back, 2012), but this year the weather bill came due and the heavens opened up a good week before fans had even descended upon Donington. "Absolute anarchy!" cried LadBible, "so bad fans were leaving!" went the BBC. Yet, as opening day loomed and Friday trudged in, a very simple reality was setting in – this is British summer and fans are going to descend upon Castle Donington come rain or shine, because fuck the weather.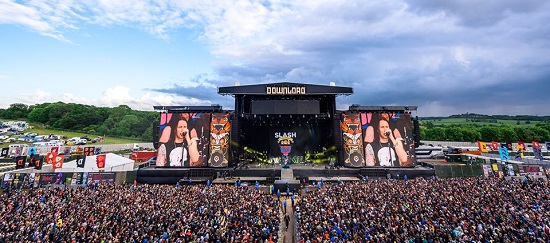 In truth, its not all that bad. Arriving on-site early Friday afternoon, it's clear that the skies have most definitely recently been opened, but the mud is no worse than you'd expect from a field anywhere else in the UK. No, what is more frustrating (and slightly more reliable) is that arrival at Download is a chaotic endeavour, mostly owing to the fact that nobody seems to have a clue of how events are supposed to work. Parking up is a surprisingly smooth undertaking, but actually getting on-site and wristbanded for the event seems a task too herculean to comprehend, so a full hour of waiting to get to the gates ensues as bands start, finish and start again before the queue actually gets moving, with nary a reason for the delay rearing its head.
Still, almost an hour and a half of waiting – and being shunted off to another gate because they don't have 'the right wristbands' available at the arena's easiest entrance – and we're finally in, trundling through to the dying notes of Skid Row's 'Youth Gone Wild'. Sticking around the Zippo Stage, we open out our Download 2019 experience with Norwegian oddballs Kvelertak. In times gone by, Kvelertak had become something of media darlings, their fusion of Scandinavian style punk n roll and snarling heavy metal scoring big points with the folks at Metal Hammer and Kerrang!, even earning them a spot as support for Metallica on their last arena run. Since their last appearance the band has lost vocalist Erland Hjelvik and picked up a new one in Ivar Nikolaisen, making this their UK festival debut. Right from the off its apparent that the new Kvelertak aren't going out of their way to be as flashy or ostentatious as the old; for one, their new vocalist isn't coming out wearing a massive fuck-off owl headdress. Ivar is much more your straight-ahead modern rocker in looks, but what really counts is that his own howl seems to fit the band much more than their past incongruity. This might seem a turnoff for anyone who got off on the conflict between music and vocals, but the symbiosis Ivar has forged with the band makes them a new unit entirely, lending a whole new weight to their sound.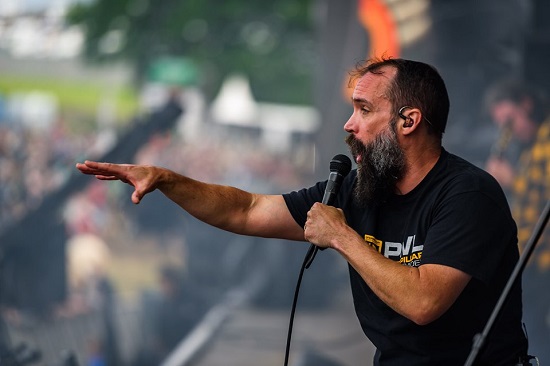 It's a mean bitch of a clash, facing down choosing between rising stars of the UK metal scene Conjurer and the US's finest and most reliable band, Clutch. Still, in the end we make a tactical decision to pick up tickets to Conjurer's Autumn tour and settle in for some good times rock 'n' roll, so it's off to the main stage we go. Reliable, but by no means predictable, Clutch seem to have come over to Europe this summer determined to impress with their deeper cuts. Whilst a band like Mastodon might do this and leave fans wanting (after all, when you're going out of your way to not play Curl of the Burl metal fans are hardly going to be overjoyed), Clutch have the kind of discography that makes anthems out of even the most choice cut. Sticking pretty solidly to material from last year's 'Book of Bad Decisions', the band lead a procession of rockin', rollin' fury onstage, washing away the milquetoast banality of lazy Sunday afternoon rock bands that seem to clutter the main stage more and more. Clutch are worlds apart from their contemporaries and – if we're totally honest – most of their predecessors too, putting on a slick, powerful performance that offers up everything from heavy rock powerhouses ('How to Shake Hands', 'X-Ray Visions'), blues numbers ('Regulator', 'Electric Worry') and even a bangin' crabcake recipe ('Hot Bottom Feeder'). They might be mainstays of stages worldwide, but we wouldn't have it any other way.
Back over on Zippo, there's just enough time to catch the start of the UK festival debut for new supergroup Deadland Ritual. Made up of Geezer Butler, Steve Stevens, Franky Perez and Matt Sorum, it's not surprising to see the band leaning heavily on their collective discography in putting on a setlist. This might rankle a few (after all, tribute acts seem to be on the up in appearing at festivals like Download), but the fact remains any set that opens with Sabbath's 'Symptom of the Universe' is generally off to a great start. Iconic riffs out in full force, the band lock in and sound great as they burn through original number Dimas and 'Neon Knights', their combined years of experience helping them to sound like a well-honed talent machine.
There's no time to hang about though – even when the chance to see Velvet Revolver or Black Sabbath tracks live these days is nil – as over on the mainstage another legend is making a Donington reappearance. Word has it that Whitesnake can be extremely patchy these days, but there's no denying that in their heyday the band were nothing less than titanium-plated rock gods. To see them come out at Download and pull out nothing short of magnificence is a reward unto itself, the years melting away as they let loose an arsenal of heavy rock classics. Starting out easy with the likes of 'Slide it in', 'Love Ain't No Stranger' and 'Trouble is Your Middle Name', the band really get going in the latter half of the set once 'Is This Love', 'Give Me All Your Love', 'Here I Go Again' and the enormous closer 'Still of the Night' all hit in quick succession. It's a triumphant display of power from rock's heyday and while the crowd seem a little subdued (the mud n rain'll do that to ya), the irrepressible draw of anthems coaxes singing voices out soon enough. That said, there's still very little more boring than noodling guitar solos and the exact, same drum solo being trundled out at every show, and it kills the momentum more than we'd like to admit. Still, it's a price that is somewhat worth the time spent in company of David Coverdale; still an absolute gent, and a bona fide rock star through and through.
It's a mad dash back over to Zippo, but worth it in time to catch of on-stage patter from Opeth's Mikael Akerfeldt. A rock star of a very different flavour, Akerfeldt has a dry humour that is incredibly personable and creates an atmosphere entirely removed from a thousands-filled field. "Hello, you limey fucks!" he says with the air of somebody greeting an old friend, less a "scream for me Donington" and more something designed to greet fans like old friends. In short – this ain't your usual festival band, as if the epic-length death metal/prog fusion onstage wasn't enough of an indicator. There's nowhere near enough time in the band's 50-minute to truly illustrate what this band can do, but they give it a good crack anyway, letting out 'Cusp of Eternity' and 'The Drapery Falls'. The amusement of how few songs fit into the set isn't lost on Mikael, either, declaring that the band's final song will be "as long as the rest of the festival, so enjoy the next three days!" as 'Deliverance' kicks into gear. I'd say somebody sort this band with a headline spot, but Damnation already have.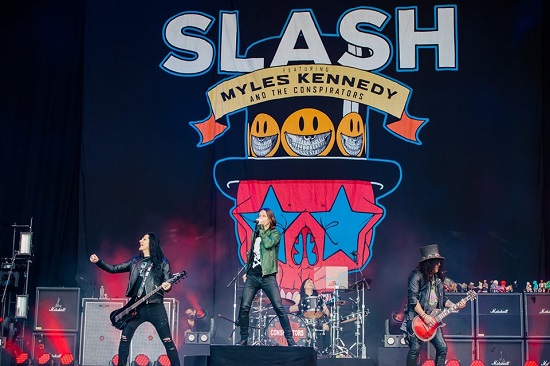 With Guns N Roses back in full swing and Velvet Revolver a dream long passed, these days Slash is content to let his own band's music make up the majority of their setlists. That's definitely not a bad thing though – subbing in their own right, the band (Slash featuring Myles Kennedy and The Conspirators) have a seriously solid collection of songs, burning through 'Halo', 'Back from Cali' and 'Standing in the Sun' just as an opener. Unsurprisingly, the riffs feel titanic but when matched with Myles Kennedy's stellar voice we stumble onto the true formula for the band's success, a combination of world-class talent and superb songwriting making for a great set. A roaring run-through of 'Doctor Alibi' feels like a fitting tribute to Lemmy, whilst 'Nightrain' is sure to please any fans who didn't get their fix at last summer's festival.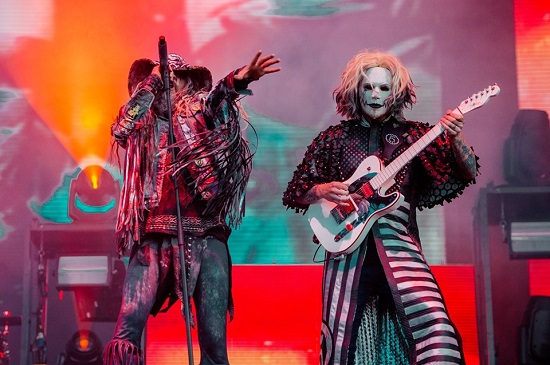 A wander back up the field afterwards reveals that the crowd is far too big to even think about getting into the Dogtooth Stage for our next pick, Ukranian metal warriors Jinjer. Sounding like they're playing three fields across, we decide to head on over and await the early start of second stage headliner Rob Zombie before we trundle over to the first night's mainstage headliner. Last time Rob Zombie was in town he pulled easily one of the biggest second stage headline crowds we've ever seen at the festival, going up against Biffy Clyro and completely toppling the competition. This time out that claim seems to be held by Eagles of Death Metal, whose crowd seems literally endless as we shuffle over to the stage. A short wait later and the big man's up, coming out to the seismic grooves of 'Meet the Creeper'. It already feels like a bit too much of a repeat booking, but when compared with the massive stageshow of 2017, Rob Zombie feels a little pale tonight on that previous performance. It's not bad per se, just nowhere near the conquering energy that came before, and the arrival of a drum solo not three songs into the set is all we need to declare this one dead on arrival.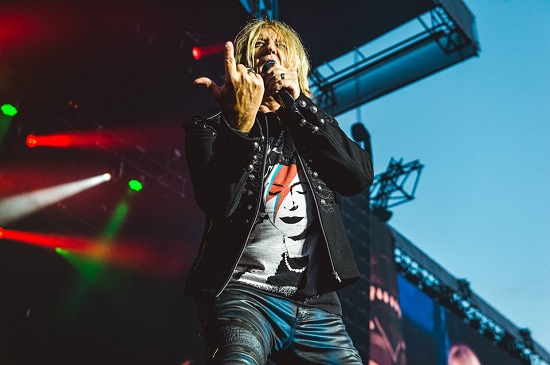 Not a moment to soon either; down on main, Def Leppard are up and bringing the stadium rock goods as they blast through tunes from 1987's 'Hysteria'. Opening to 'Women', there's no stopping Def Leppard as they set out an all-conquering rock parade to bring the first night to a close. The crowd are absolutely loving it, and while it might not be the biggest crowd ever assembled at Download (2019 feeling a little light on your usual classic rock attendees; though whether that's a reflection of the heavier undercard or moving classic rock Sunday to Friday is up for debate), it's the kind of all-singing, all-dancing crowd that makes Donington such a special proposition. A classic band doing a classic album in full, there's enough in this set to please both die-hard fans and casuals alike, with 'Hysteria' already feeling like a low-key greatest hits. Throw in an encore of tracks like 'When Love and Hate Collide', 'Let's Get Rocked' and 'Rock of Ages' and you get the full rock star package, delivered with enough gusto that you'd believe you've slipped into 1987 all over again. Undeterred by mud, rain or the passage of time, Def Leppard offer up a suitably massive closing set for the first day of Download 2019, demonstrating the canniness of booking such legacy acts even some 30 years later.
PHOTO CREDIT: Photos courtesy of facebook.com/downloadfest/
Highlights of Download 2019 will be broadcast on Sky Arts next Saturday (6 July) and Sunday (7 July), from 9pm each evening.
Tickets for Download 2020, which takes place over the weekend of 12 – 14 June, are on sale NOW.
All content © Über Rock. Not to be reproduced in part or in whole without the express written permission of Über Rock.