By Rich Hobson
Considering how much of a washout the week leading up to it had been, the weather had been remarkably cooperative for Download 2019. Sure, it's muddy, but then you're standing in a field in England – what else do you expect? So, when Sunday rolls around and the sun actually starts shining through properly for the first time all weekend, it feels like a real triumph to close the weekend on, aided in no small part by the variety on offer for the final day of the festival. If Friday was the classic rock day and Saturday almost the exclusive territory of metal, then Sunday is the day for oddballs and outcasts, a mixture of metal, rock, alt rock and extremity that shows the full span of diversity in our world.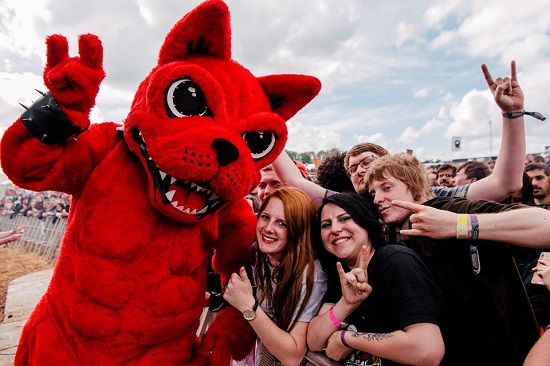 Kicking things off, it's off to the Avalanche Stage for the first time of the weekend to see rising stars Black Futures. The mix of dance and rock isn't anything new for Download (hell, The Prodigy even headlined in the past), but Black Futures' take on the genre errs decidedly closer on the rock side than to its ravey counterpoint. Flanked by figures in full hazmat suits (a staple of the band's live performances), they come out swinging with some hard riffs and the kind of drumbeats that make you want to stomp through the earth. Even without an album released, the band pull a sizable crowd and there are more than a few hardcore fans singing along loudly to 'Love' and 'Money', suggesting that once that debut does get its full release ('Never Not Nothing', out 30 August) it won't be long before we see this lot start climbing bills rapidly.
Back over on Main Stage, the skies are just starting to open up as Underoath take to the stage. Unfortunately that's not the only thing that's wet – the band seem utterly flaccid and lifeless as their set grumbles into gear and while the fanatics down the front seem to be loving it, the overwhelming apathy elsewhere in the field is all the confirmation we need that this set isn't going to set the world alight.
Up at Dogtooth the story couldn't possibly be any more different. Aaron Buchanan (of Aaron Buchanan and the Cult Classics) has charisma and personality in spades, everything from his outfit to his on-stage patter a masterclass in how to ramp up an audience and get the party going. Quite why this band are still relegated to tents is a mystery; the energy of the show is easily worth an early spot on Main or Zippo, and the way the band work the crowd is heavily reminiscent of Royal Republic's dance-inducing set from the day before. For those who remember, Aaron's old band Heaven's Basement were among a caste of rock band in the late 00s/early 2010s that seemed to support every band on the circuit. That time has clearly been spent learning all the right lessons, Aaron Buchanan and the Cult Classics putting on an excellent performance of slick rock tunes, even managing to slip in a cheeky Heaven's Basement cover in the form of 'Heartbreaking Son of a Bitch'. Irrepressible and infectiously joyous, Aaron has the crowd in the palm of his hand – quite literally at one point as he does a handstand whilst crowdsurfing – from start to finish, showing other rock acts exactly how it should be done.
Way back down at Avalanche, its time to get a metalcore fix courtesy of Heart Of A Coward. In years gone by it felt like metalcore was the reliable line-up filler at festivals like Download, the genre producing thousands of identikit bands that could provide the same level of release whilst basically smashing the single digit and not offering anything big in the way of originality. These days the genre seems to finally be slowing down – a little, at least – and the metalcore offering at Download 2019 isn't as prevalent as years gone by. Luckily, what remains is just the better ends of the genre and Heart of the Coward put on a roaring performance, newly minted vocalist Kaan Tasan pulling out the reliable crowd-baiting classics ("let me see a circle!" etc. Etc.) with a vigour and clear enthusiasm that almost makes you forget you've seen this exact thing a thousand times before.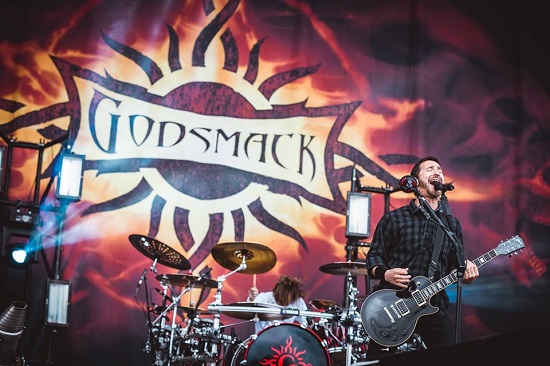 What Godsmack do hasn't been done a thousand times before; no, its been done in one very notable instance and somehow that makes things feel even more cliché and pathetic. Putting on their very best Hetfield-isms (just short of "WE ARE A FAMIL-EH, METALLIC-AH FAMIL-EH"), Godsmack feel like a pale xerox of much better acts from across the board – a bit of radio rock, a bit of nu metal, a bit arena metal; all done badly and without anything in the way of enthusiasm or excitement.
Once again running away from main to find an antidote to such antipathy, we roll into the Avalanche just in time to catch the start of the ever-brilliant Black Peaks. The hype that backed the band on their first record 'Statues' was something exciting to behold, watching a band get championed in every corner of the rock press and deservedly so – after all, nobody puts the ingredients together quite like Peaks. The campaign trail for their second record has felt a more subdued beast, but that doesn't detract from the fact that 'All That Divides' feels much more anthemic and powerful than that first release. As if to prove the point, the band open with the stellar 'Can't Sleep', leading a setlist that heavily leans on the newer material but still finds time to slip in roar-alongs 'Say You Will' and 'Glass Built Castles'. What's more, the band also manage to include a blast of pyro into their set; something that feels entirely unexpected for a band with prog/hardcore leanings, but something which enhances the show immensely.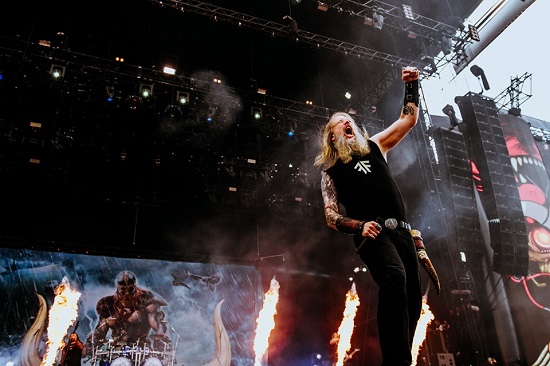 If anybody knows that all too well, it would be Viking metal marauders Amon Amarth. At first glance they appear to be a repeat booking being placed in almost the exact same place (having played early main stage back in 2016), but closer inspection shows that organisers have recognised the band's draw potential and given them a later spot more befitting a group who have headlined festivals in their own right in recent years. Ever growing in popularity, its not surprising to see a large crowd surrounding the stage as they start up, their enormous stage show (and unique pyro, thanks to blasts of ruby red flames on-stage) all the confirmation we needed that they haven't dialled anything back to deliver pure brilliance.
Opening to 'Pursuit of Vikings', it's a rampaging good time for the band right now, coming fresh off the heels of new record 'Berserker' and slotting in just as fan interest in niche and lesser championed corners of the music scene reaches fever pitch, the band put on a masterclass in what heavy metal can do with the right amount of theatre. Whether you're mesmerised by the sea serpent onstage, the Viking battle unfolding live or just the inherent joy of roaring along to a song like 'Raise Your Horns', Amon Amarth put on a show unlike anybody else, able to produce world-beating stagecraft even when just playing a bit part on the line-up. New songs 'Crack the Sky', 'Shield Wall' and 'Raven's Flight' all seamlessly fit into the setlist and as the years wear on it becomes more and more apparent just how lucky we are that Amon Amarth persevered over the years to reach this point.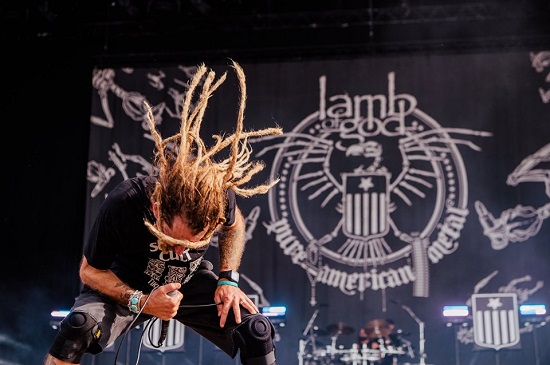 With the sun shining down and the ground somewhat dry for the first time all weekend (Friday mostly spent as slurry, Saturday as a gloopy muck which viewed walking as an act of hostility punishable by being returned to the earth's cruddy embrace), we decide to not worry too much about shifting from our spot, whiling away the time until Lamb of God hit the stage. Ever the determined contenders, Lamb of God have been punching their way up bills now for 25 years – though you'd never believe it from the sheer explosive vitality of the band. LoG are a band much in the same vein as Motorhead; you know pretty much exactly what you're going to get every time they come around, and somehow that makes the prospect even more exciting.
Signalling their arrival with the intro tape for 'Omerta', the band are out for blood when they hit the stage, striking out with a running procession of 'Ruin', 'Walk With Me In Hell' and 'Now You've Got Something To Die For'. Last seen in the UK supporting Slayer on their final headline run, Lamb of God have already more than proven that not only are they able to match the masters in visceral performances, but also provide more than a few massive anthems of their own to really get the blood boiling. Even given a prominent position on main doesn't feel quite enough of a dose for this to feel like the band's dominating moment, but the set we get is a perfect illustration that the future of metal is in good hands, particularly when those hands can completely decimate a field with the closing one-two of 'Laid to Rest' and 'Redneck'.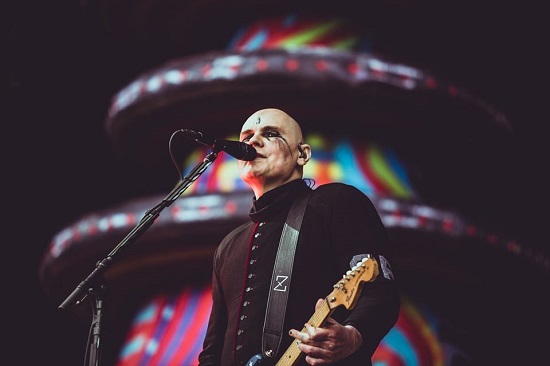 When Smashing Pumpkins announced the semi-reunion of their classic line-up last year, fans were absolutely overjoyed – after all, this was the reunion of one of the 90s most iconoclastic acts, returning from the wilderness to reclaim their throne atop the alt rock kingdom. An immensely enjoyable Wembley show followed, one which pulled out all the stops and was filled with wall to wall hits and choice cuts from across their discography to illustrate just how talented the players are. Opening with 'Zero', it appears at first that the Pumpkins are back to do the same this summer, the roaring guitars setting the scene for anthemic angst-alongs. 'Solara' might not be a classic, but it definitely errs on the side of anthemic, making it a perfect follow-up and reminder that the band still have plenty of life left in them yet. But then 'Knights of Malta' drifts dreamily across the field and the true shape of the set starts to come into focus; the Pumpkins aren't here to just churn out the singalongs and then disappear off into the night again, no they're here to do things their own way.
Completely ignoring most of their biggest hits, Smashing Pumpkins produce the kind of emotional, intimate set that completely subverts the whole idea of a festival set, perfectly demonstrating the band's contrary nature whilst still totally killing it. Theirs is a show for the fans, a reward for those who follow them through thick and thin rather than for the milquetoast audiences who might come along for 'Tonight, Tonight' then fuck back off to grab another beer. Such a sentiment is also reflected in one of the few statements made by frontman Billy Corgan – promising something special, the band bring out black metal mastermind Myrkur to let loose a howling cover of Black Sabbath's 'Snowblind', a moment unlikely to be repeated anywhere else on their expansive tour schedule. Smashing Pumpkins come out to be themselves and achieve that with aplomb, capturing the interest of the crowd not with big hits, but with their talent for excellent songs and deeper cuts that serve as a reminder – not all festival sets are about winning over the casuals; if you wanted the hits, you should have gone to Wembley.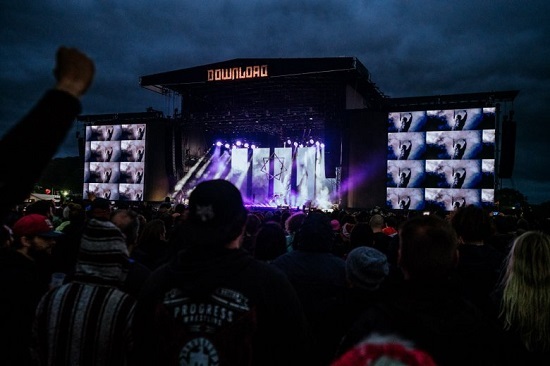 The final headliner of the weekend is something of a unicorn booking for many metal and rock fans, Tool having not played since they headlined the festival last in 2006 (their last headline tour passing through the UK in 2007). 13 years with no new music and no internet presence could potentially have dented the audience – as could the fact that they go up against thrash legends Slayer for their final ever performance – but Tool are a curio that is impossible to resist, pulling a massive crowd to main. We hit up second just long enough to confirm that we really are going to miss Slayer – particularly when they're on form as good as they are now – but ultimately seeing Tool is the kind of lifetime experience you can shout from the rooftops and still not communicate just how special and different it all is.
Flanked by screens which don't show the band, but instead trippy psychedelic imagery, the band come straight in with 'Aenima', the growling riff and tumbling bass an unmistakable marker that we're in the presence of a band who still remain unlike anybody else. Tool sound absolutely colossal, the sound so clear and powerful that some of the notes and vocals feel like they are whispering right from behind the listener, like sticking on some really great headphones and listening on the settee in the dark. They might be a prog band, but that hasn't stopped them putting together some of the catchiest, most infectious songs in the rock and metal world, ably demonstrated by the dropping of 'The Pot' just two songs into the set which sets large swathes of the audience off in roaring along as loud as they can manage. Follow that with 'Parabola' and its screaming alt rock riffing, and you are tracing the career of a band who has never produced the same record or sound twice, each era coming with its own distinctive flavour to deliver a buffet of musical delights.
The band are almost incidental to the experience of watching them, barely speaking and not projected in any way, leaving them as distant and incomprehensible figures far removed from the mud and crud of the everyday. No, this is a band of aliens communicating in complex soundwaves and images, crafting an experience separate from the rest of the festival whilst fostering a sense of unity in all who come forward to watch. New songs slip into the set alongside fan-favourites like 'Schism', 'Intolerance' and 'Forty Six & Two', leaving fans braying for more as the set wears on and the appetite clearly begs for the whole damn back catalogue. There's not enough time in the night, but for what feels all too short a time, everybody in attendance is having an experience which closes out Download 2019 on an unbelievable high, the roaring comeback of a band who may very well be the definition of a cult phenomenon. Who knows when Tool will return to the UK again (soon, we sincerely hope), but we do know that Download continues to be a reliable source for excellent experiences, its line-ups still openly exhibiting the very best in the worlds of rock, punk and metal. See you all again in 2020.
PHOTO CREDIT: All photos courtesy of facebook.com/downloadfest/
Highlights of Download 2019 will be broadcast on Sky Arts next Saturday (6 July) and Sunday (7 July), from 9pm each evening.
Tickets for Download 2020, which takes place over the weekend of 12 – 14 June, are on sale NOW.
All content © Über Rock. Not to be reproduced in part or in whole without the express written permission of Über Rock.