Chosen by Monk

We may be only a couple of weeks into the new rock 'n' roll year, but we've had a surprising number of videos come our way over the past seven days – almost 140 of them in fact – vying for the coveted title and virtual gong of being named our favourite… not the best, we stress, but our favourite…
Believe me, we do watch all of the submissions, and a lot of them are of an extremely high quality, but there can only ever be one winner… And, to that end, this week's selection is an uplifting anthem from one of the most exciting bands on the ÜK rock scene at the moment – not only that, but it a defiant look forward to a brighter year than the two we have just suffered our way through… yes, it is the title track of the forthcoming new album from our good friends in Stone Broken, which is indeed something of a 'Revelation':
The album sees the SB crüe taking a slightly different approach to their traditional NWoCR sound, infusing dark electronica into their harder rockin' elements, as frontman Rich Moss, told us:
"We had a completely different approach on this record compared to our previous records, we wanted to try everything, we wanted to experiment, we wanted to build our sound from the ground up and totally re-imagine the 'Stone Broken Sound', BUT without losing what we already had. It wasn't easy, not in the slightest, but we managed to break down a few walls to get there, and along the way had some awesome discoveries, like Robyn [Haycock – drums] now having more vocal duties across the whole record, it really works well and brings a whole new dynamic to our songs."
'Revelation' is scheduled for a 15 April release, with a rescheduled headline tour, originally due to kick off later this month, to follow: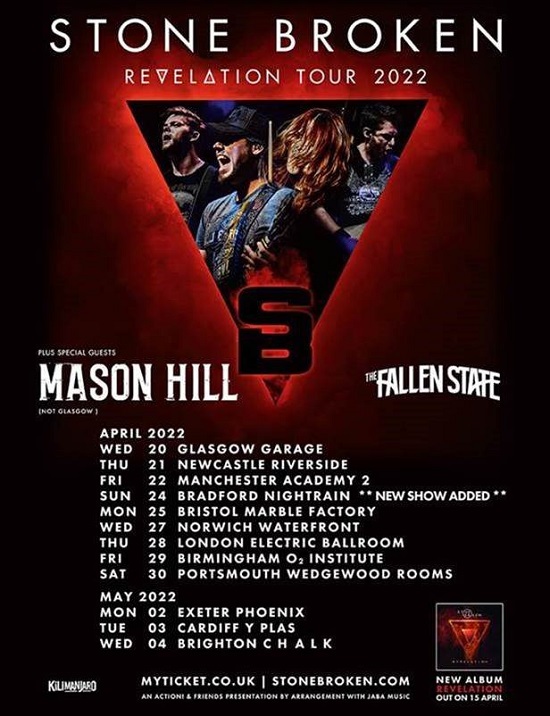 Until next time, keep 'er lit, keep 'er between the hedges and keep on rockin' and rollin' with your favourite website \m/
All written content © Über Rock. Not to be reproduced in part or in whole without the express written permission of Über Rock.