By Monk

For many years, the EP – or 'Extended Player', to give it its full title – was a criminally overlooked format. But, in recent years, it has made something of a deserved comeback, as bands face the challenge of continually producing new material but often not being able to commit to the cost of, or time to, recording full-length albums. They have been especially important over the past 24 months of on-and-off-on-again lockdowns and restrictions, as the format has enabled artists to snatch valuable moments of recording time to get new product out to their fans.
It's a format which Über Rock has long championed: hell, we have a 'Top EPs' category in our annual end-of-year writers' poll – but, as a busy website, it is often difficult to justify devoting space to the more miniature format. So, in the return of our occasional feature – and what will probably (with our reputation) be an irregular one – I gave a listen to some of the EPs that have crossed my desk in recent weeks. So, without further ado, let's see what recent and forthcoming releases are lying around ÜRHQ, shall we?
Circa Arcana – 'Bridget Viginti' (Self-Released)
Texas may be more associated with the redneck blues of ZZ Top and their heavier successors, but Circa Arcana are determined to put it on the map as a hotbed for majestic melocore with this imperious debut offering. Drawing very much on the spirit of metalcore pioneers such as Killswitch and 36 Crazyfists, while also strongly referencing latter day proponents such as BMTH and We Came As Romans, Circa Arcana could well prove to be one of those bands that make you re-evaluate your assessment of what you believed to be a dying sub-genre by bringing a whole new level of excitement and re-invigoration to it. Fuck, they even throw anthemic power punk into the eclectic recipe, with obtuse sidebar of 'Luna'.
'Bridget Viginti' is released on 18 February.
Fourth Son South – 'Machine'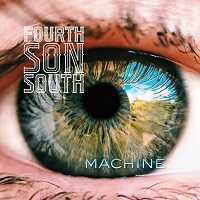 Hailing from the febrile hard rock breeding ground of South Africa, FSS are the brainchild of Dutch émigré Peter Toussiant, who delivers a message of hope and triumph over a background of adversity with a hard-hitting collection of five songs that draws on a variety of influences, from traditional hard rock through funked-up power pop to industrial-edged aggression, both combined with impassioned power and commitment, while thoroughly grounded in the alt-rock mien. Opener 'Not A Machine' is a declarative introduction to the band's sound, with crunching guitars mixing with a catchy melody, a feel which is maintained throughout the remaining four tracks. Obvious musical comparators would perhaps be Muse jamming with Living Colour. My favourite track is closer 'Tomorrow's Better', which features a superb guest vocal from Melissa Osborne of fellow SA rockers Thinking Feet, which adds a beautiful extra dimension to the band's overall impactful sound.
'Machine' is released on Friday (21 January). You can get your copy HERE.
www.facebook.com/FourthSonSouth/
Hanging Garden – 'Neither Moth Nor Rust' (Lifeforce Records)
This huge EP from the Finnish gothmeisters probably deserves a stand-alone review, but feck it, here we are… This is another massive-sounding release from a band who know how to expertly meld and mould multiple soundscapes, from sparse, gloomy atmospherics to massive symphonics which weave delicate, intricate passages of both paucity and pomposity into elegant, eloquent exemplars of exquisite excellence. Complementing ethereal vocals with jagged rhythms with graceful ease, the emphasis is on the sparseness of the sound, the conjoining and counterpointing of multiple sonic elements that beautifully blend together to make this a unique and special aural experience.
'Neither Moth Nor Rust' is released on Friday (21 January). You can get your copy HERE.
www.facebook.com/HangingGardenOfficial
Harley & The Wolf – 'Youthful Souls' (Self-Released)
H&TW are the latest in an increasingly long line of young bands pummelling their way out of the Belfast scene determined to prove that there is a lot more going on than the indie shoegaze/singer-songwriters miens that the mainstream media in this wee corner of the Überverse would have you believe are all that exists… Striking chords that nestle neatly between the city's power punk legacy, modern stadia rock and nu-wave sensibilities, this young quartet possess a big and accomplished sound that belies the fact that this their debut outing. Referencing MCR and 30STM as much as they much as they do the likes of Deaf Havana and Asking Alexandria, H&TW weave cohesive and infectious soundscapes that bode well for a bright and breezy future… I look forward to hopefully catching them live sometime sooner than later…
'Youthful Souls' is released on 28 January. You can get your copy HERE.
www.facebook.com/HarleyAndTheWolf
Impending Doom – 'Hellbent' (MNRK Heavy)
Over the course of six albums and 17 years, LA death dealers Impending Doom have developed a sturdy reputation for their uncompromising blend of DM, grind and hardcore, combining the best elements of all three sub-genres into heady mixes of crushing aural assaults that also contain a dankness and sense of darkness that counterpoint and bely the trio's deeply held Christian beliefs. Each release saw the band challenging the boundaries and limitations of the DM genre, and now, they have pushed both its and their sensibilities even further, adding elements of nu-metal and industrial noisescapes and interweaving them among their trademark incisiveness with expected aplomb and effectiveness. The result is a collection that hits harder than a smack in the gob from a pissed-off Tyson Fury.
'Hellbent' is out now. You can get your copy HERE.
www.facebook.com/impendingdoom
Sickbay – 'Brutal Existence' (Redefining Darkness Records)
These Noo Yawk State grinders do exactly what their name suggests – deliver sick-as-fuck death metal that is as uncompromising as it is… well… uncompromising. Definitely, and defiantly, wanting us to 'Die' if we don't like what we hear, their 'Fuelled By Hatred' brand of deathcore fills our nostrils with the 'Stench Of Death' as their sound proves that it is no 'Aggressive Betrayer' of the subgenre. This is the sound of death incarnate, so prepare to meet thy demise. This is brutality at its most extreme. It is sick. In the sickest way possible.
'Brutal Existence' is released on 18 February. You can get your copy HERE.
Through The Noise – 'Tragedies' (Eclipse Records)
Another young band championing a subgenre that is increasingly being branded as "nu-metalcore" (these PR peeps love their generic classifications), TTN bludgeon their way out of Sweden with this powerful and incisive three-track offering, which proves that brevity is king when it comes to making the maximum impact. Musically, it doesn't really bring that much to the table, as it largely relies on screamed vocals over multi-layered guitars and sub-EDM blast beating, but it does tick all the right boxes in terms of combining ferocity and melody, and the passion and commitment does shine through. It certainly displays plenty of potential, and is a collection of songs which doesn't live up to its chosen title and hopefully will help its producers cut through the noise (sic) of their rivals…
'Tragedies' is released on Friday (21 January). You can get your copy HERE.
www.facebook.com/throughthenoiseband
Well, that's your lot for this time around. We hope you've found some new and exciting sounds to tickle your aural cortexes. If you like what you've heard, please remember to support the bands and click the buy links at the end of each review. We'll be back next month with another round up of the hottest EPs to have come our way. Until then, keep 'er lit, keep 'er between the hedges and keep on rockin' and rollin' with the website the annoys the trolls like no other can hope to do…
All content © Über Rock. Not to be reproduced in part or in whole without the express written permission of Über Rock.