By Jonny Bakes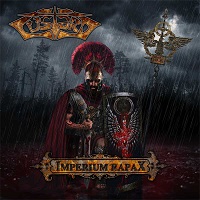 Custard is something that I love with a little bit of pud – and I have seen some footprints in it – but I don't think I would have considered it as a name for a power metal band. There's always a surprise here at ÜRHQ though and mine is that such a thing does exist and, not only that, but they have also done since the '90s. So that's me schooled, I guess! I had better see what power metal delights are in store for me with their latest in a long line of albums – 'Imperium Rapax'.
Some of you might groan and others will rejoice because 'Imperium Rapax' is a concept album! It's an hour-long epic dive into the history of the Roman Empire so expect plenty of nods at Roman mythology, some lessons in Latin (as you may have already guessed by the title) all wrapped up in a neat power metal package. If you know the genre then you already have a pretty good idea what this is going to sound like, but if you don't then allow me to try and describe what you get. We're talking vocals that wail as proudly as the guitar solos, upbeat rhythms that seem to make it irresistible to headbang and a general sense of epicness. This album is no exception to that rule either so for me that means we're already onto a bit of a winner.
The first track to stand out was the bombastic tale of the origins of Rome's founders Romulus and Remus, 'Children of the Wolf'. You're instantly greeted by frenetic riffing accompanied by the joyfully high wails of vocalist, Oliver Strasser, which combine together to form a pretty catchy track. In fact, I found myself humming the chorus for hours after listening to the album because it managed to embed itself into my memory. It was at this point where I finally managed to put my finger on which band I was constantly being reminded of, and that was fellow power metal conceptualists, Wizard, who is another band you may not have heard of (not to be confused with Roy Wood's Wizzard, of course).
Another track that stood out is 'Goddess of Magic and Death" which plays on the beauty and the beast musical trope with the inclusion of the fantastic Marta Gabriel of Crystal Viper. This track tells the tale of the relationship between Marc Anthony and Cleopatra, with Marta providing a voice to the latter in a manner that is reminiscent of Doro. It's topped and tailed with short spoken word passages that further embellish the tale making Custard seem more like bards weaving a story than a simple power metal band.
All in all, 'Imperium Rapax' was a very solid concept album in a style that has a special place in my heart. While I know that power metal may not be for everyone, there is no denying that it is a very solid foundation to portray tales of epic proportions. This is something that will appeal to fans of bands such as Wizard, Blind Guardian, Iron Maiden and many more. For those history buffs among you, this outing from Custard could also sit quite happily next to your Sabaton albums too!
'Imperium Rapax' is out now. You can get your copy HERE.
All content © Über Rock. Not to be reproduced in part or in whole without the express written permission of Über Rock.