Chosen by DJ Monk and DJ Astrocreep
There are few bands for whom the release of a new video is an event in itself. One of those undoubtedly is Slipknot. And they've stunned the world yet again with the audio-visual feast that is 'Unsainted', the first single to be lifted from their forthcoming sixth album, 'We Are Not Your Kind', which is due for release on 9 August via Roadrunner Records.
The video, which apparently features a mysterious ninth member of the band and already has more than seven million views since it was released on Thursday, was once again directed by M Shawn Crahan, who also helmed 'All Out Life', the surprise standalone single that Slipknot dropped last October, and which was an ÜR VOTW at the time.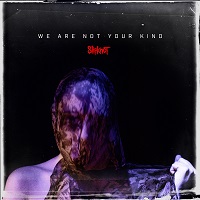 'We Are Not Your Kind' is Slipknot's first album since '5: The Gray Chapter', released back in 2014. Guitarist Jim Root said of the gap between album releases:
"This is the most time we've had to write a record, and work stuff out together.  One of my inspirations this time around was those artists that recorded full length albums – not just songs.  While the industry is moving toward singles, Slipknot wanted to make an album experience, front to back."
Crahan added:
"These days the art we are making comes with the highest reward, because it's taken the most time. Almost four years to create this emotion and temperature, and the reward now is nothing short of salvation."
To co-incide with the release of 'Unsainted', Slipknot this week announced that their entire set at the Rock Am Ring Festival on Sunday 9 June will be streamed live. Slipknot will also headline Download on Saturday 15 June.
There was one other video which grabbed our attention this week, and so we have decided to give it the silver medal in this week's YouTube Olympics.  'Mouthbreathers Inc.' is the first single to be lifted from 'Crimson Riders', the new album from Norwegian stoner punks Bokassa, who are currently on tour with Metallica. The video, with its end of the world scenario, was actually filmed in Manchester: in fact, it was shot in a crumbling Victorian building in the city centre which also has been used as a set for the likes of 'Captain America', 'Sherlock Holmes' and Peaky Blinders'. Filmed in a single day, it features a police raid on a death cult, as Bokassa frontman Jørn explained:
"The video takes part in a not so distant future where suicide cults start popping up all over the world as the comet 'Reaper' makes its way towards Earth and a certain impending doom. We follow both the '4th Wall' cult, police, and the media's perspective while the comet comes closer to impact."
You can catch Bokassa live when Metallica's WorldWireed tour visits Slane Castle on Saturday 8 June, the Etihad Stadium on Tuesday 18 June and Twickenham Stadium on Thursday 20 June.