By Jonni D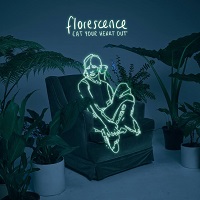 Maturation is the name of the game on Aussie pop-punkers Eat Your Heart Out's debut release through Fearless Records.  'Florescence' sees the five-piece taking the promise of their previous EPs and considerably broadening the scope of their capability.
Opening number 'Carousel' could easily have been a much more basic example of sanitized modern pop punk. Thanks to the incorporation of tasteful keys, an immediate vocal hook and an emphasis on textured songwriting as opposed to mere polish, it makes for a winning start to the album.  While tracks such as 'Spinning' and 'Daydream' are reliant on the buoyant accessibility of Caitlin Henry's impeccable vocal melodies, they retain a delightful crunch in the instrumentation that is eschewed by so many acts in their genre.  In this way, the production style on 'Florescence' is much more akin to the emo-rock of Paramore's 'All We Know Is Falling' or latter-day Jimmy Eat World, than anything Waterparks have ever put out.
The most impressive moments arrive when EYHO leans into their more post hardcore tendencies, courtesy of some intricate fretwork from guitarists Andrew Anderson and Will Moore.  The haphazardly jerking main riff of 'Closer To The Sun' isn't a million miles from something off an At The Drive In album, while 'Heavy With Envy' and 'Same Stars' balance higher register flourishes with surprisingly heavy rhythms to great effect.
The shimmering acoustic-led 'Pear Tree' is perhaps the song most indicative of the band's growth, with its subtle changes in dynamics and a deviation from a standard verse/chorus song structure showing a willingness to colour outside the lines.  'Florescence' may not be the finished article, but it's a testament to EYHO's desire to expand their sound in a scene that is too often plagued by comfort.
'Florescence' is released today (Friday 17 May). You can get your copy HERE.
All content © Über Rock. Not to be reproduced in part or in whole without the express written permission of Über Rock.