By DJ Monk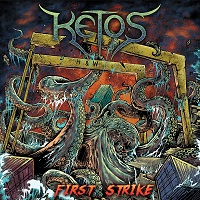 We have something a little bit special for this week's video choice – and that is a world premiere!  Yes, ladies and germs, today's selection can only be seen right here, on the website that excites the parts other websites cannot even hope to reach…
The clip in question comes from Northern Ireland melodic death metallers Ketos, who are seeking to 'Escape The Chains' with the second single to be lifted from their recently released, and frankly stunning, debut album, 'First Strike'.
The Belfast quintet had a bit of fun with the video, playing on both the album's artwork and their mutual love of video games to pay homage to some of the classic arcade favourites of yore, with each member of the band taking it in turns to fight off a range of ferocious opponents, from polar bears to dragons, before coming together to face down the mighty kraken as it threatens to destroy their home city… and, there are some typically Northern Irish twists along the way…
All content © Über Rock. Not to be reproduced in part or in whole without the express written permission of Über Rock.