By DJ Monk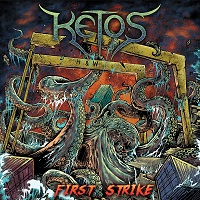 Ketos have been making quite a few waves on the Irish metal scene over the past couple of years, laying waste to venues up and down the island with their in-your-face live performances and slowly building a reputation as one of the most exciting bands in this particular corner of the Überverse. Now, they are set not only to cement that reputation still further but to take things to the next level with this extremely impressive debut album.
'First Strike' epitomizes everything that characterizes the Ketos sound live: raw yet polished, brutal yet beautifully crafted, big and beefy and yet crammed to gills with melody and harmony, qualities which permeate every corner and nuance of the album. And nuance is a good word to use here, as there a those aplenty, as the album also contains multiple layers which reward more and more with each one you pull back, from the complexity of the lyrics through Pete Renshaw's use of vocal light and shade to the dynamic twin guitar work.
Ketos describe themselves as a melodic thrash band, but if anything there is a lot more of the former quality than the latter, as never at any stage are the melodies sacrificed for out-and-out thrashing for the sake of it. Yes, there are fast moments – some very fast ones – but there is also a massive degree of thoughtfulness about these nine tracks, from the ball-grabbing opening riff of 'Escape The Chains' through the massive bass rumble, counterparted by the gentility of the introductory hi-hat, at the start of 'Ascendant' through the positively introspective 'The Lost Ones', which really does tug at the heart-strings with its pathos and Renshaw's appropriately clean vocal, to the totally frenetic 'Fall In Line' (which coincidentally features a guest appearance from Bloodshot Dawn shredder Morgan Reid).
Everything is accentuated, and indeed drawn out, by the magnificent production of Josh Robinson, who is firmly establishing himself as the "go-to" guy on the Northern Irish metal scene. Every nuance – and, as I said, there are enough of them to keep Jethro Gibbs and his NCIS team occupied for an entire series – is fully explored, every note is crystal clear and the balance between each instrument is finely judged and achieved.
'First Strike' lives up its title. It hits with an impossible-to-ignore impact that will have many lesser bands running for cover. It is a clear declaration of intent and further proof that this particular corner of the Überverse is one of the most febrile breeding grounds not just on this island, or these islands, but on a global scale. A magnificent debut that deserves the full and unbridled attention, and support, of every red-blooded metallian everywhere.
'First Strike' is released on Friday (26 April). You can get your copy HERE.
Ketos play their album launch show at Voodoo, Belfast, on Saturday 4 May, with support from Dead Label! and Death Of A Salesman. They then play the Northern Ireland Grand Final of Bloodstock Metal 2 The Masses on Friday 17 May, also at Voodoo.
All content © Über Rock. Not to be reproduced in part or in whole without the express written permission of Über Rock.