Chosen by DJ Monk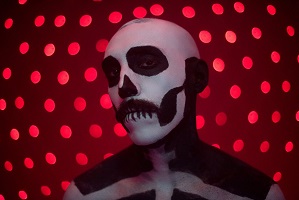 The competition for this week's video choice once again was extremely fierce, but there was one to which I kept returning as it edged its way to the top of the list, and this was this rather off-the-wall cover by former Reuben frontman Jamie Lenman.
Always an artist who defies expectations, it is a preview for his forthcoming album, 'Shuffle' – a collection of covers and re-interpretations which is being released via Big Scary Monsters on 5 July. Lenman himself says of the single:
"Although I've loved 'Killer' since Seal brought out his solo version when I was eight years old, it was probably the last track I considered covering overall. All the other pieces (on 'Shuffle') I'd been playing around with for a few years in my head but we started jamming this one out in rehearsal and we just knew it had to go on the record. I know lots of other artists have covered it, and who could blame them, but I've never heard any of those versions so this is wholly my own take and I hope people love it!"
(WARNING: This video contains flashing imagery)
'Shuffle' is a covers album with a difference, as it is also a multi-media experience, covering film and the written word as well as songs. Lenman has covered television themes, film scores, and the music from his favourite video game. It's not even limited to music – there is a chapter from his favourite book and a scene from his favourite short film, with Lenman making his debut acting performance alongside his favourite actor.
"For me, this album has been a dream come true – total creative freedom, a chance to push myself into terrifying new territories. There are so many parts of it that I still can't believe we actually managed to achieve, from singing in ancient languages to acting with one of my heroes and so much more besides. I can't wait for everyone to hear it.
"I've been overwhelmed with the response to the concept of this album since we launched it a month ago – the general vibe seems to be that people are ready for a covers record with real depth and genuine thought behind it and that's what I'm going to deliver. It's mixed, it's mastered, it sounds absolutely huge and July fifth cannot come early enough for me"
'Shuffle' is available for pre-order.
Jamie Lenman headlines theDryden Street stage at the Handmade Festival in Leicester tonight (Sunday 5 May). He then pays his first ever solo visit to the island of Ireland, with shows at The Palm House in Belfast on Saturday 1 June and Whelan's in Dublin on Sunday 2 June. Following an appearance on the Shangri-La Scum stage (alongside the likes of Gojira, Haggard Car and Venom Prison) at Glastonbury, he will then undertake the 'Road To Lenmania', with two special mini-festival shows at St Luke's in Glasgow on Friday 5 July and the O2 Academy Islington on Sunday 7 July, before headlining his own takeover stage at the 2000 Trees festival on Thursday 11 July.