By Rich Hobson
Long the crown jewel of UK pop punk, hardcore and ska inclinations, Slam Dunk has long held a reputation as a fan-friendly fixture of festival season, bringing together some of the biggest names in pop punk, punk rock, hardcore, ska and – particularly in recent years – metalcore to act as a counterpoint to the Vans Warped Tour which once toured the US. Traditionally split between a Northern, Midlands and London-adjacent location, the festival is a one-day event that promises to kick festival season off with a bang. Though somewhat pulled back for the 2019 event (the Midlands event no longer going ahead), Slam Dunk is as strong as ever as its remaining two sites look to get bigger than ever before.
What's more, the line-up looks to be more stacked than ever before, specialist stages promising everything from dedicated heavy line-ups to the first ever UK iteration of NoFx's pop-up festival Punk in Drublic. With such a heavily stacked line-up, it can be a mammoth task deciding on bands to see – but you needn't worry, as we've put the leg-work in to give you a definitive Über Rockin' Guide to Slam Dunk 2019…
(NOTE: Some of the videos below may contain flashing images)
Angel Du$t – Impericon.com Stage (12 noon)
Featuring members of Trapped Under Ice and Turnstile, Angel Du$t are a natural focal point on the Slam Dunk bill – after all, hardcore is hitting a level of visibility that hasn't been matched in decades, so any band featuring prominent members of hardcore renaissance bands warrants immediate investigation. It doesn't hurt that Angel Du$t don't just tread the same boards as its members 'main' acts; they are an act with a distinctive personality in their own right, and the sheer sunniness of their sound makes them a perfect starting point to kick the festival off with a massive smile.
Milk Teeth – Dickies Stage (12:15pm)
Over the past few years it seems that wherever Milk Teeth go large followings are almost certain to follow. Now a power-trio of vocalist/bassist Becky Blomfield, drummer Oli Holibrook and new addition guitarist/vocalist Em Foster (of Nervus fame), the line-up's first release 'Stain' showing that not only have they not lost any of their songwriting brilliance with personnel changes. Instead, they sound like a refined version of what made the band so excellent in the first place, upping both the dark pop sensibilities of their sound but also the grinding punk energy that makes each show so fun. The first of a number of planned festival appearances this summer, catching Milk Teeth is a wise move for anybody interested in what the future of UK rock looks like.
Turnstile – Impericon.com Stage (2:10pm)
If you needed proof that hardcore is at one of its most vital places for a long time, you'll find all the evidence you need in either of Turnstile's stellar full-length albums, 'Time and Space' or 'Nonstop Feeling'. Each is a masterclass in groove, irrepressible energy and some of the best crowd-friendly choruses this side of '90s grunge, taking the alt rock equation of distortion + sing-alongs = gold and taking it to a logical conclusion that has seen them become one of the scene's most hotly-tipped bands. It doesn't hurt any that they are also an incendiary live act, each show a tornado of flailing limbs and launching bodies.
Cancer Bats – Impericon.com Stage (3:30pm)
Cancer Bats are a veritable force to be reckoned with and the last time ÜR caught the band at a festival, we had to just bow down and accept that they singularly one of the hardest going bands around right now. It's been almost a full year since the band came over and tore Download Festival a new one, so you can bet our excitement is extremely high to see what the band have in store for this year – more of the same we suspect, and we wouldn't change a goddamn thing.
Pagan – Left Key Stage (4:15pm)
With only one album under their belts, Pagan have already earned critical acclaim for their vicious, unrestrained sound. Taking the very best parts of metalcore and hardcore, then infusing them with outlier elements from black metal, punk and everything in between, creating something distinctive and fearsome to behold. With the way the metal scene currently looks, iconoclastic bands like Pagan have been causing massive waves as they push metal away from cookie-cutter traditionalism and into creating something challenging and engaging.
Employed To Serve – Left Key Stage (5:15pm)
Employed To Serve might have produced the heavy anthem of this decade in 'I Spent My Days (Wishing Them Away)', and with just a few months until this decade finally crawls into a hole and dies a much deserved death it looks like there's little chance of that changing. That said, the band's third record, the prophetically-named (and ÜR-approved) 'Eternal Forward Motion', is looming large on the horizon (it's released this coming Friday), and if there's one thing ETS have already proved, it's that they're only getting better and harder with each subsequent release. Expect massive pits and throat-shredding singalongs when this lot hit the stage.
Gallows – Impericon.com Stage (6:10pm)
Gallows have long been regarded as the kings of British hardcore, their records 'Orchestra of Wolves' and 'Grey Britain' essentially kickstarting critical interest in the scene when they absolutely demolished the competition. The introduction of Wade McNeil on vocals has seen the band continue the ascent created on their first two releases, with Desolation Sounds in particular pushing them into  almost goth-tinged realms that showed a darker side of the band. It's been a few years since Gallows have actively been gigging (the reunion of McNeil's other group Alexisonfire no doubt contributing some there), so to see them back – at a point where it feels like so many eyes are on hardcore, no less – feels like the perfect timing for a band who absolutely represent what British hardcore can achieve.
The Menzingers – Dickies Stage (8:00pm)
Bruce Springsteen and punk don't necessarily seem like an obvious pairing, but more and more we are seeing bands take inspiration from the earnest rock n roll of Springsteen and pin it to SoCal-style pop punk to create something inherently enormous and engaging. Kings of this scene are The Menzingers, hailing from Scranton, Pennsylvania and capable of creating massive sing-alongs wherever they go, The Menzingers are a fitting closer for the Dickies Stage at Slam Dunk 2019 as a very welcome sign of punk to come in future years. There might be bands on after The Menzingers, but their status at the top of the Dickies bill is very fitting for a band who already feel very much a headliner in most people's eyes.
These might be our picks of the very best acts to keep an eye on for Slam Dunk 2019, but there are many, many more worth checking out on the bill – the full line-up and times can now be viewed online, so it's high time to get planning!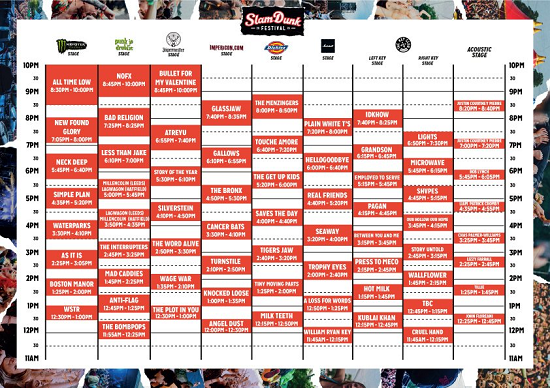 Slam Dunk 2019 is held on Friday 24 May in Leeds and Saturday 25 May in Hatfield. Remaining tickets are on sale now.
All content © Über Rock. Not to be reproduced in part or in whole without the express written permission of Über Rock.