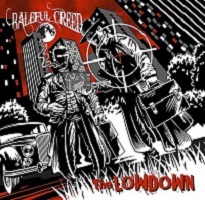 Anyone who knows me personally knows I'm a fan of Belfast's Baleful Creed; so, when their forthcoming new album, 'The Lowdown', popped into ÜR's inbox Monk decided I had to review this one. They formed in Belfast in 2009 and this new album is their third studio release. They describe themselves as hard/stoner/rock.
The first track opens with a thundering drum beat and heavy bass riff it keeps with the traditional BC sound. As 'Mr Grim's' (Fin's) vocals kick in, you're transported straight into another realm of the dark and doomed and I anticipate what is to come. As always BC have their own sound and that's what their fans love, but there is something a wee bit different here. They are a bit more in your face with this first song, so I wait to see what else is coming.  We can all rise from the ashes just as 'The Phoenix' but these guys have a lot rise from on the success of their last album and, so far, they have succeeded.
I'm getting 'Riled Up' here as my head keeps bouncing backward and forward while trying to type (forgive the spelling mistakes, if any remain after my editor/husband corrects them lol).  The demon child shines right through life.  'Tramalamapam': what kind of fucking word is that? Know what, guys and girls I don't really care 'cause the song is a steady paced and in your face track. The engine house (meaning drums and bass) of this band is as tight as a convent of nuns stuck in a monastery (imagine lol), and they belt this track straight through. Sometimes I get a bit 'Confused' but I think that music helps me with an empty pocket and a time to go but I can bounce along with a little devil on my bed.
You know what, people, we have only 'One Shot' at life and it's all about how we all deal with it – but BC have bounced this situation with a underlying bass track and a forceful story. As always they deal with day to day trials with an underlying message and a "fuck it" attitude only to take us to the 'End Game', where we deal with bullshit and stand up for ourselves with in your face vocals and guitar to force out engine rooms and prove that sometimes the individual is the main guy.
'Line Of Trouble' totally threw with this album. I wasn't expecting this track. It's as close to a ballad as BC have ever done, but it's hard hitting and the guitar is beautiful and soothing. Totally not expecting this one but as it progresses it's bouncy (I know that's an oxymoron) but really powerful. OK, everyone wants to go to the 'Southgate Of Heaven (I didn't realize the guys were such big football fans – will blue waistcoats be their new stage gear – Monk). Why? 'Cause south is passion and that's what this track is all about. It's upbeat and, again, has an Hammond organ (and, like Monk, I love that sound).
To be totally honest, I did not know what to expect from BC but I was surprised. Never expected a ballad of sorts, nor a Hammond… but, fuck guys, if you're a BC fan you will not know what to expect. Some you will love, some will be wtf – but overall this a brilliant album.
All content © Über Rock. Not to be reproduced in part or in whole without the express written permission of Über Rock.