By DJ Monk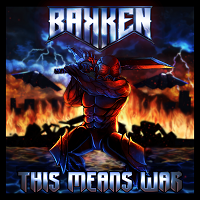 Once upon a time – well, in the early part of the last decade – Bakken were one of the great white hopes of both the Northern Irish metal scene and that on the island of Ireland as a whole. Their debut album, 'Death Of A Hero', was regarded as something of a marker for other bands flirting between the thrash and power metal sigils the then quartet were seeking to straddle: it was a highly accomplished offering, displaying a maturity that belied its creators' relative youthfulness. However, it has to be admitted that the band struggled to build momentum: an EP, 'Worldwide Genocide', followed in 2014 – and, then, nothing… the amps, drums and guitars fell quiet… until now, as the band, now expanded to a five-piece, have re-emerged – and done so in massively impressive style.
There are a couple of noticeable differences between the band's previous sound and that with which they present us here. The first is that, by and large, they have eschewed their thrashier edge in favour of a more classic NWOBHM-infused power metal sound: yes, the thrash elements are still there, especially on the likes of the opening title track, the hard-hitting 'Evil Walks This Way' and the underlying double guitar riff on 'Two-Edged Blade', but they underpin rather than dominate or overwhelm the overall musical miens. The result sees them treading territorial paths closer to countrymen such as Conjuring Fate (of whom the ridiculously talented Niall McGrotty is also a member) and Stormzone rather than, say, Sinocence (in whom Bakken founder Simon Pickett also pulls guitar duty).
The second difference, or, more accurately, development, is directly related to the first point above, and that is the addition of a dedicated lead vocalist, in the form of Frank Levi. It's not hard to tell that the singer previously plied his trade in various Iron Maiden tribute bands, as his range is much higher than that of the gruffer, more Mustaine-like and straight ahead thrash-suited vocals Pickett employed on the previous two releases. Having said that, he does have enough bottom end to pay cognisance to the band's thrashier, more NWOBHM-oriented roots, while at the same time elevating the band's sound to the next level they clearly want to attain.
The album walks a very fine line, one which it could easily have crossed with potentially fatal consequences, stumbling into the path of an oncoming juggernaut. But, it does enough to maintain a steady path and avoid that collision. Yes, Bakken strive to make the impact as straightforward and immediate as possible; but, at the same time, they seek to showcase the enormous technical ability which they collectively and individually possess. Under any circumstances, for any band, it is a very fine balancing act, but one which Bakken manage to pull off (although there are a couple of moments where they come perilously close to tipping the scales), with the emphasis very much on delivering a collection of memorable songs which will stick in your head long after the first, second or third listens…
All of the above points are clearly exemplified on what, to me, is the standout track, 'Evil Walks The Way', with its pummelling beat, stunning bass runs and beautifully intertwined guitar solos, which in turn pull back just before they overpower the overall harmony of the song.
A great return by a band who failed to fulfil their potential first time around, but hopefully can do so second time around. Do yourselves a favour, dear readers, and use your isolation to acquaint yourself with the many damn fine heavy metal albums currently doing the rounds or coming your way in the coming weeks and months of lockdown… and place Bakken very close to the top of your playlist… But, Simon: can you put the umlauts back, please?
'This Means War' is released on Saturday (4 April). You can get your copy HERE. Unfortunately, due to the current circumstances, any plans for a live launch show are currently on indefinite hold.
All content © Über Rock. Not to be reproduced in part or in whole without the express written permission of Über Rock.