By Jolee Flatman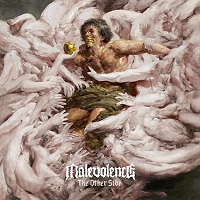 Hailing from Sheffield, Malevolence are a five-piece, hardcore/heavy metal band, producing some of the nastiest riffs and breakdowns in the UK scene. Taking influence from bands such as Crowbar, Lamb of God and Hatebreed, in quite a crowded market, this quintet make their mark with resilient energy, and threading pure dirt into each and every song.
Soon to be releasing their third record, 'The Other Side', there is no doubt in my mind that pre-existing fans alone, will be able to pick any fault from the three tracks included. Interestingly, these guys have already released the majority of the EP – with only the final track not being released to date. Regardless of the EP's length, it packs in everything a hardcore record needs. From gritty vocals, to slow tempo breakdowns – the kind you know bones will be broken to.
Pre-released track, 'Keep Your Distance' is quite an ironic release in such a global crisis with COVID-19. Through scanning comment sections on social media platforms, it is clear to say that listeners are digging this hard, and rightfully so. Incorporating such a well-suited feature, of Bryan Garris (Knocked Loose) too, places the cherry on the top for this song. You know when you hear Charlie Thorpe slowly hit the symbol on his drum kit, before a beatdown drop you are about to witness pure chaos.
Ending track to the EP is actually the self-titled track – 'The Other Side'. Unexpectedly, it follows a much slower paced, laid back tempo. The previous two songs were very parallel in terms of composure, structure and overall sound. However, this final track is the complete opposite, you could literally mistake it for a different band. The best thing about this, is not that it shows true versatility that the band can execute to a high standard, but it works, so fucking well. Personally, this isn't the kind of song I could vibe with or would choose to listen to usually, with the emotional driven lyrics, sorrowful guitars and slower beat, but something about this just clicks. This tone is sown into the majority of the track, with the last quarter or so picking up the pace, and drilling aggression.
'The Other Side', to be summed up, is just pure filth, the type that makes you pull that face of disgust. Be sure to check this EP out when it drops next month – the UK hardcore scene has been stomped on with this release.
'The Other Side' is released on 24 April. You can get your copy, and loads of other goodies, HERE.
www.facebook.com/MalevolenceRiff
All content © Über Rock. Not to be reproduced in part or in whole without the express written permission of Über Rock.