By DJ Monk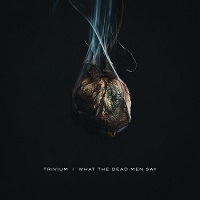 For the second time in a month, one band stood head and shoulders above the rest of the pile of submissions we received for our coveted 'Video Of The Week' – and no amount of bribes of free bog roll and limited-edition branded hand sanitizer were going to stand in the way of the mighty Trivium once again proving that they are very much a band in renaissance.
When previous single, 'Catastrophist', was released at the end of February – and featured in this very column – I was prepared for a considerable amount of online abuse when I asserted that, in my humble opinion, the Florida quartet had somewhat lost their way in the last few years, with their last few albums, and especially 2017's hugely mundane 'The Sin And The Sentence', proving to be limp and lifeless in comparison to classics such as 'The Crusade' and 'In Waves'. However, I equally declared that, if said single was anything to go by, Matt Heafy in particular had rediscovered his inner anger and channelled it into a bold statement of intent. Well, now the quartet have only gone and done it again, with the epic title track to their forthcoming new album, 'What The Dead Men Say', which is due via Roadrunner Records on 24 April.
The elegant and eloquent video was shot right here in the Über Kingdom by director Ryan Mackfall, right on the cusp of the current shutdown. The band had planned to shoot the clip before the COVID-19 situation advanced, and the finished product came together quickly over the past two weeks, with the full crew working in masks and gloves, and maintaining as much distance as possible.
Speaking about the song itself, Trivium bassist Paulo Gregoletto told ÜRHQ: "We always take seriously which song becomes the title track because it represents the album's musical themes and ambition. 'What The Dead Men Say' started off as two separate demos but emerged from the writing session as one epic tune. This is a riff beast!"
As I said in my earlier piece, if both this and 'Catastrophist' are anything to go by then, the current global pan(dem)ic permitting, 2020 is going to be the year that Trivium prove that they still have the balls to stand up and be counted and take on any heavy metal band on the planet…
There was only one other possible contender for Trivium's crown – or should that be kontender and krown – and that was Teutonic thrash legends Kreator, who came completely out of left field and surprised everyone, even their most diehard fans, this past week with the release of a stand-alone single, in the very aptly titled '666 – World Divided'. It is one side of a split 7" with Lamb Of God, and is both Kreator's first new material since 2017's stunning 'Gods Of Violence' album and the first to feature new bassist Frédéric Leclercq (formerly of power metal cheddar masters DragonForce).
Kreator leader, singer, songwriter and guitarist Mille Petrozza told ÜRHQ: "Now more than ever has the message of this song been so true – we must remain united, in this world divided! Stay safe out there and most importantly, stay metal! We'll make it through, we are ONE!" 
The accompanying, darkly gothic and eerily predictive, video (which contains some flashing images) was directed by Jörn Heitmann, known for his work on the clips for Rammstein's 'Radio' and 'Auslander':
So, that's it. Only two clips for you this week, but we're sure you'll agree that they are both highly impressive offerings, epic in scope and effective in their delivery. Until next week, we'll leave with our usual UR salutation: keep 'er lit, keep 'er between the hedges – and #StaySafe.
All content © Über Rock. Not to be reproduced in part or in whole without the express written permission of Über Rock.