By Rich Hobson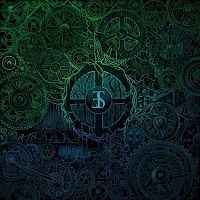 With 'I Spend My Days (Wishing Them Away)' Employed To Serve weren't just offering up one of this decade's hardest hitting metal anthems, but firmly establishing themselves as one of Britain's best up and coming acts. Albums aren't built on one song alone though, so it didn't hurt that the rest of 'The Warmth of A Dying Sun' was a masterclass in showing just how hard the band could go, the record offering a perfect unison of hardcore and metal that elevated both camps and pushed the baseline of quality for all aspiring British bands higher than they had been in years. Returning with album #3, Employed To Serve's 'Eternal Forward Motion' is almost a mission statement for the band, marking their first release on the international label Spinefarm, but also the next steps towards international acclaim and renown.
The relationship between hardcore and metal has provided a fertile breeding ground for new music over the past two decades, the ascension of metalcore to being one of metal's most popular styles attesting to the fact that iron sharpens iron as far as the two genres are concerned. While the formative states of both genres have now become largely formulaic, the new breed of hardcore-metal crossover has doubled down on the style's heaviest aspects, acts like Code Orange, Jesus Piece and ETS themselves all proving that going full-throttle is no longer the commercial or critical death sentence it once was.
ETS haven't dialled back the vitriol at all on 'Eternal Forward Motion', yet all the hallmarks of a band who are growing with their craft and aiming for larger venues are there. The raw, snarling production of their last record hasn't been lost as such, but refined into something which feels slicker and – for lack of a better term – larger, heavily reminiscent of early Slipknot in its melding of almost extreme metal instrumentals with top of the line flourishes. All in all, this helps to communicate the band's vision and sheer unrelenting power better than ever before, capturing the live intensity and giving it a spit polish that transports ETS from the small club setting to cavernous rooms where the band can just let loose.
Stylistically, the band don't venture too far from the rampaging energy of their past two records, but right from the snarling intro to the eponymous opener you'll notice that ETS are sounding more monolithic than ever, each beatdown delivered with just that little bit more intensity, Justine Jones spitting out each line with more bilious fury. Even so, the inclusion of clean vocals on tracks like 'Force Fed' and 'Bare Bones on a Blue Sky' indicate an interest in expanding the ETS arsenal to crack the ceiling in a very different way to their usual fare. Acting in a similar capacity as Code Orange's 'Bleeding In The Blur', 'Bare Bones on a Blue Sky' is a headlong dive into more commercial territories, albeit in a way that still kicks harder than a mule in steel-toe cap boots. Clean vocals from guitarist/backing vocalist Sammy Irwin are buried under a crashing tide of distortion in a way that is highly evocative of post-rock acts like Nothing or Spotlights, shortly before the tables get flipped upside down as the band contrast crashing, powerful beats and airy, distorted guitars with Jones' immense roar, putting it all together for devastating effect.
For just how heavy Employed To Serve get, it's astounding they are able to create such anthemic songs. The record's eponymous opener tears the walls down right from the off, its sheer scope and size feeling bigger than almost anything they have attempted in the past, the overall effect not unlike some of the heavier songs from Slipknot's 'Iowa'. Contrast this with more straight ahead shock and awe of 'Beneath It All' or almost Napalm Death levels of wildness for 'Dull Ache Behind My Eyes' and it paints the picture of a band who are just as home in the underground as they are gracing main stages at festivals, with an arsenal of songs that can allow them to slay in either environment. Rare melodic interludes serve to highlight the changing landscape around the band, small guitar parts in a song like 'We Forgot You' feeling like a ray of sunshine amidst the usual underground fury the band profess.
It is entirely unsurprising that Employed To Serve have continued to demonstrate just how vital they are on 'Eternal Forward Motion'. Much as the record title suggests, this is just another step forward in a relentless march towards metal royalty, yet another step up the ladder that has seen them consistently improve and build upon their foundations since the release of 'Greyer Than You Remember' back in 2015. What is less expected is quite how the band have got there – not by changing style, or dialling back on their core heaviness, but by feeding other elements into the mix that allow them to continue to thrive and reach higher than ever before. One thing's for certain; three albums in, Employed To Serve are now firmly entrenched as one of Britain's brightest metallic hopes, a band who feel totally unassailable.
'Eternal Forward Motion' is released next Friday (10 May). You can get your copy HERE.
Employed To Serve play the following dates:
Friday 10 May – London, Garage
Saturday 11 May – Glasgow, Classic Grand Lounge
Saturday 25 May – Leeds, Slam Dunk North
Sunday 26 – Hatfield, Slam Dunk South
Friday 31 May – London, All Points East
www.facebook.com/employedtoserve/
All content © Über Rock. Not to be reproduced in part or in whole without the express written permission of Über Rock.