By DJ Monk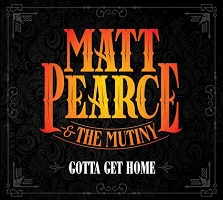 Matt Pearce is perhaps best known to the metallic-minded of ÜR's readers as the man responsible for pumping out the grooves and riffs with London hard-rockers Voodoo Six, with whom he has so far recorded five albums (with a sixth apparently in the pipeline for later this year) and three EPs. However, this debut solo project sees him follow a totally different path and explore his love of all things funky and bluesy.
Pearce himself describes 'Gotta Get Home' as a "funky souladelic blues rock jam thing…", and there really is no better description than that as, across the length and breadth of its nine songs and 55 minutes, it touches on all of the genres which he references, and also has the feel of most of it having been jammed out and the musicians just seeing where the vibe and the tunes take them – sort of in the best tradition of the blues, really.
It's hard to know where to start in an assessment of this darn fine album.  There are elements of Memphis honky-tonk rubbing shoulders with New Orleans gris-gris, before Pearce slides up Route 66 and dips into the back-street bars of Chicago and Detroit, stopping off in the suvern swamps of the Carolinas along the while for a sip o' moonshine and a doorstep lullaby session.
"I don't go church on Sunday, won't join no Easter Parade," he declares on opening track and lead single 'Scarecrowing' (appropriately, it was released over the Easter weekend), but one thing is clear: he may not be holy but his music sure is gospel, to plagiarize a line from my good friend Cormac Neeson, as Pearce presents an album filled with passion and a genuine love for the music to which he is paying homage. But, this is no mere blues-by-numbers copycatting: Pearce has a highly individual style, and presents this collection of songs with an assurance and confidence that so many musicians lack when it comes to stepping outside what might be perceived to be their comfort zone.
This is no heavy metal guitarist dabbling in the blues: this is a blues guitarist who just happens to play heavy metal returning to his roots and doing so with aplomb. The result is a superb debut album that grabs you from the opening chord to the last one, and deserves multiple listens, which is exactly what it will get here at ÜRHQ over the coming months.  Now, where's that bottle of whiskey?
'Gotta Get Home' is released today (Friday 3 May). You can get your copy HERE.
Matt Pearce & The Mutiny play The 100 Club, with Dani Wilde, on Tuesday 28 May.
www.facebook.com/mattpearceguitar/
All content © Über Rock. Not to be reproduced in part or in whole without the express written permission of Über Rock.