Written by DJ Monk. Photographs by The Dark Queen.
It had been a while since we darkened the doors of what once was our venue of choice: no real reason other than the paucity of shows so far this year that we had actually been interested in covering. So, what better excuse to return to the hallowed confines of the Slimer than the return to action, after a seemingly interminable period away from the live scene, of Saffron Gorman and her merry band of rock 'n' roll troubadours? No, we can't think of one either…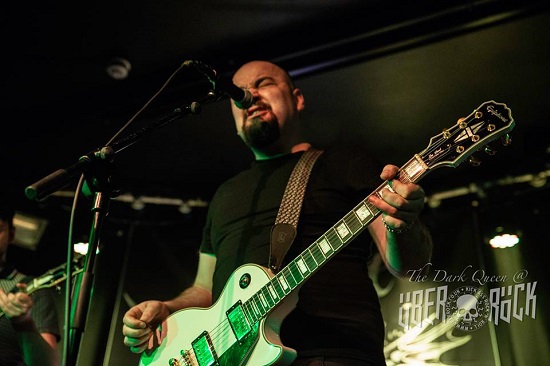 As ever with the Distortion Project's shows, good quality undercard had been lined up, starting off with Like A Hawk. I had first come across the north coast quartet when they competed in the Metal 2 The Masses competition earlier this year, and, while they had failed to make it past the first hurdle, I had been impressed by them.  This impression is reinforced this evening, as they deliver a good, solid set of grooving hard rock underpinned with an emphatic thump and a subtle stoner vibe, especially on the bottom end of the guitar sound. Their sound is a beefy as an undiluted OXO cube, topped off with a good sense of harmony and melody, coupled with an obvious sense of enjoyment. You can't ask for much more from an opening band, really.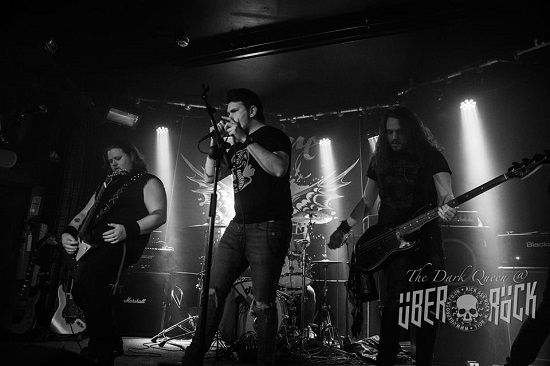 Next up are a young band we have watched develop over the past couple of years, Dead Addiction. They get more and more confident with every performance, not to mention tighter in every department: for example, when guitarist Ciaran Lyttle accidentally yanks out his guitar lead during 'Choas', only the eagle-eyed among us notice, as the band cover him and continue with the aplomb worthy of more experienced acts. They do suffer more severe technical problems later, as an issue with second guitarist Chris Van Engelen's head threatens to shorten their set, but luckily the sound engineer is able to quickly fix things and they continue with their high-energy classic hard rock. A special shout-out must go out to vocalist Joe Murphy, who really has come on leaps and bounds and developed into a charismatic frontman, even to the extent of inviting the band's original singer, Niall Graham, to join in one of the songs: now, that's quality right there. As ever, they round out their allotted time with their rousing debut single, 'Live From The Scene Of The Crime'; but there's nothing criminal about this solid set.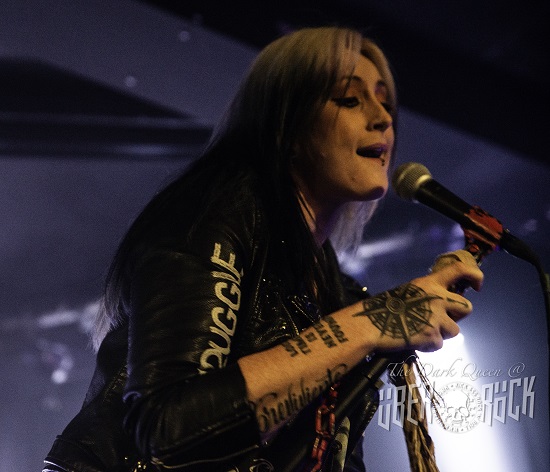 As I mentioned at the top of this review, it had been a long time since Safire had seen live action, but what better way to make a comeback than with their biggest headline to date? And, judging by the amount of band shirts both on display and flying off the merch table, we're not the only ones who have been looking forward to this comeback. The band are obviously glad to be back as well, as they've not only been grinning from ear to ear (well, apart from bassist Dean, who has spent most of the evening pacing the room like an expectant father and constantly checking that every last detail of the show has been put in place), but they're on fire right from the opening note to cascade from Tim's guitar.
Once he's finally on the stage, Dean is a complete animal, never standing still and constantly headbanging as his beefy, bouncy bass is perfectly underpinned by the ever precise, pinpoint percussion of stand-in drummer Dave Jeffers (on loan from Baleful Creed for the evening). Stage right, Tim's furious guitar work combines the rough and the smooth, with big crunching riffs counterpointed by marvellous melodies and steak-searing solos. He truly is one of the most under-rated players on the Northern Ireland scene.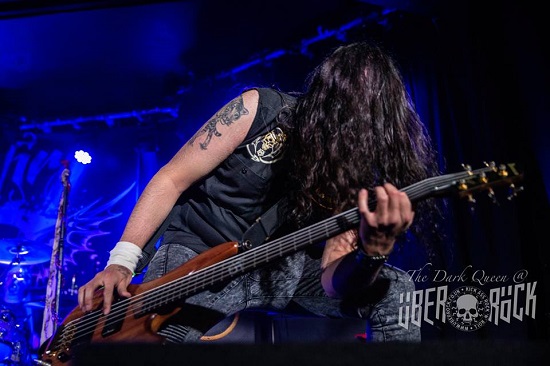 Up front, Saffron's voice is rich and mellifluous, with that all-important undercurrent of "fuck you" attitude that likes of Lzzy Hale have perfected so well.  The likes of 'Sunshine', one of the new songs unveiled tonight, demonstrates her full range. The quartet race through their set, hardly pausing for breath, as they deliver a collection of songs characterized by infectious chorus and earworm hooks that linger long after the last note has died. A stunning return, on every level. But, don't leave it so long until the next time, eh?
PHOTO CREDIT: All photos © The Dark Queen/Über Rock. You can see our full gallery of photographs HERE.
All content © Über Rock. Not to be reproduced in part or in whole without the express written permission of Über Rock.