By DJ Monk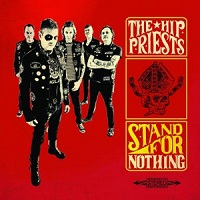 To say that Über Rock and The Hip Priests have history, a long history, would probably rate as one of the most stupendously stupid understatements of this or any other year. As long-time readers will be more than aware, we have been champions of the self-styled "most prolific band you've never heard of" since the site's early days, and both ourselves and the band virtually grew up together. Over the past 12 years or so, the Priests have released an humungous amount of material: at the last count, they have issued something like four albums, three EPs and a stunning 24 singles… Now, they're back on the attack with this, the HP album that was never meant to be…
You see, the lads came oh so close to calling it a day: as they say themselves, after more than a decade of stubbornly banging their heads against a wall, trying to keep a dead scene (as they saw it) alive and being ignored by every clique, they were pretty much spent. The final nail in the coffin was the offer of big record deal: but, in true rock 'n' roll style, that fell apart at the last minute. "If you were stupid enough to believe there was a God, he was pissing on us from above," the Priests declare on the album's liner notes… But, then, the only religion that truly matters is rock 'n'fuckin' roll – so, they thought "fuck it", and instead channelled all their energy into what they regard as "the best album we've ever made". But, as the band themselves again ask, is their magnum opus, or the same old shit?
Well, the latter is probably the most apt description, as this is another collection of punk rock fury that shits all over just about everything else out there. Finally finding its way to ÜRHQ six weeks after its release, it is ten slices of acerbic, acidic, anger-fuelled rock 'n' roll that espouses and emphasizes everything we have come to expect from the high priests of dirty, greasy, screaming, so nasty its nice, so bad it's fucking immense punk 'n' roll. There are seriously pissed-off songs about the state of the nation ('Welcome To Shit Island'), the narcissim of social media ('Social Hand Grenade'), depression ('Cheers To Me'). There are big, crunching riffs. There is honky-tonk piano. There is cowbell. There are gang bang vocals galore. There is spit, venom and vim aplenty. Yep, just what we've come to expect from the Priests – and then some.
The Hip Priests may briefly have lost the faith. But, they have seen the light once more, and hallelujah, brothers and sisters, can I get an "amen" for that?  The rock 'n' roll lepers have taken over the colony and declared war on all those cliques, not least those in the mainstream, who have done their best to exile them to the backwaters and footnotes of rock 'n' roll history. They've also come out fighting, with their middle fingers held aloft, loud 'n' fuckin' proud. As for being the best album the Priests have ever made? It quite possibly lives up to that intent. But, it also stands as possibly the best pure punk rock album you will hear this year, stuffing a hand grenade up the arse of everyone who has ever done them, or the genre down, and then standing back and watching the explosion.
Play it loud – or fuck off! Me? I'm twisting that dial all the way to 11!
'Stand For Nothing' is out now. You can get your copy HERE.
The Hip Priests play one of ÜR's favourite haunts, Le Pub in Newport, this Saturday (11 May).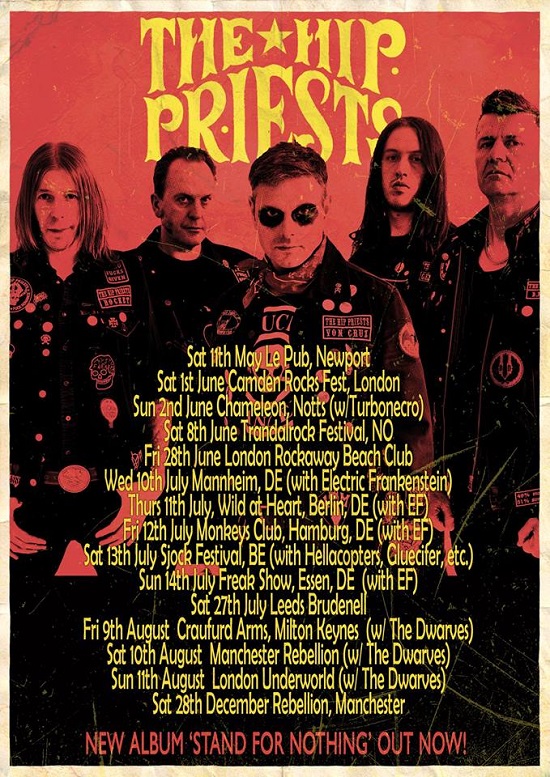 www.facebook.com/thehippriests/
All content © Über Rock. Not to be reproduced in part or in whole without the express written permission of Über Rock.