Chosen by Monk

It's hard to believe that it's been seven whole days since we last awarded our coveted 'Video Of The Week' title, and, despite the ongoing, and some cases renewed, lockdowns in many parts of the Überverse, we are still receiving a healthy bundle of submissions for our coveted 'Video Of The Week' title. Many of them are produced against the background of continuing quarantine conditions in some countries, while others reflect artists being able to return and flex their creative muscles once again.
This past week was actually a very fulsome one in terms of audio-visual treats, with more than 100 videos submitted for our approval. And the quality was such that it was extremely hard to whittle these down to our final selection; at one stage we were looking at a feature of positively Singles Club proportions. But, eventually I decided on a slightly longer than usual list of seven for your final delectation, with the prime cut, and title winner, by the narrowest of judges' decisions, coming from a regular visitor to these pages, the ever curious and charismatic Jamie Lenman. 'Like Me Better' is the final single to be issued from his new mini-album, 'King Of Clubs', which was released this past Friday. The accompanying video sees Lenman's wife, Katie, in the central role. Jamie told us the background to the clip: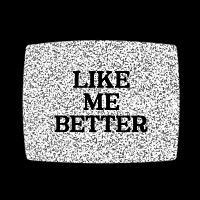 "I only had enough budget for one video off this record – the rest were made up of stock footage and group efforts. Handily though, my wife is a model amongst other things so when I sat in on one of her shoots, it looked so excellent I asked her if she wouldn't mind miming the track a couple of times to camera. She knew it from listening to the rough mixes and luckily the photographer was Scott Chalmers, who films most of my stuff anyway, so he agreed to grab a few takes and it only took about ten minutes. It's such a sexy song that I thought people wouldn't want to be looking at me anyway, so better to have it sung by the sexiest person I know. The big old TV was part of the original setup and later we shot a couple of inserts so I could appear on it but really it's Mrs Lenman's video, hers and Scott's. They organised it, they styled it, it was their project – I'm just grateful they didn't mind me hijacking the whole thing for my own ends."
Speaking about the song itself, Lenman added:
"[It] was one of the tracks I added to the album when I decided I wanted to make something with a bit more depth than an EP. I had to go against my instincts and trust the strength of the song in order to not fuss it up or make it more complex than it needed to be – just three chords and a slow beat. I ended up whacking a big riff at the end of it cos I love big riffs but otherwise it's a very simple tune, and probably better for it. Lyrically it's about things that repulse you at first but later you come to appreciate. This could apply to food or music or anything that provokes a strong reaction but in this instance it's definitely about people and physical attraction. When people talk about having a secret crush, it's usually about someone who looks a bit odd but nevertheless has a certain something about them. The whole record is about complex, contradictory and potentially uncomfortable feelings so it fits right in."
Jamie Lenman will be streaming a "pay what you want" live show at 7pm this evening (Sunday 27 September) via Vans For Bands.
The first of our "honourable mentions" comes in the form of a transmission from Greek progressive hardcore quintet Mind Terrorist, whose video for latest single 'Μήνυμα Ελήφθη' (or 'Message Received') is very much in the style first used by Godley and Crème on their 'Cry' clip back when the music video was very much in its infancy as an artform. It's a style which has been copied many times over the intervening decades, and is done so very effectively here, with its simplicity, and the periodic blindfolding of the band members, accentuating the power of the track, which is taken from the band's concept album, 'Spiritual Revolution', which was released this past Spring.
South Africa provides us with our next port of call, where stoner trio Ruff Magik once again demonstrate their love of B-grade and horror movies with the wonderful clip that accompanies 'Lead Pills And Thrills', the third single to be released by way of a preview of their forthcoming 'The Devil's Cattle'. Frontman Jonni Holiday explained the premise of the video:
"Jimmy (Glass – bassist) and I are both out in the wasteland, being pursued by zombies. Evert has been taken hostage by a zombie horde to be the personal piano man for their bar – and we set out to rescue him. Once there, we discover we've have fallen right into a clumsily planned trap."
Earlier this year, the enigmatic and always groundbreaking Mr Bungle announced that they had returned to the studio to record their first new music in 21 years – well, sort of, as forthcoming "new" album, 'The Raging Wrath of the Easter Bunny Demo', is a re-recording of their never re-issued 1986 demo tape, featuring three-fifths of the band's original line-up as well as Anthrax guitarist Scott Ian and drummer Dave Lombardo. 'Eracist', the second single to be issued, comes with a suitably dystopian and thought-provoking video which, in any other week, would have been a clear 'VOTW' winner:
Our next offering again is not a "new" song per se, but the video treatment given to it is, as Goo Goo Dolls have revisited fan favourite track 'Autumn Leaves', from last year's 'Miracle Pill' album. The new video sees the band in reflective mode, as it depicts multiple generations of people traveling through natural landscapes and explores the effect time inevitably takes on all life. It's release comes in the week that the duo of Johnny Rzeznik and Robby Takac revealed that they will be issuing a Christmas album, which will be in the shops at the end of next month.
The first of our two "bonus" videos this week sees us returning the ÜR's hometown of Belfast, where emerging indie folk rockers New Pagans are inviting us to enter the 'Yellow Room', with the powerful clip for their latest single, which itself was originally released last month as the latest to be taken from their DJ Astrocreep-approved 'Glacial Erratic' EP. Both the song and the video were inspired by the novel 'The Yellow Wallpaper', by the American feminist writer Charlotte Perkins Gilman, with he latter once again directed by bassist Claire Miskimmin, who explained the ethos of the clip:
"Yellow Room is the fourth instalment in a series of self-made folk horror themed short films produced to accompany our music. Set in the stunning local surroundings of Northern Ireland, we tried to evoke a sense of dread and isolation in the expanse of nature. In stifling a woman's mind we take away her liberty, as in the novel the song is based – the Yellow Wallpaper. It's about the facade and the masks we wear, but break the surface and we find our protagonist's strength. She cuts herself free and is set adrift. "
Our final selection this week sees us returning to the world of both the concept album and also entering that of the video game, as Canadian prog metallers Every Hour Kills present us with the 'Final Fantasy'-style visual interpretation of 'Re:Awaken', the title track of their forthcoming new EP, which is being released on 9 October. Unusually, EHK are an internet-only project, while the EP features both vocalized and instrumental versions of the four songs, which deal with an alien race intervening in the fate of humanity to save it from itself, albeit in exchange for a heavy price…
Well, there you go. That's your lot for this week. Hope you have enjoyed the new sights and sounds we have brought to you this week. Until next Sunday, keep 'er lit, keep 'er between the hedges and #StaySafe…
All written content © Über Rock. Not to be reproduced in part or in whole without the express written permission of Über Rock.