By Juan Pablo Mazzola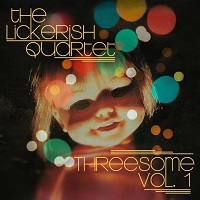 There is no doubt about it, 2020 is a horrible year. This is one of those moments in history in which you wish you have a time machine to fast forward time; I think we all know this by now. But, of course, this doesn't mean that we cannot get cool things from it.
There is a legion of Jellyfish fans out there; we are a lot, and The Lickerish Quartet took us by surprise. Mr Roger Joseph Manning Jr., Mr Eric Dover and Mr Tim Smith recently got back together (virtually, of course) and they have just released an amazing EP called 'Threesome Vol 1'. What can one possibly say about these four astonishing songs? Really, I'll try to describe this masterpiece…
So, here I go : McCartney, Queen, Beatles, ELO all rolled together for your listening pleasure. This is not just another release by a great band, this is stuff that a lot of us can treasure and we will keep this right next to our 'Umajets', 'Imperial Drag', 'Sextus', 'Roger Joseph Manning Jr' and 'Jellyfish' CDs and vinyls. These songs are huge, epic, totally mind-blowing stuff.
The EP starts with 'Fadoodle'; I guess it's a funny and sexy song about having some serious fun" "fadoodle with me, I'm asking nicely, I scrubbed your boudoir"! The backing vocals are incredible. 'Bluebird's Blues' could have been a Paul McCartney or a Wings song from the 1970s – maybe it's a reference / tribute to Paul's own 'Bluebird': catchy as fuck.
'There Is A Magic Number' is a slow tempo song. I think I can listen Alan Parsons Project here. It's a song about remorse and love gone wrong in which they sing "I swear this was the last time and the first, a complicated love spell in reverse"; so The Lickerish Quartet is no longer only an awesome movie from the 1970s… now it's a three-piece power pop band with brilliant music and lyrics.
The EP ends with 'Lighthouse Spaceship', my personal favourite here: very Queen-esque with beautiful harmonies, it's a song with some awesome sounds that can easily come from space. A solo starts at 2:56 and it evolves into a very inspired production of synths and magic; if you ever feel like knowing what it's like to float around the Milky Way you just need this song.
This is genius stuff, I only hope they can release a full-length album in the future… if there is any, of course…
'Threesome Vol. 1' is out now. You can get your copy, and lots of other TLQ goodies, HERE.
www.facebook.com/thelickerishquartet
All content © Über Rock. Not to be reproduced in part or in whole without the express written permission of Über Rock.