By Jim Rowland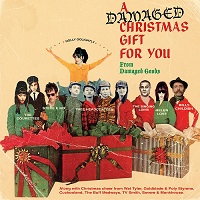 The Christmas album. There's no shortage of them, and it's fair to say that whilst some people love 'em, there's plenty of those that hate 'em too. The beauty of 'A Damaged Christmas Gift For You', a Christmas album featuring a whole host of artists connected to the Damaged Goods label, is that it would almost certainly appeal to both camps.
I myself don't mind a Christmas album on occasion. There's a few that regularly do the rounds in our household – Rob Halford's 'Winter Songs' is surprisingly good and Cheap Trick's 'Christmas Christmas' is the best I've heard in a long time. On the other hand, there's Twisted Sister's effort, which once the novelty wears off can become pretty irritating, especially given the fact that they once cancelled a concert at the Astoria I had tickets for, just so they could record the damn thing. And then there's Bob Dylan's one, which frankly leaves me running away screaming, hoping that January has arrived early.
This album though, is absolutely nothing like any of the above. Being a Damaged Goods release, it hovers largely around garage rock, psyche and punk territory – areas that aren't traditionally associated with Christmas albums. It's truly alternative and very good indeed.
Wild Billy Childish & The Musicians of the British Empire's 'Christmas 1979' is both thoroughly miserable and extremely funny in equal measure, and sure to put a smile on the face of every Christmas Grinch out there, as will TV Smith's cynical 'Xmas Bloody Xmas'. The Courettes, who released a cracking album not too long ago, put their Phil Spector-meets-garage rock sheen on 'Christmas (I Can Hardly Wait)', Holly Golightly adds a country and western twang, and The Singing Loins get seriously folky. Wat Tyler manages to drop the 'f' bomb into a bizarre version of 'God Rest Ye Merry Gentlemen', Thee Headcoatees add some raw garage rock to the mix, whilst Cuckooland, Monkhouse and the Buff Medways inject some punk.
Best of all for me is the excellent 'City Of Christmas Ghosts' from Goldblade featuring the great and much missed Poly Styrene, and Severe's punky take on Jona Lewie's Christmas classic 'Stop The Cavalry'.
Available on vinyl at a bargain price, 'A Damaged Christmas Gift For You' is your ideal gift for a truly alternative Christmas, musically at least. Fill yer snowboots.
'A Damaged Christmas Gift For You' is released tomorrow (Friday 10 December). You can get your copy HERE.
www.facebook.com/DamagedGoodsRecords
All content © Über Rock. Not to be reproduced in part or in whole without the express written permission of Über Rock.