By Jim Rowland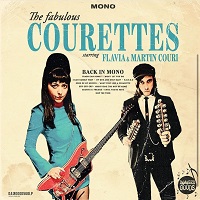 There are some bands that have a retro vibe to their sound, and there are some that do it with such attention to detail that it's an art form in itself. Such is the case with the 'spit ´n´ snarl garage rumble-meets-Phil Spector pop' sound of Danish/Brazilian husband-and-wife-duo The Courettes, who have now linked up with the ultra-cool Damaged Goods label for their third album 'Back In Mono'.
One of those details that has had particular attention paid to it is the fact that, as the title suggests, the album has been recorded in mono by producer Søren Christensen at Starr Sound Recording Studios in Denmark and mixed by Wall of Sound aficionado Seiki Sato in Japan. The result gives the album an undeniable air of 60's authenticity. 'Back In Mono' wizzes by in a flash, with its 14 short and very sweet tracks all clocking in at below the three-minute mark.
The likes of 'I Can Hardly Wait', 'Hey Boy', 'My One and Only Baby', and the brilliantly named 'Want You Like A Cigarette' all brim with that huge Phil Spector wall of sound vibe and 60's pop sheen, whilst 'Night time (The Boy Of Mine)', 'R.I.N.G.O' and 'Won't Let You Go' are fine examples of up tempo catchy swinging 60's pop. Elsewhere, 'Trash Can Honey' and 'Edge Of My Nerves' have the irresistible wild and trashy garage rock'n'roll vibe of The Sonics, the cracking single 'Hop The Twig' brings The Cramps meets The Fuzztones to mind, and the '50s style ballad 'Cry Cry Cry' closes the album off in an altogether more melancholic mood.
Conjuring the spirit of everything from The Ronettes, The Crystals and The Shangli-Las through The Sonics to the B-52s, The Ramones, The Cramps and The Fuzztones, 'Back In Mono' is an album that worships at the altar of the trashy garage rock and Spector pop sheen of the '60s with genuine love, affection and authenticity.
'Back In Mono' is released on Friday (15 October). You can get your copy HERE.
The Courettes also head out on tour from Friday:

All content © Über Rock. Not to be reproduced in part or in whole without the express written permission of Über Rock.