By Jonny Bakes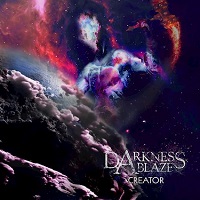 Everyone loves a good comeback, or at least that's what I like to tell myself anyway. Sure, you get the odd one or two bands who really should have packed it in and stayed packed in (yeah, I'm looking at you Motley Crüd) but for the most part it's exciting to see a band get a new lease of life and get back on the road. This is the stage of life that Darkness Ablaze are at after having called it quits back in 2011 after a couple of albums and a string of tours and festival appearances due to a change of circumstances for the band members. But the music didn't die, it just lay dormant until Darkness Ablaze was resurrected in 2018 to record new music that would become the 'Creator' EP.
Hailing from Germany, founding members Jens and Theo reunited to breathe life back into the band so that they could again pick up the melodic death mantle. Completing the lineup with new drummer Markus, lead guitarist Marcel and bassist Sven the band hit the studio to release what I think is a rather tasty little morsel that shows they can still create!
At times I would liken the sound to early Trivium crossed with a bit of Omnium Gatherum, they take the early aggressive vocal style of Matt Heavy but step things up several notches with the melodies to give something that is right up my street. There's even some influences from black metal thrown in from time to time but it's not a consistent guest at this metal party. Sometimes you'll get a riff that isn't quite the others and would be more at home in some of the more melodic black metal albums but somehow it just about works here too!
Title track 'Creator' is the standout of this four-track EP for me. It's the track that cemented that likeliness to Trivium for me but also the one that stuck with me the longest. At seven minutes long, it's the longest track which allows it to weave through different movements in a similar way to some of the longer Insomnium songs (who happen to be one of my top bands, so no surprises I liked this!). It's one of those songs that seems to end twice, the first time is about halfway through as it hits a lull with a gentle solo guitar melody that inevitably starts to layer up with the other instruments to become a pretty passionate movement. If you listen to enough melodic death, you'll probably see this coming from a mile off because it's well used within the genre. But it's well used because it works, and here is no different!
Having never come across Darkness Ablaze in their early days (I don't think their reach made it much further than mainland Europe) I wasn't really sure what to expect but I came away from this pleasantly surprised! As a self-confessed melodic death fan, there was every chance I was going to like this if they managed to pull it off – and pull it off they did! Something here for fans of Insomnium, Trivium, Be'Lakor and most other flavours of melodeath (or is it more mellowdeath?) and I could see Darkness Ablaze going down well at one of the smaller stages at Bloodstock too. They call the EP 'Creator' and I guess it has lived up to its name because it's created a fan out of me!
'Creator' is released on 29 October. You can get your copy HERE.
www.facebook.com/darknessablaze
All content © Über Rock. Not to be reproduced in part or in whole without the express written permission of Über Rock.