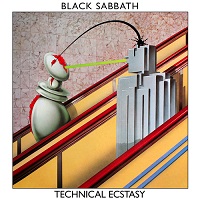 'Technical Ecstasy' was the album where things started looking ominous for the future of Black Sabbath. Ozzy admits to considering leaving the band, drugs rumours pervade their history even more. Tony Iommi changed the musical direction to an extent, with keys becoming more pervasive into the sound and it began to sound like they were now being influenced by the bands they used to influence themselves. This detracts, though, from what is actually still a very good rock album, just one quite different from their earlier material. Add in master producer Steven Wilson, a phenomenal musician with a somehow even better ear in his own right, to provide alternative versions and mixes, as well as the original being further remastered and the super deluxe release has the potential to be something else in its own right.
In terms of the remastered album itself, I feel like I'd be preaching to the converted or unturnable already, so suffice to say the sound quality is excellent, with a fuller, richer sound as you would expect from any new remastering of a classic album. Instead, I'll talk about the extras you get with it in comparison to the previous versions, which is where it comes into its own.
I listened through the vinyl version, which contains five LPs – the original album, remastered, a new mix of the album by the aforementioned Steven Wilson (with the exception of 'It's Alright', where the mono single version is used), an LP of outtakes and alternative mixes, again by Steven Wilson and finally two LPs recorded from a live concert. Steven's alternative mixes and takes are an actual joy to behold – while the album itself is a different trajectory from previous works, hearing his take on tour favourite 'Dirty Women', the sheer delicacy of 'She's Gone' or the almost Heart-like 'Back Street Kids' and the rest is of real interest to diehard Sabbath fans like myself.
In addition to the aural delicacies, there are a few visual aspects, too, with a replica concert book from the 76-77 world tour, which the last two LPs are taken from, a 40-page book with photos, artwork and liner notes and a colour poster, which between them provide an interesting insight for those like myself who were not quite born when this album was released and the tour happened into quite what we just about missed. It would, I expect, have a similar effect on those who were around at the time, reminding them of a band that may have been on the wane from their stellar start but still put out a good album by anyone else's standards – it's more a comment on how remarkable their early career as Sabbath was that this album is judged as it is by a number of people.
So, is it really worth the hefty price tag? For diehards such as myself, I would say it warrants a place in your collection. The remixes and alternative versions, in addition to the live tour additions, both musically and visually, provide quality for the cost, with Steven Wilson showcasing his talent at remixing and providing the alternative takes. The album itself may not be the holy grail for Sabbath collectors, but it's certainly one that has been produced at a very high level and the number of extras bundled in with the remastering of the original album provides some high-level additions to the release.
'Technical Ecstasy (Super Deluxe Edition)' is out now. You can get your copy HERE.
All content © Über Rock. Not to be reproduced in part or in whole without the express written permission of Über Rock.