By Bona Pjarren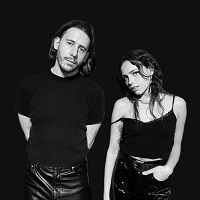 It's a wet and bitterly cold Tuesday night and I arrive at tonight's venue, Record Junkee to watch Beach Riot and their support bands. It is the first time that I have been to Record Junkee for a gig and I have to say it is a nice little venue of 150 capacity with a decent sound system. The staff are friendly and helpful, particularly Caroline, who gives me an up to date running order,
Desenser are first to play. They incorporate anger, passion, noise. They are a Sheffield alternative, hardcore punk band, with banging riffs and raw vocals. Their set is fast and tight with a mix of clean and hardcore screams. Their bass player, Daniel Law, is excellent and deserves a mention in his own right. He links in well with Luke Smith's drumming. All in all, they make for a descent opening band.
The Sweethearts came as a bit of a surprise to me as I was unaware that they were playing. Add to that there is another much bigger all female funk/soul band of the same name. It meant that I could find no background information on this band, which was a shame. I can tell you that they are a four-piece indie punk band with a tight rhythm section. They deliver a range of catchy and melodic sounds with almost a Seventies American classic bluesy rock edge to it. I did however feel that the overall vibe was a bit of a mash up and I am not sure that they have found their own unique voice yet. They are certainly a band that style wise are hard to pin down.
Jack's Plan are a four-piece alternative rock band from Chesterfield, Derbyshire. Now this band I really understood; they have big memorable riffs and a delivery that has been honed over the years of playing together, albeit in different guises. They have good song writing skills and are easily accessible to the first-time listener. They do a great version of 'Miracle Man', which might be included in their intended EP release next year. They finish with 'A Song That Sounds Like That'. I thoroughly enjoyed their set and feel they are well worth catching live.
Beach Riot were born when guitarist/vocalist Cami Menditeguy made the decision to up sticks and move halfway across the world to East London from her home country of Argentina at just 18. Meeting fellow guitarist/vocalist Rory O'Connor at a show in East London – and finding a shared love for weird guitars, PJ Harvey, and Mudhoney, amongst other things – Beach Riot were born, and the gamble had paid off.
I had listened to a few of their tracks before this show, but nothing could have prepared me for the live experience of Beach Riot. Their songs display a great chemistry between the members of the band. This is particularly evident when it comes to their vocal harmony style, which is stunning and quite unique. They do not introduce many of their songs, preferring to launch straight into the next number and thus keeping up the momentum of their high energy set.
They are by far the most accessible and entertaining band of the night. Their songs are catchy and driven by an exuberant rhythm section in the shape of Jim Faulkner (bass) and Johnny Ross (drums). The audience are instantly gripped by their show and enthusiastically move towards the stage to better enjoy Beach Riot's enthralling performance.
Their pop indie style is on full display with a blistering version of 'Wraith', which I particularly enjoyed. They obviously have a good ear for a memorable tune and their skill is on constant display throughout their thoroughly enjoyable set. I also have to mention Rory O'Connor's great and imaginative guitar sounds, which add a nice ambience to the set. Add to that the superb interplay between Rory and Cami's guitar work and you have a real night to remember. They end on 'Modern Dinosaur' which is a blistering piece and a fine ending to an explosive performance.
I predict great things for Beach Riot. Great band, great night!
All content © Über Rock. Not to be reproduced in part or in whole without the express written permission of Über Rock.