By David O'Neill
Despite the very attractive counter proposition of Skindred playing a one-off show at the other end of the M4 in Cwmbran, I took myself in the opposite direction for this, the final event in a month of fundraisers for the Sophie Lancaster Foundation, showcasing eight bands across a variety of genres.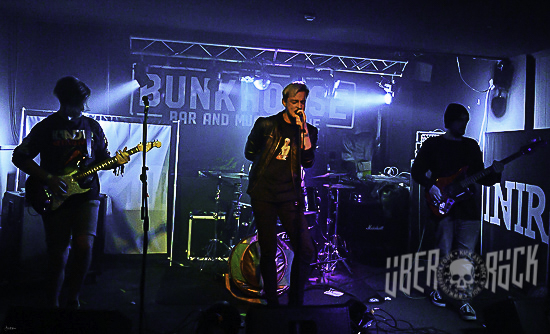 Proceedings were opened by Scavengers, an alt-rock quartet from South Wales.  Opening with 'Take Me As I Am' before rattling into 'Follow Suit' (apparently about Brexit), alternative, unusual lyrics and high energy make these guys a but different to many bands playing locally at the moment.  'Bodysnatcher', and 'Making Friends With Skeletons' lead into 'Deadlock' the second single from the band.  'Ugly Things' leads into the next single 'Catch Me If You Can' (being released on Spotify on 11 November) to end the set on a high.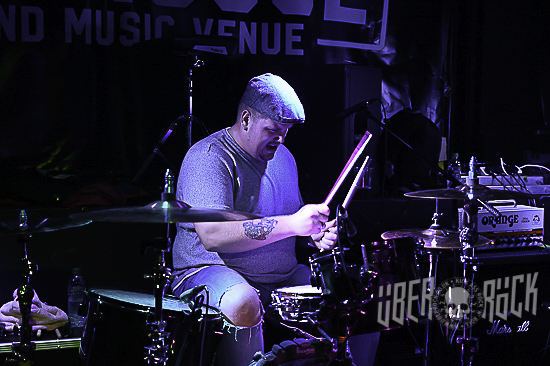 Next up were WelterWeight, a five-piece punky/grungy band from Neath.  With a limited set opened with what sounded like 'Bless', an angry in your face screamo sounding track.  The second track, 'Frazzle', opened with a bit of an airy guitar solo.  Due to a limited set of originals they did a reasonable cover of Nirvana's 'Where Did You Sleep Last Night?' before going into the seriously screamo 'Feel Something'.  Their final track, 'I'm OK', had a bit of a reggae style guitar opening before adopting the same screamo style of their previous offerings.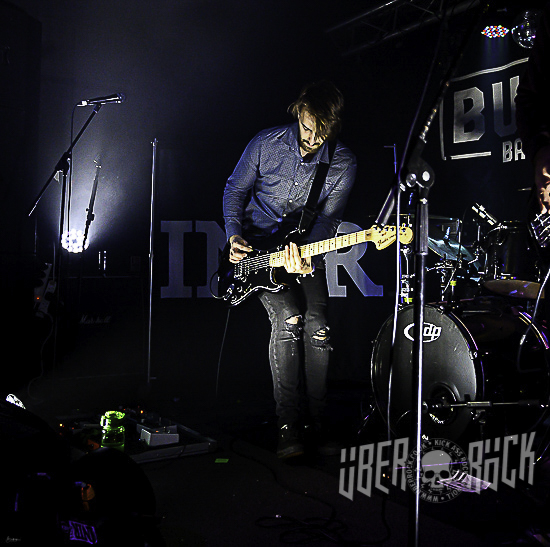 Next up, with their own light show driven by the backing track, were a three piece from Reading called InAir.  They had. Multiple layered backing tracks to support their excellent. Musicianship.  It was difficult to hear the titles of most of their tracks and some are available on Spotify.  The ones I did get the titles of were 'Insomnia', 'Talk To You', 'Progress' and 'Rise Again'. If you like bands like Nothing More then you'll like these guys, and the lighting is pretty impressive too.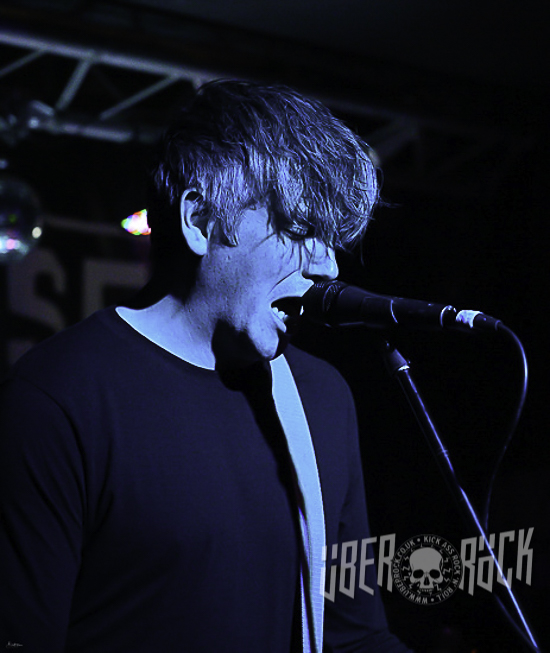 A slight change in style for Stay Voiceless, a three-piece from the valleys of South Wales, none of the tracks were announced by the singer who seemed a bit peeved that his sampler didn't work but this didn't detract from the set which was full of energy.  Many of the tracks were driven by low throbbing basslines and hard-hitting drumming of Cerys Bennett, although unlike Robin Haycock (Stone Broken) she didn't crack a smile all set.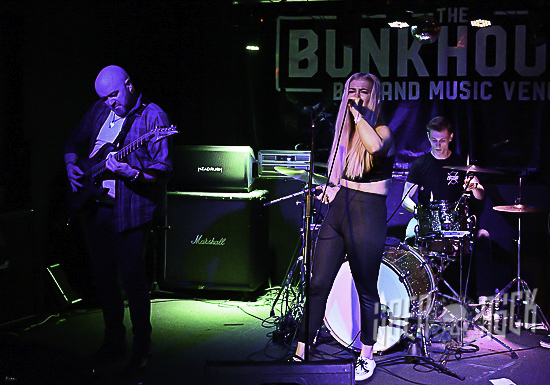 After this a much heavier set followed with Scarsun.  The guitars and bass tracks were driven through some serious electronic equipment to distort and augment the sound which was as heavy as an earthmover.  The set of 'Seen It All Before', 'Ziegenhundin', 'Rest', 'Obey The Goat', 'Doubt' and 'Make Me Ache' were all very heavy musically; however new singer Letha Curtis had a voice that rose above the sound to sit on top of the music in a counterpoint which belied the weight of the distorted music.  I have to say that Letha prowled around the stage like she appeared uncomfortable there, which is a shame because she has a good voice and looks every bit the female rock star.  She just needs to engage the audience a bit more.  (As a photographer she made it very difficult to get some good shots of her with her constant movement, which is a shame).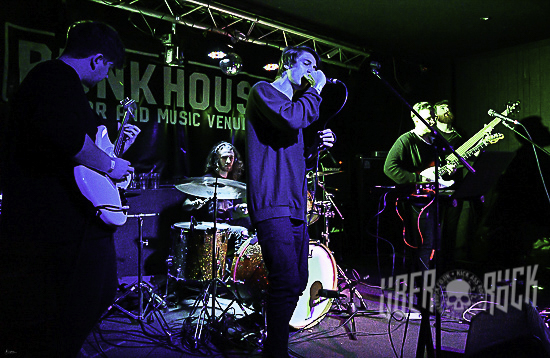 Next up were a five-piece from Bristol (originally from Swansea) called Inscape.  The music was supported by a small synthesiser being played by Ethan Shields.  The sound was a bit varied going from clean and screamo vocals that reminded me a bit of Nothing More.  They are good musicians and whilst the songs were different there were no real titles as the band have yet to put anything into the public domain beyond the 2018 single 'Amber' on Spotify.  However, I am sure there will be much more available soon.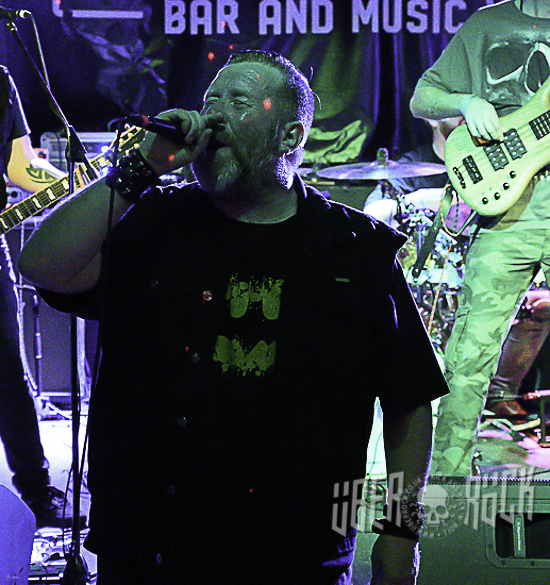 After all the technological stuff from the previous bands, King Kraken were up next.  Full on hardcore metal!  The five guys from the western valleys of South Wales kicked off with the absolute belter – 'War Machine', with the hard-hitting drums from Richard Lee Mears causing mass casualties in the drumstick department).  The next track, 'Chaos Engine', was so new that Mark had the lyrics taped to the stage monitor. Rapidly followed by 'Veins', 'The Grey', 'Freak' and 'Castle of Bone', from beginning to end you knew what you were going to get and it hit you right between the ears.  Probably one of my favourite metal bands around at the moment (and I don't really like metal that much!).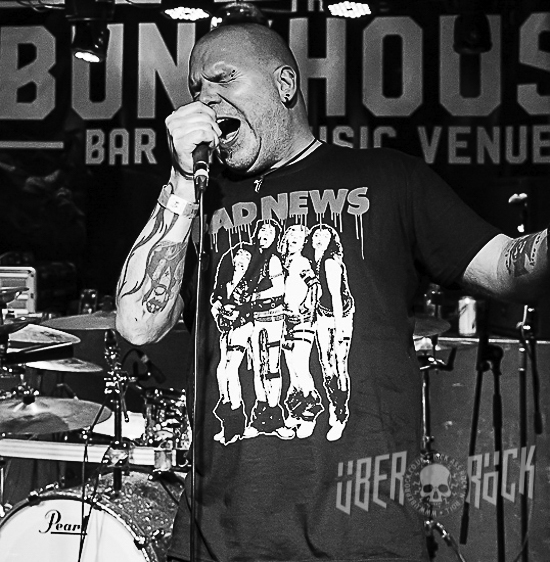 Final offering of a very good night (shame the music fans of Swansea didn't show, 'cos they missed a good night) was Lifer.  This was the first gig I had seen of theirs as far as I can remember (they may have played in my local when I was a bit "under the weather") but this was worth the wait.  Full heavy metal jacket the size of a Challenger tank!  An hour's set of a seriously heavy combination of stoner/thrash/doom metal laced with the attitude of age and anger at the way social injustice and bigotry is ripping the country apart. The appreciative "crowd" enjoyed the set and the band delivered in heavyweight spades.  The only thing lacking is the ability to find any of the set online or even to buy on the night, something I usually do to support all genres of music.
Overall, a good evening of music in support of a very valuable charity in The Sophie Lancaster Foundation.