Words by DJ Monk. Photos by The Dark Queen.
It has been a busy year for MMA fighter turned blues rock guitarist Kris Barras. One characterized by what seems to have been a nonstop touring schedule, either as a support act or a headliner in his own right. Add in teaming up with ZZ Top legend Billy Gibbons and his Supersonic Blues Machine and a string of festival appearances, and it would seem he's hardly ever been off stage. But, in the midst of all that live activity, he managed to record and release his third solo album, the ÜR-approved 'Light It Up', which he has just spent six weeks back out on the road promoting. In fact, this return to Belfast, just three months after he supported Black Stone Cherry just down the road at the historic Ulster Hall, was supposed to be the last night of the tour's UK leg: but, illness had forced him to postpone one of the earlier dates, so there are still some road miles to come…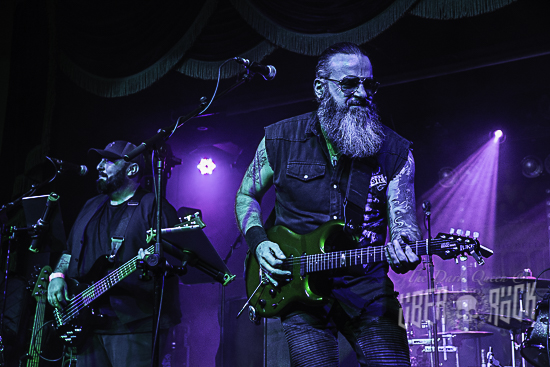 Due to a delay in our scheduled interview (see below) with the main man, we only catch the latter part of the support slot from The Davy K Project, but what we see is a solid mixture of original material and covers, although I cannot help but feel that some of the latter, and especially the needlessly extended extrapolation of 'Tush', are fillers included to pad out a slightly longer set than advertised in advance of the show. Now, I've heard a lot of hype around Davy Kerrigan over the past few months, and I must admit that he certainly looks the part, with his peppered beard and leather cut-off. And he proves to be an extremely proficient guitarist who certainly can wrench every ounce of emotion from his instrument. The rhythm section of Mark McConnell and Marty Grieve are suitably tight, holding things together during Kerrigan's solo sections and then coming in dead on cue, and also appropriately innocuous in the presence of their commanding frontman. All in all, a very tasty if slightly underwhelming appetizer for the main course, and the set is well received by the almost capacity early crowd.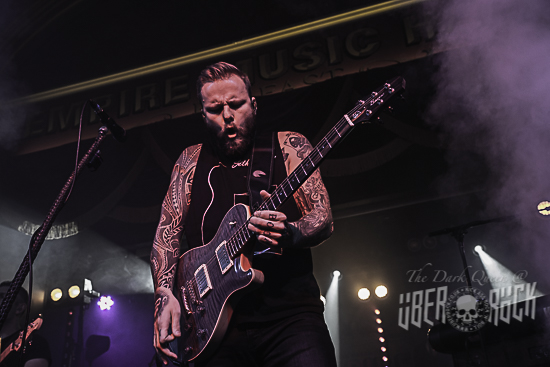 One thing you have to say about Kris Barras is that he knows how to put on a show, as he gets things off to a fiery start with orange-tinted smoke machines – now, you don't get many of those at a blues gig. And the audience don't need a second invitation to 'Light It Up', as the first singalong of the evening develops halfway through the opening album title track. Despite very obviously still suffering from that chest infection, Barras pours every ounce of his being into his vocals, as well as his guitar playing, to produce a 90-minute set of solid, sturdy hard rock with tonnes of melody, but still infused with that all-important blues sensibility.
Showing a great knowledge of how to use light and shade, and pacing, he slows things down quite early, bringing his two backing singers to the front of the stage for the gospel-infused 'Rain', which in turn gets everyone clapping and then singing along loud enough to raise the roof of this converted church. Talking of backing singers, one of them – Christina? – gets her own moment to shine slightly later in the set.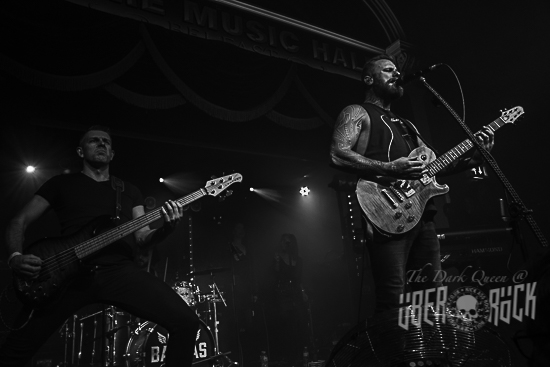 A usually needless drum solo gives Kris a few valuable moments to rest his voice before he returns to talk emotionally about his dad and his battle with cancer, preluding the Gary Moore inflected 'Watching Over Me'; and it's good to see this poignant song getting a largely respectful reception (although there were the inevitable few pockets of dickheads who insisted on talking over it!). I mentioned Gary Moore there, and Belfast's own guitar legend is a worthy comparator for Barras, especially in his ability to seamlessly blend rock and blues into an homogenous whole: this point is emphasized during one of his later guitar solos, in terms of both his intonation through his use of delay and effect, and especially false endings, which were a Moore speciality.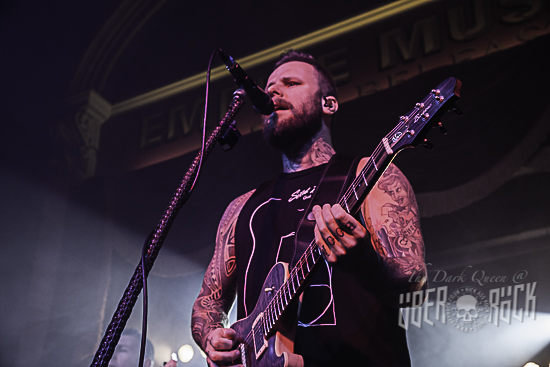 As the set races towards its conclusion, Barras asks if we're ready to sing – but, he's not happy with the response, declaring that "somebody told me you Belfast lot are nutters…". The result is a rabble-rousing rendition of 'Hail Mary' which sees the guitarist really in the zone, playing his instrument behind his head and with his teeth in true shred hero style. There's just time for a quick encore before it's over and back out into the cold night air at the end of an evening that has proven why Kris Barras is one of the fastest rising talents on these islands and worthy of every accolade and award that has come his way – no doubt there will be plenty more to come, and deservedly so.
Before the show, we had an opportunity to catch up with Kris to talk about his busy 2019, how he teamed up with Billy Gibbons and his plans for 2020:
Kris Barras Band play that rescheduled show at 1865 in Southampton next Sunday (10 November). Existing tickets remain valid.
PHOTO CREDIT: All photos © The Dark Queen/Über Rock. You can view or full gallery of photographs HERE.
All content © Über Rock. Not to be reproduced in part or in whole without the express written permission of Über Rock.