By Bona Pjarren
The O2 Academy in Sheffield is fast becoming a second home. Only one stage at this one though, but it is being held, Leeds/Reading Festival style, in London and Sheffield at the same time, line ups swapping over the two venues. So, Saturday's line up in Sheffield will be the Sunday line up in London, and vice versa.
I did manage to miss the first band due to football traffic so I'm starting with Pre-Med, which was a real shame as I'm friends with most of the members of Captain Starfighter and the Lockheeds, who apparently put in a great set. Anyway, Pre-Med are a five piece prog, psychedelic and space rock band. Formed by Danny Faulkner back in 2004 aided by Alan Davy and Lewis Turner when they released their first album entitled 'Medication Time'. The first number of their set I really got to concentrate on was a version of Hashish. With use of harmonic minor style tunings, they are a very trippy band with a definite Hawkwind vibe. I particularly loved the keyboard work of Simon O'Connell which really underlines the psychedelic vibe.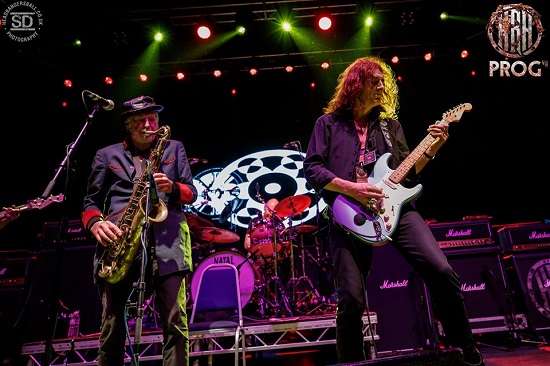 Hawklords are an ageless treat, originally one of the many spin offs of Hawkwind, they still feature the likes of Nik Turner. Sometimes referred to as the new Hawklords this incarnation has been active since 2008. I make no bones about it, I really like Hawklords and this is confirmed every time I see them. Their driving rhythms and and heavy riffs augmented by psychedelic keys and soaring sax solos, what's not to like?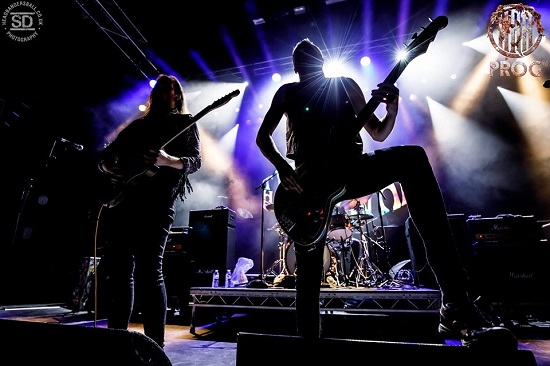 The Vintage Caravan have been on my radar for a few years now. Formed in 2006 they are yet another great band from Iceland. What is it about Iceland and producing fantastic music? It's not like they have a massive population. Anyway, Vintage Caravan produce their own unique bluesy take on 70's style psychedelic rock. While they fit with Prog they would also fit well with Stoner bands. They are a classic three-piece power band with a sound far bigger than their set up would suggest. The main reason for this is they are all mind blowingly good musicians. With memorable tracks like 'Expand Your Mind' and 'Babylon' this is a band that just have to be seen live.
I have to admit that I did feel a slight sadness watching Gong. No Daevid Allen, no Gilli Smythe, both sadly departed and very much missed. And perhaps Gong have lost a little of the quirkiness that defined the band. Having said that the musicians that remain are incredibly talented. Jazzy styled riffs flow in evocative transcendental musical landscapes. While the glissando guitar that defined Daevid's work is not present it still very much features, and Gilli's haunting angelic tones are of course gone. The band, however, still have a lot to offer and still defy description. Gong have always had their own unique experimental sound, and that continues with the new line up. Stunning four-part vocal harmonies make up for Gilli's absence.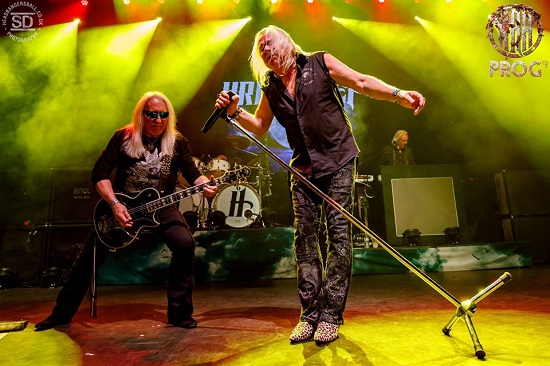 Uriah Heep! Is it that time already? Shows you what a great day it's been. And they are promising to cover 49 years of music including 26 albums. They've only got an hour and a half to do it in. Speed metal possibly? Uriah Heep were possibly one of the first bands that got me into the legendary sound that is the Hammond Organ… no Lesley speakers are in evidence at this gig, though. They are, and always have been one of England's quintessential heavy rock bands. David Byron mind blowing vocal range in the early days helped to forge their distinctive sound. But it does say a lot about the band's character that they managed to survive the loss of this iconic singer. Indeed, they have weathered a few line-up changes over the years and have always come back stronger. The changes have been well documented, but Uriah Heep have kept a fairly stable line up for many years now. Live, the transition through different styles are slick and tight. Their ability to build and hit the highs of beautifully crafted songs are constantly on display. It is easy to see why after 49 years they still have such a massive pull. When they launch into 'Gypsy' it just re-inforces just how good they are. 'Look At Yourself' is just an onslaught live, a defining moment in how to perform heavy rock.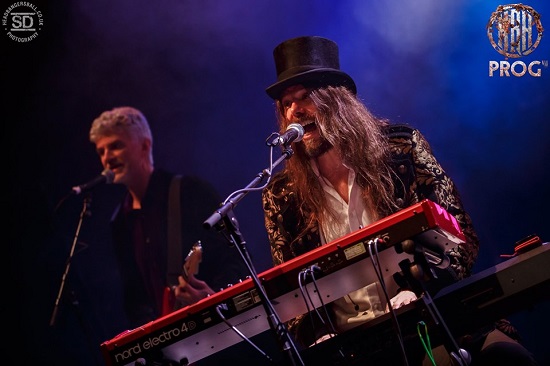 It's a lazy Sunday afternoon and 4th Labyrinth are playing. They are a four-piece modern prog band based in Cambridge with a very big sound that is easy on the ears. Great start to a Sunday. They are the brainchild of Marcel Kunkel and released their debut album Quattro Stagioni in 2015. I am really looking forward to giving their new album, a Better listen. Better is the album, see how I slipped that in? Slick innit?
Pearl Handled Revolver's laidback bluesy sounds are now wafting through the O2 Academy. embracing this lazy Sunday afternoon. Yup! I'm going to milk that gag. With screaming Hammond and lilting harmonica, they build their songs to a crescendo: well, it is prog, and it can't be too samey. 'Devil Casts His Net' is uncompromising in its prog attitude, exotic time signatures and beautifully executed polyrhythms. Hailing from Bedford they are a psychedelic contemporary rock band with a lovely warm sense of humour.
Wow! Krankschaft really know how to make an entrance. Beautiful acapella vocals delivered by Steve Pond heralds the groove ridden festival forged space rock that they are renowned for. Krankscaft were briefly the backing band for Robert Calvert and they have quite a pedigree. Alex Tsentides was also bassist for The Enid, so you just know Krankscaft are going to be special. There were times I had to pinch myself to remind me that they are just a three piece. Their use of samples is inspired and elaborately enhances the experience of Krankscaft. With great tracks like: The World is Flat and Hollow Earth there is so much to keep the audience entertained.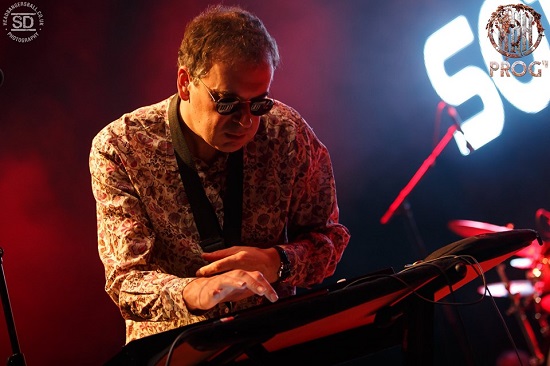 Soft Machine and Caravan on the same bill, two of the leading lights of the Canterbury scene. Soft Machine are first on moving effortlessly between lilting trance phrases to prog to full on jazz. They are still a force to be reckoned with 55 years on. Yes you read that correctly, they have been going 55 years and are still as fresh as the day of their conception. John Etheridge ended with a stunning jazz inspired solo. And for me I think that sums up their set, Soft Machine are a unique timeless band, and they will never get old.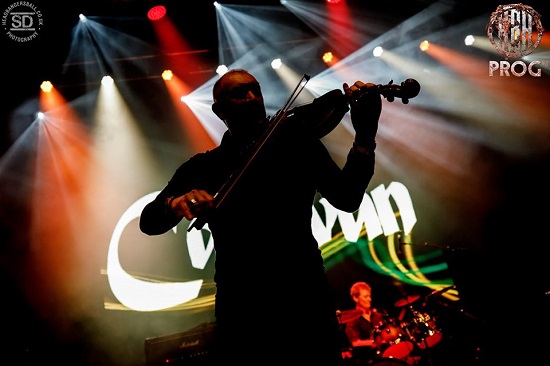 Caravan just had to follow Soft Machine. 'Golf Girl' from the wonderful 'Land of the Grey and Pink', brought back so many memories. The thing I loved about the original prog rock was its Englishness. Tongue in cheek, quirky and most of all fun. Caravan are certainly continuing to fly the flag for this tradition. I mentioned that Soft Machine are timeless and so are Caravan because both bands overflow with talent and charisma. Caravan have a gentle melodic at times folly style that is easily accessible to audiences of any age. I absolutely loved Geoffrey Richardson's viola playing alongside the accomplished classical /jazz keyboard playing of Jan Schelhaas. They finished with 'Nine Feet Underground'.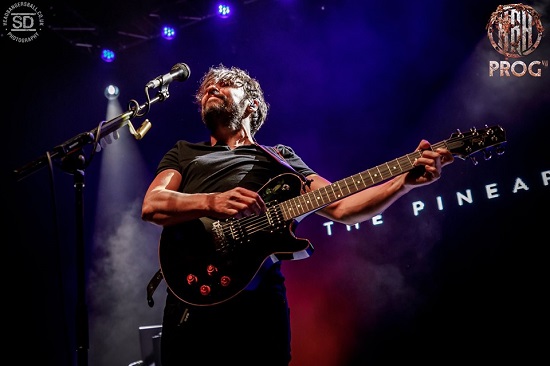 The Pineapple Thief are the headline act for Sunday. Formed in 1999 in Somerset they have released twelve albums so far. I have to admit this is the first time I have seen them live. I caught them just as they began playing 'Alone at Sea', a very evocative and well-crafted track. 'Threatening War' is a contemplative track that builds into a momentous musical journey that has prog written all over it. Great vocal harmonies over floating thoughtful Gilmour-esque guitars and trance inducing keys they are the full package. And they are producing something new rather than a rehash of what has gone before. '3000 Days' is a much more up-tempo track incorporating indie as well as metal stylings. They are a prog band that is hard to pigeonhole or compare. Bands as diverse as Opeth and Sigur Ross sprang to mind at various parts of their set. They finished with 'The Final Thing On My Mind'. I watch a lot of live bands and it quickly dawned on me with The Pineapple Thief that tonight I am witnessing something very special, a band at the very top of their game.
PHOTO CREDIT: All photos © Simon Dunkerley/Hard Rock Hell. All copyright remains with the photographer.
All content © Über Rock. Not to be reproduced in part or in whole without the express written permission of Über Rock.