Words by James O'Neill. Photos by David O'Neill.
The history of rock 'n' roll is littered with tales of bands splitting up and then getting back together again. Often, such reunions are often for the most cynical of reasons – usually money. But, occasionally – very occasionally – one comes about that is for the most honourable of reasons. And the latter is exactly why south Wales post-hardcore legends Funeral For A Friend came out of retirement this past week: to pay tribute to a man who could only be described as their biggest fan (both figuratively and literally, to quote the band), who died over the summer after a short battle with illness, and to raise money for his wife and three young sons by playing three shows, including two in their hometown of Cardiff…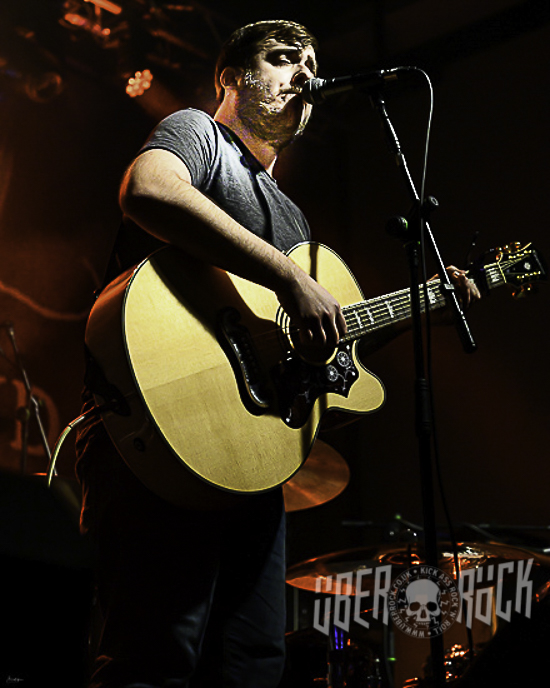 Starting earlier this year, and hailing from Bridgend South Wales, Pay The Man (Kyle David) is Wales' answer to the acoustic pop punk scene. With tight down picking, emotional lyrics and aggressive, gritty, anthemic choruses, he really managed to connect with the crowd and draw them in. His wit and charisma on stage surpass that of your usual singer/songwriter, and he has the talent to boot.
Opening with a track called 'Regulars', he drew the attention of the early arrivals with the light and dark contrast of his verses and choruses, and his ability to keep intricate rhythms while doing so. Moving through other songs including 'Situationship', with fast, complex acoustic guitar playing and great lyricism and clarity in his vocals, soon enough the whole crowd was cheering him on. Moving through a few other tracks, he could easily draw attention from the modern pop punk scene, and the influence is easy to hear in his music.
He then closed off with two very different songs – 'The Busker', which was a lot slower than his other material, and gave a nice breaking point in his set, and 'The Patriot'; this latter song really showed his ability to perform, as he had the whole room singing to a song they'd never heard before that night. A real class act, and one to definitely watch given the chance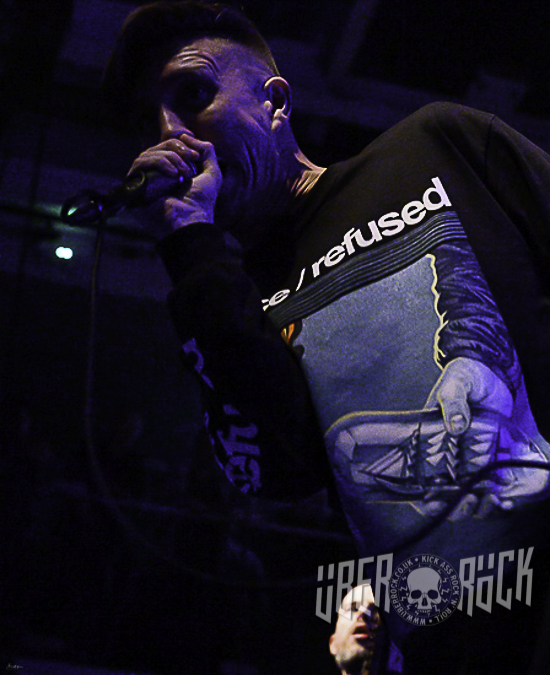 All coming from the South Wales valleys, and consisting of ex-Blackout members Sean Smith and James Davies, and two new additions – Ryan Lewis and Chris Davies – Raiders are soon to be one of the biggest bands coming out of South Wales.
From the moment they took to the stage, Smith was attention grabbing and captivating. From dancing like an idiot, throwing his microphone around and catching his own spit in his mouth after shooting it eight feet in the air – he's the front man every metal band needs.
A few technical issues let the first song down, but it was soon amended by the tech crew, and they were off. Bouncy riffs, thumping bass and solid grounding drums gave Smith plenty of space to perform. This was infectious on the other bands, and for once – every band member seemed to enjoy it. They all gave off as much energy as they could, and really put on a great show.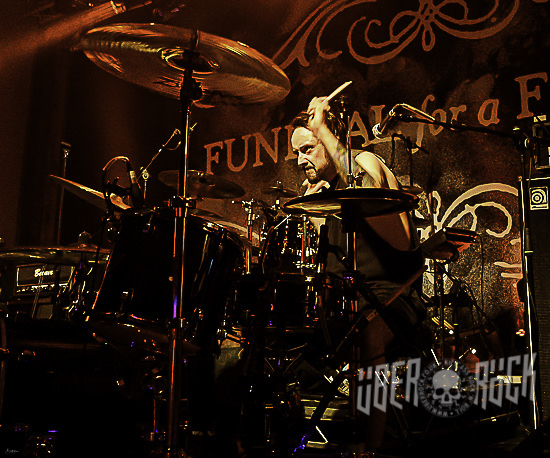 Between songs, Smith's humour really shone through. From cries of "last one to bang their heads is a massive loser" to "let's start an age appropriate mosh pit – we're all getting old now", he's a great example of how to entertain. The second song opened up with a clean, sparkling guitar riff into an overdriven bass run, before everything kicked in. This saw Smith jump over the barrier and across the whole venue, leaving security to hold the cable up above the crowd. The third song was really well arranged, with the guitars strongly complimented by the drum rhythms and the switches between crash and ride and screamed high energy.
With another song culminating in a massive breakdown, their closer saw the band get the whole crowd shouting along to the hook. For a band that formed less than a year ago, they're taking nothing but massive leaps towards global conquest. Catch them now in their infancy before you can't get tickets to their shows.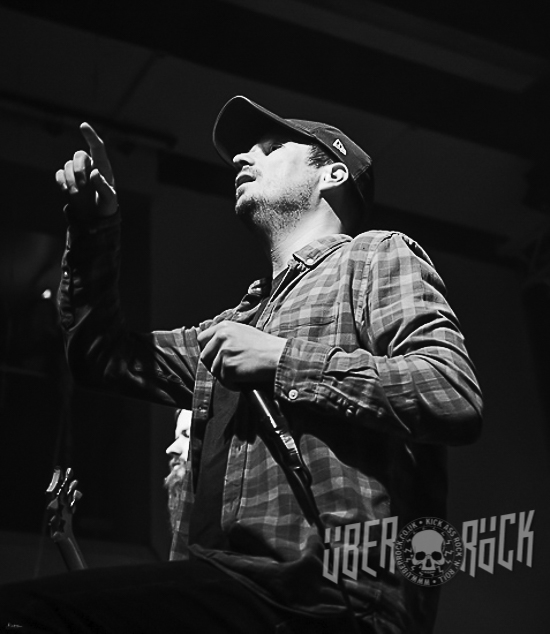 Having disbanded in 2016 after their final show in London, everybody has been asking the guys in Funeral For A Friend when they would reunite – and there has never been a reason for them to do so. Coming together to help support a man that helped get them to where they were was the perfect way for them to do it all again, and with both their most recent lineup and their original lineup in tow.
Opening with 'Rookie Of The Year', it was obvious that they would be playing fan favourites from their back catalogue. As soon as it began, the whole room started dancing and screaming at the top of their lungs. This show had been anticipated for far too long and nobody was letting the opportunity pass them by. Considering the band also hasn't performed together for more than three years, they were unbelievably tight. You would never have been able to tell that they were even out of action for a day.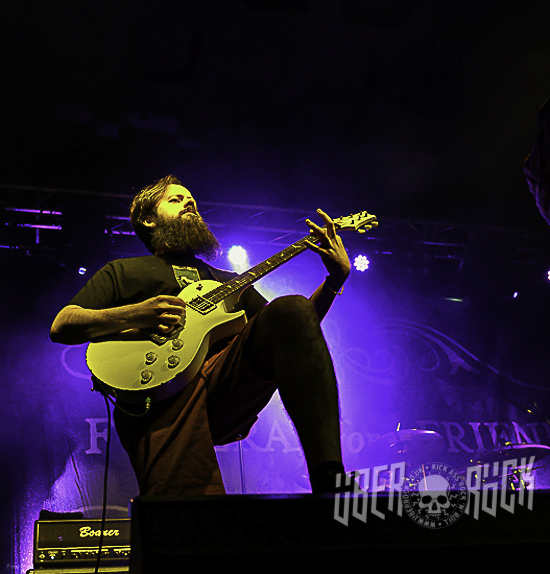 With high energy on stage and off, this show was already shaping to be an absolute belter. It's not very often that you cannot hear a band over the crowd, but this was the exception. Everyone was screaming along at the top of their lungs to savour the moment. You would swear that if you didn't know any better it was back in 2008 and FFAF were the biggest band in the UK at the moment.
With a set list comprising of personal favourites such as 'Streetcar', 'This Year's Most Open Heartbreak', 'She Drove Me To Daytime Television', 'The Art Of American Football' and so many more, I certainly did not leave wishing to hear anything else, and I highly doubt that anybody else did. However, what made this show really special was the obvious love that the whole band had for Stuart Brothers, and the heart wrenching speeches given off by Matthew Davies. Talking about how whenever they were playing, they could easily spot Stuart in the crowd, and how he created a community for them. Bursting from this speech into 'Roses For The Dead', there's no way anybody could leave saying they did not feel something. That was easily one of the most emotional things I've seen since Slipknot's first tour without Paul Grey.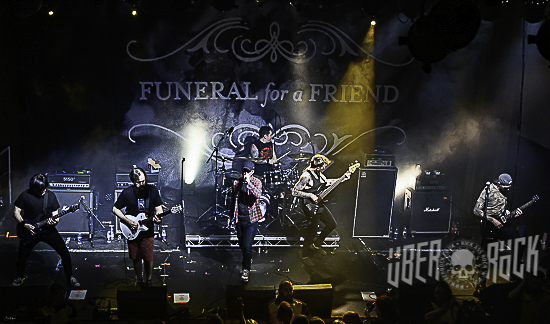 Even with all of the sadness, the celebrations were even more powerful. From crowd surfing to guest vocals to getting past members on stage to letting the crowd sing the final chorus of their closing song, Funeral For A Friend did nothing but deliver, and I hope that everyone managed to get a ticket that was a fan. It was incredible.
All I can say that you would need to take from this is to go and see your favourite bands. Pay the money. Make the travel arrangements. Not everyone will be able to tour forever, and these shows were beyond an exception to the rule of "once it's done, it's done". You will not always get the opportunity to "see the next tour" or "catch them at a festival".