By DJ Monk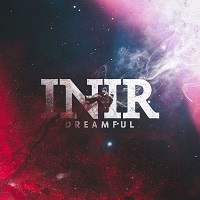 It has to be admitted that, to date, 2019 has been a great year for quality rock and metal music, especially from these here islands that make up the Über Kingdom of Rock 'n' Roll. OK, there has been a fair of doozies and tripe come our way over the eight months to date but, with a third of the year still to run its course, a lot of new bands have emerged whom Frank Warren for one would mark down as definite contenders should they ever step into the squared circle. And the latest to do so are Reading trio InAir with this, their affirmative second EP.
Falling into the kind of alt-rock territory inhabited by the likes of 30 Seconds To Mars (with whom comparisons seem almost inevitable for any act working in this genre at the moment) and Fightstar. 'Dreamful' doesn't exactly live up to its title as, right from the opening thump of 'Control', it pumps with the adrenaline of a fighter on the verge of lacing up his gloves before that all-important championship bout. But, almost right away, InAir prove they are not all about pummelling you into submission, as they use moments of lightness to great, extremely thoughtful effect, switching moods and building layers of atmosphere with a mature adroitness.
Across the five tracks presented here, InAir display confidence and an ear for the balance between melody and heaviness, switching between the gears with the ease of Charles LeClerc with the final bend in sight (yes, I know I'm mixing my sporting metaphors).
My only gripe is some of the lyrical content: InAir are the latest band to play the "depression and our experiences with it" card. Yes, it's a vitally important issue (DQ and I are both fully paid up members of that particular club), but it does seem that it is a subject which has become de rigeur for any young bands seeking to gain attention at the moment. Having said that, they do address the issue with honesty and eloquence, and the music is strong enough to stand up in its own right, making this another band whose name definitely deserves to be added the 2019 roll of honour when those inevitable end-of-year polls come around.
All content © Über Rock. Not to be reproduced in part or in whole without the express written permission of Über Rock.